Last night on RTÉ One, Ear to the Ground gets a touch more glamorous as model Thalia Heffernan steps out of her stilettoes and into her wellies to visit the farm.
Watch last night's episode on RTÉ Player now.
Thalia is an avid animal-rights advocate who spends almost every moment with her dog Leonard and follows a plant-based diet - you can catch her cooking up a veggie storm on her Instagram stories most evenings.
. @ThaliaHeffernan investigates the growth of veganism in Ireland tonight on Ear to the Ground at 8.30pm pic.twitter.com/3gUIhVKC94

— RTE One (@RTEOne) February 1, 2018
On tonight's episode of Ear to the Ground, Thalia meets Andrew Revington who runs a dairy, beef and tillage farm in Delvin, Co Meath.
Andrew is aware that there is sometimes seen to be a conflict between vegans and farmers but he is keen to show that most of these arguments don't apply in Irish farming.
We spoke with Thalia to find out why she went vegan, what the benefits are, and what she learned from her trip to the farm. Read her answers below.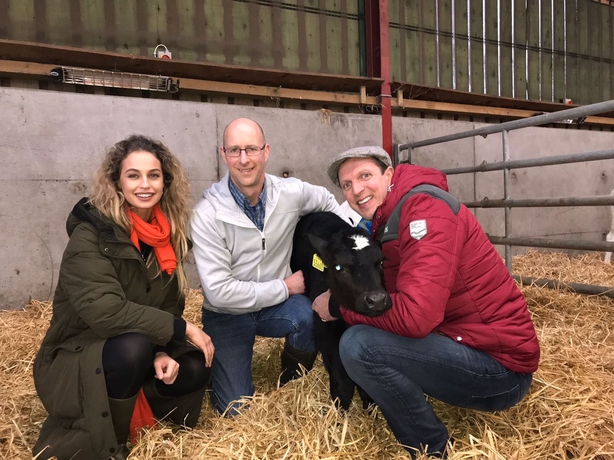 In tonight's Ear to the Ground, you look into the growth of veganism in Ireland - were you surprised by your findings?
I think the vegan or plant-based movement is becoming ever more popular, certainly. With social media, and our ability to connect with people so readily, there is a worldwide conversation happening that is definitely swaying peoples approach to what they consume and what industries they're contributing to.
I don't think that the country is turning vegan entirely anytime soon, but I definitely think people are becoming more conscious and that number of people is growing!
Irish people tend to grow up with a meat, two veg, and potato diet - do you have any tips to help people change their diet to become more plant-based?
The great thing is you can keep your potatoes and two veg, replacing butter or milk with one of the many many substitutes available on the market now. Sunflower, soy, olive (there are so many varieties) butter are available online and in plenty of supermarkets and stores nationwide.
It's so popularly known that there are so many milk substitutes that people are becoming more and more accustomed to.
In regards to the meat, no doubt a huge staple in the Irish diet, there is a huge range of meat-free substitutes in stores; Linda McCartney, The Happy Pear, Moodley Manor, Quorn, there are so many to choose from when it comes to having something similar to what you are used to.
Another approach is looking at protein packed lentils, beans, pulses, tempeh and tofu which is again much easier to find in our country now in almost all supermarkets.
I have an Instagram account, @vegangrassroots, where I put up some recipes and food inspiration for people struggling to know how to approach their change!
Did you turn to a plant-based diet for moral reasons or were there health reasons as well?
Initially, it was my moral challenge that made me turn to a plant-based diet, definitely, but after a few months, I've found myself reaping the health benefits too.
I've found that my skin, hair, nails, general muscle tone and energy levels have all strengthened massively and without much regard to them other than the change I've made to my diet!
We often hear that plant-based diets don't offer enough iron and protein - what has your experience been?
Plant-based diets can be a bit more complex when it comes to getting all of your essential nutrients but having variety in your meals will almost certainly give you everything that you need.
Protein dense foods, like soy, nut's, beans, lentils, tofu in a balanced meal will certainly help you achieve that. Many of these foods contain iron also.
It's always best to contact a nutritionist or your doctor before you consider changing your diet in any dramatic manner and check your blood during the first few months. Supplements are readily available depending on what you may need.
You said that it was difficult to challenge Andrew on his livelihood - did you come away with any learnings from the experience? Was it different than you imagined?
It was a tough day. Andrew is a very kind and caring man and it was truly apparent that he cared for his livestock and business immensely.
We both agreed that education in what people are consuming is one of the issues at hand and the realization that when you buy certain products you are contributing to an industry that relies on the slaughter of animals.
That comes with a responsibility, as a person, and if you agree with it that is your choice. It was a really educational day for both of us, I think, and it really helped challenge how I felt. In fact, it probably strengthened my views even more.
You are clearly an animal lover, we see you with Leonard everywhere you go! What message do you hope viewers take from tonight's show?
I really hope that it will give people an idea where their food is coming from, and what sacrifices are made in order for them to obtain it.
If it makes even one person question their contribution to these industries, and open their minds to small changes that may eventually become bigger changes, I'd be really pleased!
You can watch Thalia on Ear to the Ground now on RTÉ Player.