Fresh from hosting the Pendulum Summit in Dublin's Convention Centre recently Síle Seoige was in flying form as she introduced baby Cathal to the media for the first time.
Six years after battling thyroid cancer the broadcaster and yoga teacher told us: "I feel incredibly lucky".
During her treatment in 2011, she said: "I had a lot of time to think and if somebody had showed me a crystal ball of my future with where I'm living, who I'm spending my life with and my baby, I would never have believed it and I'm so incredibly thankful for it. I'm very lucky".
Baby Cathal is only five and a half months old and despite this, his arrival has already given Síle more confidence: "I don't think I suffer from nerves anymore, I actually think becoming a mammy has helped me, its given me confidence.
"No more than going through illness gave me confidence because you realise, what's not really important.
"Whats important is him and being healthy."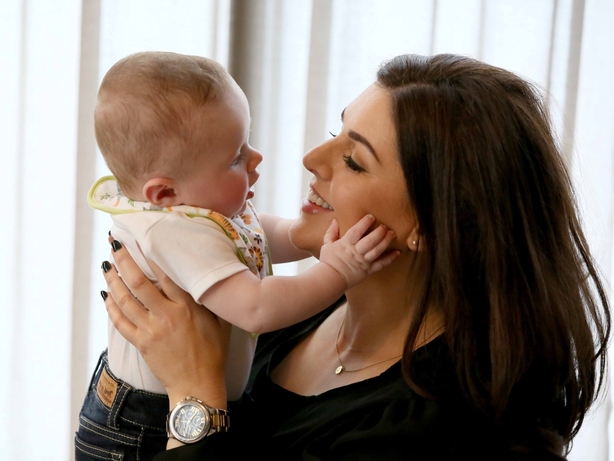 Nerves of steel
She really enjoys starting off the year presenting the Summit as she walks away inspired and ready to tackle personal and professional goals: "Its brilliant, there's so much wisdom in it. These are world speakers such as Richard Branson, Michelle Mone, huge, huge names, it was great."

However, nerves? Not so much: "Sure all you're doing is saying hello to people and 'How are you doing? There's another great person going to come up on stage, its not rocket science, really.
"I don't get as nervous as I would have years ago, despite the fact that I'm definitely vulnerable and I still feel vulnerable about things like the baby weight."
Baby bump, weight and yoga
During her pregnancy Síle spoke about loving her bump: "That's lovely that I said that because there were definite days that I maybe didn't feel that if I'm totally honest and particularly towards the latter part of my pregnancy."


"I've only just got back into these [pointing to her heels]...People had said they'll eventually go back [her feet to their normal size post pregnancy].
"Five and a half months on and it still hasn't happened, when is it going to happen?"
She added: "Everyone said 'It'll only take a few weeks and you'll be grand!' I thought I'd have to bin all my heels…!
"I obviously was enjoying the odd little bit of cake here and there, by the odd, I mean a lot and I also suffered from a lot of swelling, my legs were out to here [pulling her hands out from her legs]. It was very uncomfortable.
"I would practise yoga right until the end, I'd have no problem normally crossing my legs, never. I couldn't even do that towards the end, my legs felt really large and tight.
"Apparently its good for labour and I did have a lovely labour experience so maybe it was a good thing."
"Of course, having a bump is magic, I don't know if I was loving my thighs but I certainly was adoring bump, absolutely!"

Keeping baby Cathal off social media...to date
The new mum and dad, garda Damien O'Farrell made the decision not to post full pictures of their newborn on social media to date or indeed release any pics of their son ahead of a recent photoshoot for Aldi.
"I would have been doing a lot of Instagram stories during my pregnancy and I tended to kind of fall off doing them, particularly in those early months, because I was just learning to be a mum and getting to know him."
We need your consent to load this Instagram contentWe use Instagram to manage extra content that can set cookies on your device and collect data about your activity. Please review their details and accept them to load the content.Manage Preferences
As to the future: "I'm a big believer in never say never because what you believe is your truth today might be different tomorrow or next week.
"So who knows what's around the corner but so far it's true I've not actually posted any on social media, but that's not to say I never will either."
"As a new mammy the old protective instinct kicks in."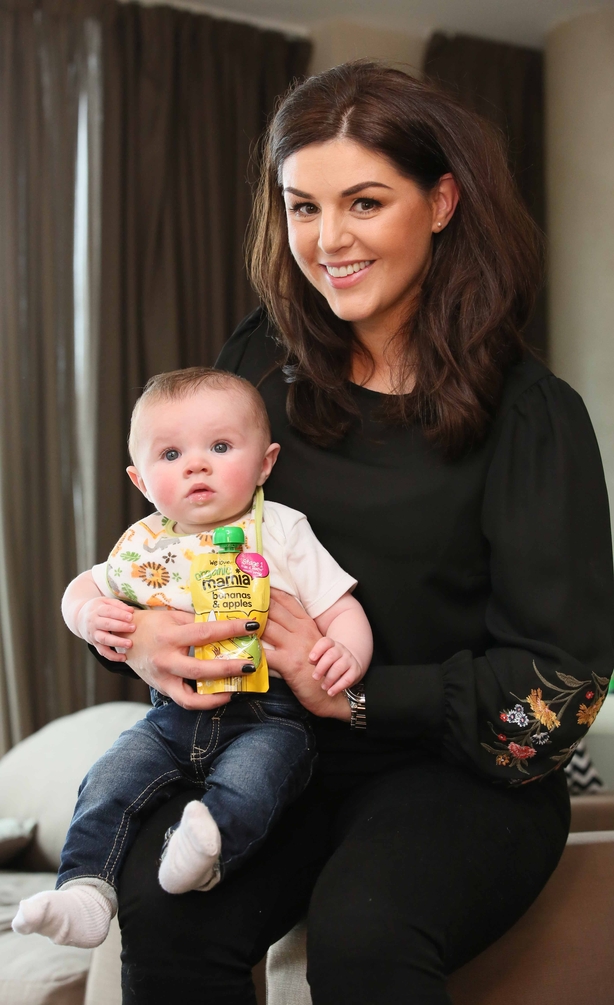 This isn't Síle's first work event though: "I have been back working…I was at the Ploughing and Cathal was only seven weeks old, he was there so it was grand. I wasn't able to bring him into Pendulum so I was getting updates every two seconds on my phone from Daddy and Mamó and Dadó and Nana. We had loads of help which was great."
Already Cathal has a great bilingual start in life as the Gaeilgeoir and Spiddal native said: "Tá mise ag labhairt as Gaeilge leis agus tá mo thuismitheoirí ag déanamh an rud céanna." 
The Aldi Baby & Toddler Event is taking place in 130 Aldi stores around the country offering a wide range of products for little ones.