Having survived Blue Monday this week, I think we all deserve to get out and have some fun this month.
January is a great month for enjoying some winter walks before returning home to a warm fire and a hot drink.
However, if you are feeling more adventurous there are still loads of fun events on around Ireland and we've listed some of our favourites below.
1) First Fortnight Mental Health Arts Festival, Kildare
The festival promoting mental health in Ireland continues this weekend with some family events including a Stressed Out Steve workshop and storytelling in the Riverbank Arts Centre in Kildare on Saturday and a First Fortnight Family Workshop in the National Gallery on Sunday afternoon.
2) Make-A-Wish Fundraiser: Limerick
A fun day on Saturday in Fitzgerald's Woodlands House Hotel, Adare with a table quiz, raffle, face-painting and nail-painting and more. All proceeds in aid of the Make-A-Wish foundation.
3) Treasures of the National Museum, Dublin
The National Archaeology Museum in Kildare Street, Dublin has another fun family tour scheduled on Saturday afternoon from 14:30. The tour is free and no booking is required but be sure to arrive early as places are on a first-come, first-served basis.
The tour will take in some famous pieces including the Tara Brooch and the Ardagh Chalice.
4) Once Upon a Time - Family Concert with Affinití, Dublin
A whistle-stop tour through best-loved songs from animation and beyond with award-winning trio Affinití (soprano, violin, and harp) takes place on Saturday in the National Concert Hall, Dublin.
There will be lots of audience participation to keep all of the younger audience members involved and entertained.
5) Dinosaurs Around the World
Dinosaurs Around the World will transport you into the era of the dinosaur for a tour of an Earth very different from today.
With advanced animatronics, a multi-layered narrative, fossils, authentic casts, cutting-edge research and immersive design elements you'll experience the Age of Reptiles as it comes to life!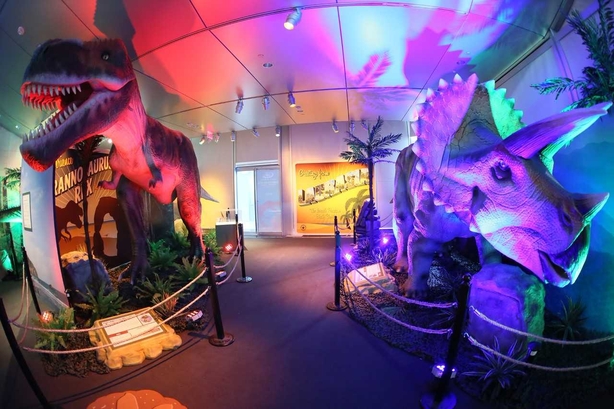 6) Akumakon, Galway
One of the largest Anime and Manga conventions in Ireland and run by students of NUI Galway to raise money for charity.
Featuring panels, traders, artists, video games, special events and, of course, cosplay, the family-friendly events runs from the 19th - 21st January.
7) Shannonside Winter Music Weekend, Clare
The 19th Shannonside Winter Music Festival takes place from 18th - 22nd January with 80 events across 15 venues around the adjoining villages of Sixmilebridge & Bunratty.
8) A League of Villians, Longford
Backstage Theatre in Longford host some Panto fun starting this weekend. 'Junior' the son of Vill.I.an seeks to take revenge on his father's enemies and take over the world. He enlists the help of a group of the deadliest ex-villains the world has ever known. Can he be stopped?
9) Antiques & Vintage Fair, Dublin
Featuring over 30 traders from the UK and Ireland, exhibiting everything from furniture, decor, lighting, paintings, jewellery, vintage fashion, porcelain and glass, memorabilia, books and prints, rare coins, postcards and more in Clontarf Castle on Sunday.
10) Mad As a Hatter, Athlone
Why doesn't your family or friends try something completely different this month with a new challenge from Celtic Escape Rooms in Athlone.
Follow Alice down the rabbit hole and fall into a mysterious room with many locked doors and drawers of all sizes and escape the room before the Queen of Hearts shouts "Off with her head!".
11) Gardening Course at Airfield Estate, Dublin
Airfield Estate's gardening team have created a new gardening series which will run one Saturday each month from January to October 2018.

Set in the beautiful surrounds of Airfield Estate, these courses will guide you through the gardening season, teaching you how to make the most of your garden by growing your own vegetables, flowers and fruits. The first class is on Saturday from 10:00-14:00 and will cover winter pruning and tree and shrub planting.
Three Things to do next week:
1) Temple Bar TradFest, Dublin
The festival has grown to over 200 events over 5 days. Some events next week include a Children's Open Trad Session in The Ark and ChildVision, Ireland's Education Centre for Blind Children, are packing up their cuddly and friendliest pets from their petting zoo and bringing them into Temple Bar for the family festival.
2) Brickx-Fest 2018, Dublin
The Brickx Club is a creative brick building and social activity club for girls and boys. Brickx-Fest 2018 takes place in The Lodge Restaurant at Tayto Park on January 27th & 28th 2018 from 9am - 5pm.
3) Ballincollig Winter Music Festival, Cork
The ninth-year Ballincollig Winter Music Festival returns next week with a mix of live music featuring popular local and international acts, numerous Trad sessions and music workshops.