President Michael D Higgins hosted the 2017 Gaisce Awards with the help of RTÉ's very own Eoghan McDermott. We spoke to Eoghan to find out more about the event.
Gaisce, also known as The President's Award, is a self-development award in Ireland that is awarded to those between 15 and 25 years of age who participate in personal, physical and community challenges for a certain period of time.
This year, on Wednesday, December 6th, fifty-six young people were presented with a Gold Gaisce Award by the President in Dublin Castle.
Together the winners committed over 12,000 hours to achieving their award by volunteering with a charity, developing an existing skill, learning something new, taking up a new sport, taking part in a four-day adventure or tried out a residential stay away from home.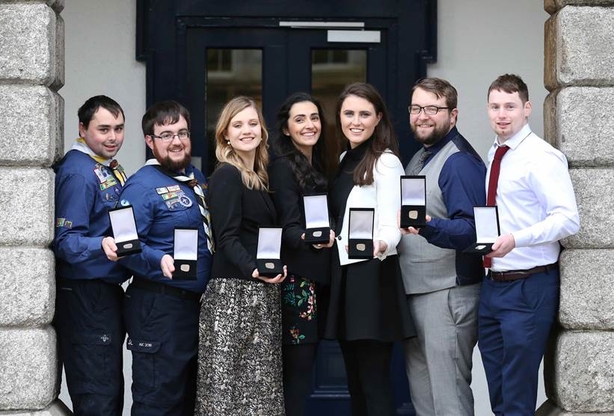 Eoghan McDermott was on the scene to introduce the awards and help the presentations run smoothly. Earlier in the day, the radio presenter posted a video to his Instagram story saying that he was feeling a little nervous...
"Yes, a little bit nervous. Not debilitatingly so but it is the President and he is a very warm man and very mischevious but at the same time he is also the President, so it is just that balance between reverence and respect for the office but also the tone of celebration because it's not supposed to be a po-faced ceremony.
"It is a celebration of young people and what they've done and he is very much behind that so it's just striking the balance so I'm excited more than nervous.
"Last night I was a bit more nervous saying the words 'Ladies and gentleman, please stand for Uachtaran na hEireann' - that gives me butterflies in the tummy, but in a good way."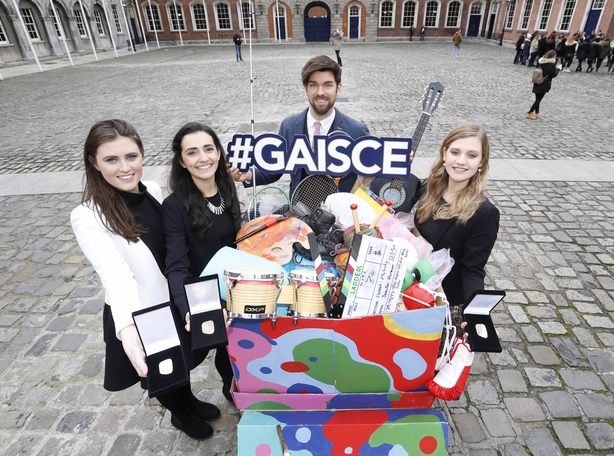 We were more than a little impressed to hear that there was a total of 56 young people who had achieved the gold award. Was Eoghan impressed by those figures?
"The Gaisce Awards themselves are amazing and the gold awards - because there are three tiers and this is the highest honour - this is the highest honour Gaisce have to give.
"I think there's about an average of five thousand awardees a year but only fifty-six of those are the gold awards and that requires the biggest level of consistency over a minimum of fifty-two weeks across loads of areas.
"[It involves] improving yourself socially, emotionally, mentally and physically so it's an all-around package and everyone in the room today has dedicated themselves for a long time to bettering themselves and other people.
"We're in St. Patrick's Hall today and it's all glitz and glam and JFK dined here and Princess Grace and 'Uachtaran agus a chairde' and theres all those glossy headlines but it's the people like the ones who will be celebrated in the Gaisces that will make the country a better place."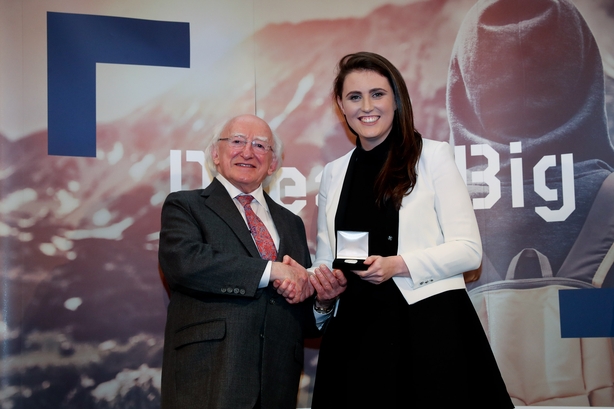 One such winner is Olivia Sneyd from Dublin who told RTÉ LifeStyle that award was hard won but well worth the effort.
"The toughest part was probably being resilient enough to keep going when you hit a rough patch but I'm so proud of myself for sticking with it and receiving my Gold Award here today from the President in Dublin Castle."
As for advice, Olivia says that anyone who is considering taking part in the President's Awards should dive right into the challenge.
"Just do it ... the friendships I made on my Gaisce journey that I probably wouldn't have made without doing it will be friendships for life. The memories will always be fond ones. I'd highly recommend all young people to accept the challenge. The skills you learn are invaluable for all areas of your life."
Click through our gallery above to see President Michael D Higgins with the Gaisce Gold Award Winners.