Tonight on Tastes Like Home, Chef Catherine Fulvio visits the Botanic Gardens in Belfast to meet Lilian Parkes, before heading to Johannesburg in South Africa to meet her best friend Laura Greer.
Lilian and Laura have been best friends for almost thirty-five years. Despite the fact that Laura grew up in Co. Down and Lilian was a few years above her, the two met through grammar school in Belfast as children.
Laura has been living in Johannesburg for twenty-four years and, as luck would have it, she had her best friend Lillian living in Johannesburg for a number of years before she returned to Belfast.
Laura says she misses home and loves nothing more than sitting down to a home cooked dish when she visits.
On tonight's episode, Catherine meets Lilian in the Botanic Gardens in Belfast to find out how to make Laura's favourite dish of lamb shanks served with colcannon before she travels to Johannesburg to bring her over a little taste of home.
While on her journey, Catherine travels through Soweto with a local guide in a Tuk Tuk & tastes 'Walkie Talkies' a local delicacy of chicken beaks and feet.
She meets a Sangoma a traditional African healer and learns about his 'muti' (medicine) and she learns about traditional tribal dress and customs, as well as tasting food from artisan food producers.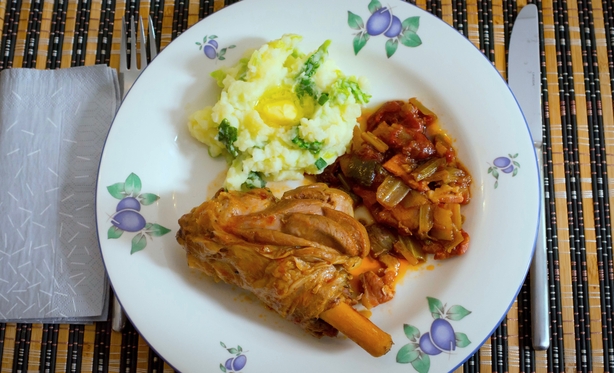 This week's dishes are Lamb Shanks with Bacon & Red Wine & an Amarula Pannacotta with Macadamia Praline.
Watch Tastes Like Home, RTÉ One, tonight Wednesday December 6, at 7.30pm on RTÉ One.