It's Late Late Toy Show time again, so the RTÉ Guide sent their young competition winner, Adam, to grill Ryan about all things festive as he prepares for the big TV show.
As the magic of The Late Late Toy Show enters our homes this Friday, host Ryan Tubridy is grilled by the RTÉ Guide's guest interviewer, Adam Keogh (aged 11, just). Janice Butler reports on the antics in this week's Guide. Here's a sneak preview:
Adam: "If there's one book you wish you could have written, which would it be? 

Ryan: "Anything from Roald Dahl. I love his books, I love that he understands that children are interesting and funny and that adults are boring and annoying.
"I didn't realise that was true until I became an adult, I never wanted to be one and I still don't like being a grown-up.
"If you think about books like The Twits or George's Marvelous Medicine, where the kids just run wild and their imaginations are vivid and fun and the adults are to be killed and poisoned.
"I love that idea of chaos and mayhem, I would love to write books like that, I might yet. My head is full of ideas."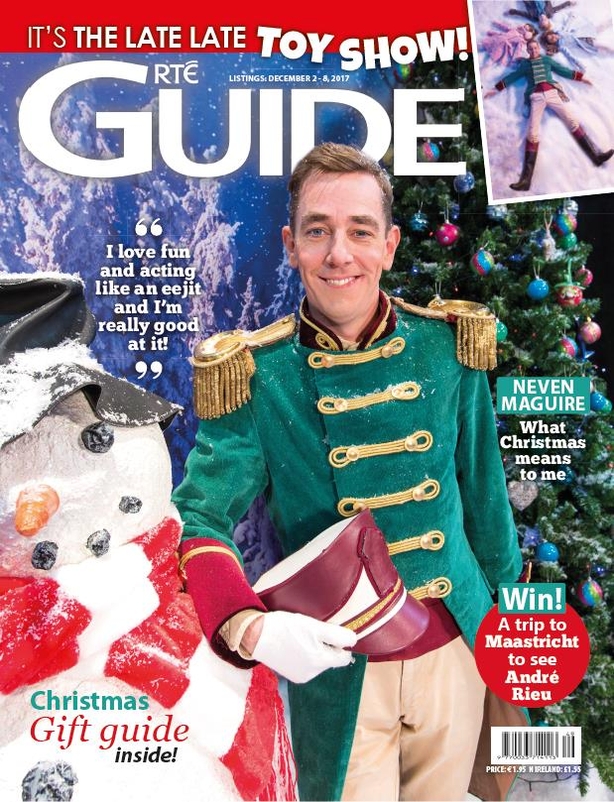 Elsewhere in this week's Guide:
James May Janice Butler meets a petrolhead with a passion for taking things apart
Neven Maguire's Christmas Special - No better man than Neven to have all the answers when it comes to the Christmas table. And this year's menu involves goose, as Neven tells Darragh McManus
Charlie Bird Darragh McManus chats to the former RTÉ reporter about his major new three-part series, After The Headlines
Christmas Gift Guide - Eight pages of great gift ideas for the festive season!