There are moments in your life when everything changes. RTÉ sports journalist and co-host of Ireland's Greatest Sporting Moment, Evanne Ní Chuilinn, has been there, through the good times and bad. Donal O'Donoghue meets her.
Shortly after I spoke with the RTÉ sports broadcaster, Evanne Ní Chuilinn, she sent me a text. Our hour-long chat had been at times emotional (meeting her birth mother for the first time), sometimes difficult (coping with the loss of her brother, Cormac, to suicide) but leavened with moments of joy (the love of her parents, the birth of her children) and happiness (she truly enjoys her job). But I feared the text, as happens sometimes with interviews, would be a request to play down the heartache and tears. It wasn't.
"We are all human," Evanne wrote of her upset, reflecting her belief that life is made up of the good, the bad and the in between. It's how you deal with it that matters. It had been a typically manic morning for the mother-of-two when we met, beginning with her 6.30am cross-fit class, then back home to get Séimí (5½) and Peigí (2½) ready before dashing through rush hour traffic to RTÉ.
"I forgot to make the school sandwiches last night so it threw everything out of kilter," she says, nibbling on an energy bar and sipping her coffee. She's here to talk about Ireland's Greatest Sporting Moment, the TV show she co-hosts with Des Cahill, where the public vote for their favourite moment in Irish sport between 1962 and 2012.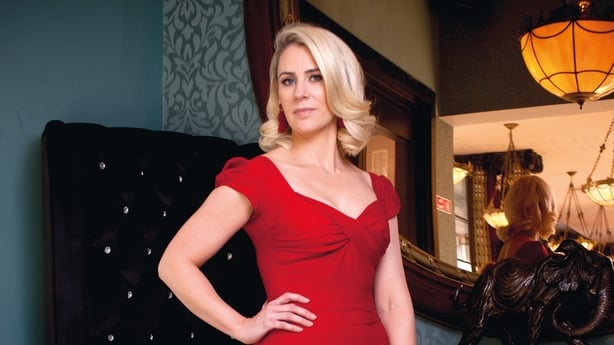 The series is a new chapter in the 36-year-old's career, her first live studio show, where she gets to think on her feet, occasionally improvise and to be herself. Ní Chuilinn's story is one of twists and turns. At the age of six months, she was adopted by Cathal and Catherine and grew up in Kilkenny city with two siblings, Cormac and Áine. Her parents, both teachers, weren't into sport but Evanne more than made up for this with her involvement in gymnastics, tennis, athletics, swimming, camogie, basketball and the rest.
"When I was young I tried everything," she says. But modern dance was her favourite and for 15 years she trained as a dancer, at one point thinking of studying it professionally. "Mam's a music teacher and I love music and dancing," she says. She gave up basketball after Séimí was born, but still shed the five stone she gained during pregnancy, something she puts down to being self-critical. Her fluency in Irish (a few years back she was chosen as an Ambassador for Seachtain na Gaeilge) she owes to her mother, Catherine, as well as her parents' gaeilgeoir friends, part of a parents association who established Ghaeilscoil Osraí, the primary school Evanne attended.
Later, at the Presentation Secondary School, she was captain of the school's debating team that won the All-Ireland in 1999 ("still one of my proudest moments"). She believes that her experience in debating has proved
invaluable in her broadcasting career. She also speaks as gaeilge with her children. "Séimí can have a full-blown conversation with me in Irish," she says. Following the Leaving Certificate, she toyed with the notion of a career as a primary school teacher before reality bit ("I did that for a month and realised that trying to control
30 nine-year-olds was not for me").
Instead, she opted for a degree in communications at Dublin City University, where the plan was to make a career that exploited her facility for languages. However, it was at DCU that she discovered journalism was her true love. After a diploma in journalism in Galway, she landed her fi rst full-time job as a researcher with TG4. In 2004, she moved to RTÉ and since then, she has covered many major sporting events, including the Olympics and Paralympics, a natural broadcaster with a passion for her subject.
She talks fast, the words tumbling out: emotions, memories, history. Remembering Italia '90 ("My mam did a great impression of Jack Charlton"), the first time she met her birth mother, the joy and hard work of becoming a mother herself. I suspect Evanne was always beyond her years. During her teens, she got letters and presents from her birth mother Mary (a correspondence supported by her parents) but decided to wait until after her exams before meeting face-to-face.
"The stress of exams would be over and I would be more mature," she explains. So in 2001, at age 19, she took the bus by herself to Clonmel, having turned down her parents' offer to go with her. Despite her fears, that meeting went so well that Evanne missed the last bus home. Now, Evanne's children have three doting
grandparents. Evanne always wanted to be a mother.
"Because of my journey with Mary, which was at times emotionally draining, I didn't want to go through it as a mother myself. So I never wanted to adopt a child. I always wanted to have my own children. Maybe a big part of that also was that I didn't look like anyone else in my own family growing up and I wanted my kids to look like me." She had been in a long-term relationship with Brian when Séimí was born in 2012 (when they married in September 2013, Séimí was the ring-bearer).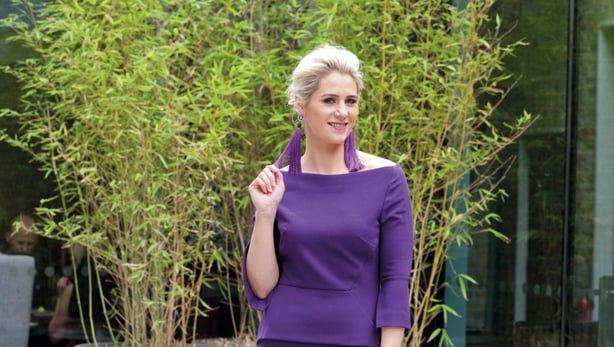 Although she says becoming a mother is the greatest thing ever, she developed hyperemesis gravidarum during both pregnancies and had the baby blues after Séimí was born, wondering why she was crying when
she should be so happy. Like his mum, Séimí can talk for Ireland, and in two languages.
"He even commentates on himself," says Evanne. "He plays Gaelic football and watches sport all the time, putting on the highlights of an NFL match rather than any cartoon and commentating on it in two languages.

"He has so much energy, like his dad, and can't burn it off." As for Peigí (2½), she just follows her big brother.
"She just wants to be him and if he has something, she just has to have it too. They do everything together." Is two the magic number for Evanne and Brian? "Well, we are very happy with two and we're almost out of the woods with the baby stage but I really can't say, as the jury is still out on that," she says with a happy laugh.
There has been pain in Evanne's family story. In October 2013, her brother Cormac, then 29, took his own life after years of struggling with depression. Last year, Evanne and her father spoke publicly of the tragedy for the first time on Ray D'Arcy's radio show. She is still anxious when talking about it, of how it might affect her mother or how it might reflect on herself. Her eyes well up as she speaks and she apologises for being tearful.
"My brother tried so hard to stay with us and we tried so hard to keep him," she says. "There was a 15-year battle and when he took his life we had to come to terms with knowing that he had found peace at last. That is very difficult to articulate. Cormac was so fragile, a gentle giant and the nicest, most selfless person ever, and he just wasn't built for this world. Yet he tried so hard."
She feels she is on a tightrope when she speaks about Cormac."I don't want suicide to be a taboo subject and I don't want the families who have suffered to feel that they can't talk about it," she says. "But I also believe we have to be very careful in the language that we use, because we have a responsibility to people who are feeling suicidal. I have been asked to get involved with fund-raising charity campaigns, but have been loath to do so. I don't want people to think that it was a PR opportunity for me. I lost my brother and I don't want to turn that into a story. I loved Cormac so much that I'd feel so bad if anyone thought I was using him for my own gain. I've had counselling since which has helped me to get my head around it."
I imagine Cormac would be proud of his sister, someone who has achieved so much in her career to date. Evanne is reluctant to talk of any negative experiences as a female journalist in what was traditionally the male preserve of sports journalism, believing that those attitudes are largely history. "But what I will say and it was said to me when I was starting out, is that I will always have to work harder than my male counterparts because you have to prove yourself that bit more," she says. "I believe that is still true. That may be just a reflection of the old culture, where it was mainly men in the press boxes. But it took longer for me to prove myself in my career than if I was a man. I'm 36 now and very fortunate to love my job and travel the world doing it but I've also been very patient to get to where I am."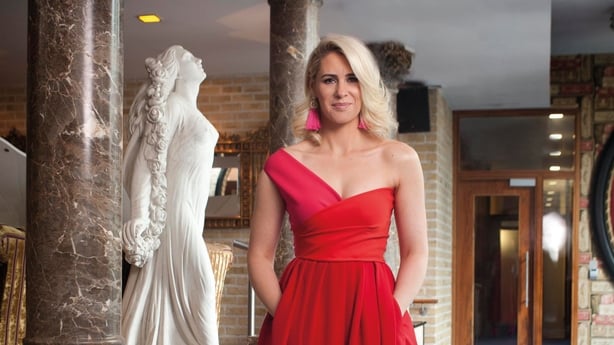 Her own all-time sporting highlights are nearly two decades apart. She was just eight years old for Italia '90 but remembers the details in Technicolor wonder. All of the kids crushed onto the couch, the neighbours having dropped by too. The penalty shoot-out and all that followed: the buzz on the streets, the tricolours flying
and the scenes from the capital where everyone was going carnival crazy. Then there was Ireland's Grand Slam win in Cardiff in 2009. Ní Chuilinn was on the sideline reporting for RTÉ, those nerve-shredding final minutes still vivid. Other moments jostle for attention.
"Can I also mention Katie Taylor and the Ireland v England rugby match in Croke Park?" she asks, memories revived by the TV show. So what's next? Last year, Ní Chuilinn was asked to take part in Dancing with the Stars but having recently returned from covering the Rio Olympics, she passed on the offer. "Would I do it now? I probably would because I love dancing." Maybe she can practise with her Greatest Sporting Moment
co-host Des Cahill, a veteran of the quickstep, foxtrot and other moves not yet catalogued? She laughs.
"I said to Des that on the very last show, where I'll be in a cocktail dress and he'll be in a tuxedo, we should finish on a tango." More seriously, the TV show, like much of her life, is about challenging herself (a few years back she completed an MSC in sports management) and a fear of going stale. But her own greatest moments will always be family, her parents, her sister, her birth mother and her own gang: someone who sees life from both sides now.