In what she describes as her best year, radio star Lottie Ryan chats to Janice Butler about her beautiful Italian wedding, her big move to breakfast radio and being happy in this week's RTÉ Guide. We've got a sneak preview of the interview below.
Here Lottie describes her wedding day without dad, Gerry:
It was a bittersweet day and she admits that her father Gerry, who died in 2010, was hugely missed but his presence was very much felt, giving the couple a helping hand with the weather.
"Obviously it's emotional but not in a negative way," she says. "He would have been outrageously happy and he would have loved the day that we planned and loved every second of it.
"It lashed rain the two days before the wedding and when I woke up on the morning of, it was the hottest day of the year.

"I was like 'Thank God, you have to be useful for something up there,'" she laughs. "There was no negative thinking, he was definitely there in whatever capacity it was."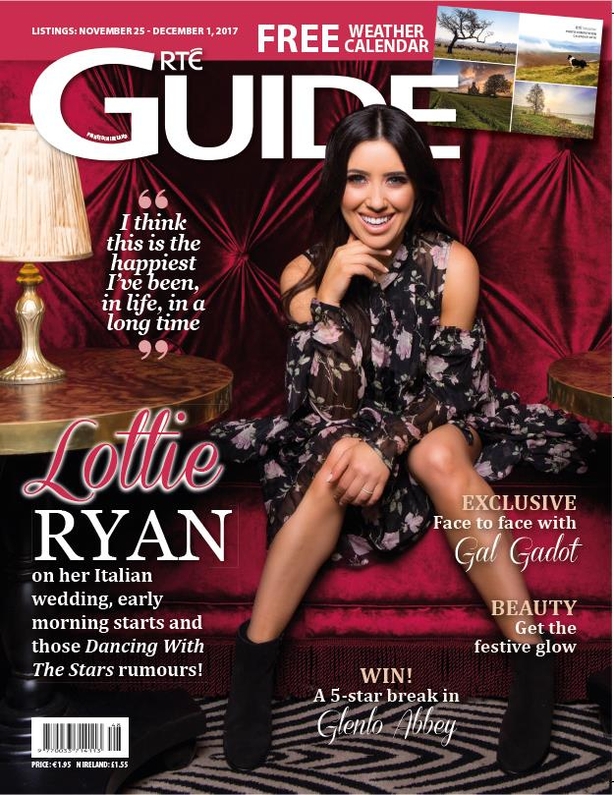 Elsewhere in the RTÉ Guide:
Movies - We meet Hollywood actress Gal Gadot, aka Wonder Woman and she talks about filming while pregnant and the importance of being a role model.
Interview - With his new book, In the Line of Fire on shelves now, we talk to Warren Gatland about player safety, Ireland and the Lions tour.
Books - Stephen King's son Joe Hill has carved his own niche in the literary world. We chat to him about his latest book, Strange Weather.
Food - Our food columnist Catherine Fulvio gives us some recipes from her travels to Mexico, bringing their vibrant and colourful food to life for us