Caroline Harte explains why she applied to be on Say Yes to the Dress Ireland, how Franc helped her transform her look and why Mammy always knows best.
Caroline Harte is a forty-year-old nurse and she and her fiance, Mark, have been together for an impressive nineteen years.
We spoke to the Sligo bride to find out why she applied to Say Yes to the Dress Ireland, find out how Franc helped her transform her look and why her Mammy always knows best.
Why did you apply to be on the show?
"I signed up initially because it was getting closer and closer to my wedding and everyone kept asking 'Have you got a dress? Have you got a dress?'. I, unfortunately, had a bad experience in a bridal store in Sligo because I wouldn't be a size ten or twelve or fourteen.

"I'd be a plus size and most of the dresses went up to a size sixteen and that was it. Trying them on, they wouldn't go up above my hips, they wouldn't go across my shoulders and I was getting very disheartened.
"I was tagged in a Facebook post by my husband's sister Christina for Say Yes to the Dress and I just said 'Why not?'"
What kind of help did Franc give you on the show?
"Franc was amazing. They had asked me to send in pictures of dresses that I would like. Now, I'm not a dress kind of person anyway, I'd be a hoody, jeans, and converse type girl. So, I found some pretty dresses on the internet and sent them to the show so they would have an idea of what I would like.
"When we got down to Cork, Franc and the girls down there were absolutely amazing and all the production team were amazing, they made us feel like old friends.
"Franc came out and initially picked a dress that I never in a million years would put on me, never. So I said, we'll see will it fit first, so I tried on the dress and I was so surprised.
"I was really so pleasantly surprised because on the hanger I thought 'No, this isn't for me'.
"I thought it was beautiful and I thought this would be the one I would walk away in but its great to get different opinions and they all [her mother and friends] had a different idea of this dress so Franc said 'Let's go back to the drawing board'.
"My mom would voice her opinion, and did, she's so honest and so is Franc so there was a little bit of tit for tat there.
"So then it was all blamed on the underwear I was wearing. Franc just said 'Take off your underwear'. And I said 'What?' [laughs]. I took off the underwear I was wearing and put on the same dress and it made such a huge difference to the dress."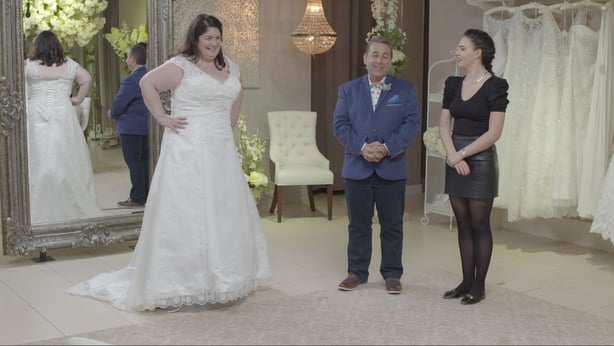 Do you think brides should have their friends and family with them while dress shopping?
"Oh, 100%. Now, everybody is not going to have the same opinions, that's what makes people so different.

"Definitely, my mom is always right.
"I don't know how but she is always right and she's always been a rock to me even though we might have discussions and we mightn't think the same things but no, I think the more people you can have and the more honest they are with you [the better].
"The show, for me, was absolutely amazing. It was an amazing experience and I would recommend any brides-to-be to just go for the show."
Her advice to future brides? "If you get on it, you will have such an experience."
Do you have one piece of advice to give to brides for their big day?
"Yeah, get out there and get that dress. Don't put it off because leaving it eight weeks before a wedding, it does stress you out and I think if you leave it that late you will actually just pick the first thing and it may not be flattering. Take your time and get that dress."
Caroline and Mark married on Saturday, November 11th which makes Caroline the first SYTTD Ireland bride to walk down the aisle. Check out the fab photos from her wedding in our gallery above.
Tonight's episode of Say Yes to the Dress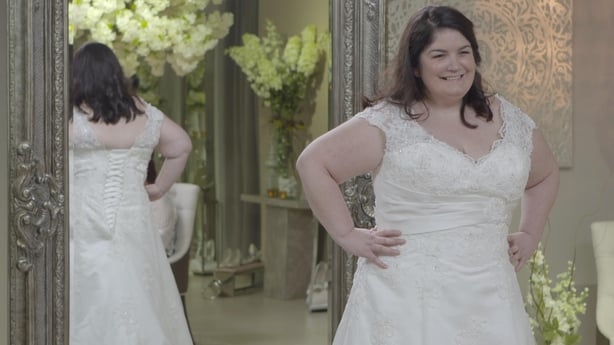 Forty-year-old Caroline Harte travels from Sligo to Cork with her Mam, sister and two best friends. With only eight weeks to go to her wedding, Caroline really needs to leave the store with a dress in hand.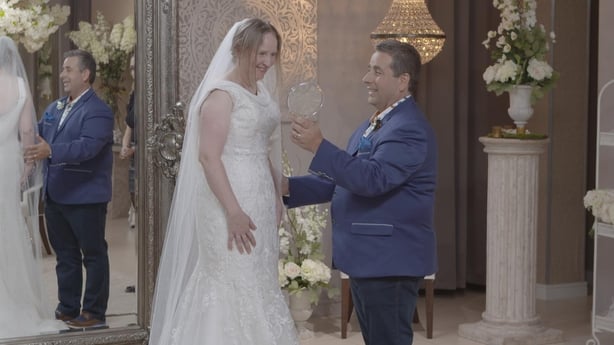 Franc must help thirty-nine-year-old Martina Patterson step out of her comfort zone of tracksuits and t-shirts in order to find the perfect wedding dress.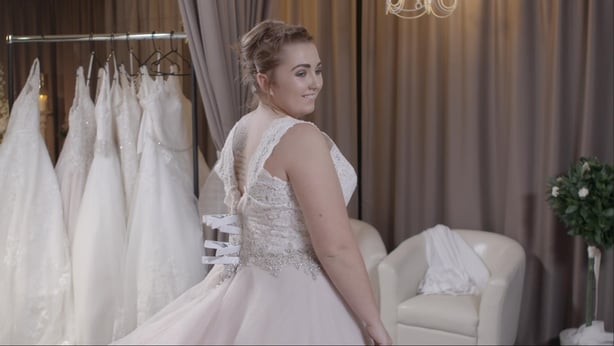 Dublin bride Hayleigh Killeen visits Franc with her mother, Jennifer, who has a folder full of all her daughter's likes and dislikes. Will Franc be able to rise to the occasion and find the Tallaght woman a dress to fall in love with?
Watch Say Yes to the Dress tonight, Monday 13th at 9:30pm on RTÉ2