Winners have been announced for this year's Women of the Year Awards and the list includes the Halawa sisters, RTÉ's Caitriona Perry, Kathleen Watkins, Alison Spittle and the Garrihy sisters.
The purple carpet was rolled out on the night, Saturday October 28 in the Burlington Hotel, to mark Domestic Abuse Awareness month and proceeds from the event went towards Womens Aid. 
Over 500 guests attended the event and were surprised by the arrival of an unexpected guest Ibrahim Halawa who arrived unannounced to pay tribute to his 5 sisters - watch what happened here.
In addition to the awards, guests were treated to a number of fashion shows and entertainment by singer Lisa Hannigan, Monica Loughman's elite ballet group, 12-year old busking sensation Allie Sherlock and author/actress Tara Flynn.
Full list of Irish Tatler Women of the Year Award winners:
LITERATURE AWARD – Liz Nugent
ENTREPRENEUR AWARD – Food Cloud
SOCIAL ENTREPRENEUR – Cybersafe
FILM AWARD -– Dearbhla Walsh
FASHION AWARD -– Roisin Linnane
PUBLIC LIFE AWARD -– Senator Lynn Ruane
MUSIC AWARD – Niamh Farrell
PERSONALITY OF THE YEAR AWARD – Doireann Garrihy
SPORT AWARD – Rena Buckley
BUSINESS AWARD -– Evelyn O'Toole
PLANET WOMAN AWARD -– Carol Andrews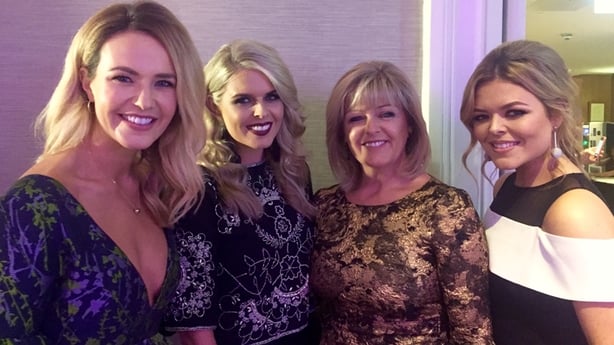 MEDIA – Caitriona Perry
COMEDY AWARD -– Alison Spittle
ENTERTAINMENT AWARD -– Aoibhin Garrihy
DRAMA AWARD – Charlene McKenna
SPECIAL RECOGNITION AWARD – The Halawa Sisters

More Awards below


HALL OF FAME AWARD – Kathleen Watkins
OVERALL AWARD – Sister Stanislaus Kennedy
Speaking about the awards, Norah Casey said: "We have some amazing women award winners this year including the Halawa sisters who stood steadfast by their brother campaigning tirelessly for his release.
"When the judging panel choose these three women for a significant achievement award little did we know how momentous the week would be with Ibrahim's release.
"I started these awards 17 years ago to recognize iconic Irish women in all walks of life but also to shine a spotlight on these amazing role models so young women could believe that they can achieve anything in modern Ireland.
"When I was growing up I would never have said I wanted to be a business woman, I didn't even know what a business woman was. Now it's our biggest category."

Irish Tatler Women of the Year Judging Panel: - 
Norah Casey, Business woman and Irish Tatler publisher
Shauna O'Halloran, Editor of Irish Tatler 
Annalise Murphy, Olympic Athlete
Breege O'Donoghue, Director, former Penneys
Carmel Breheny, Marketing Manager at M&S
Cecelia Ahern, Author 
Charlotte Bradshaw, MD at Dylan Bradshaw
Dearbhail McDonald, Group Business Editor at Independent News & Media
Debbie O'Donnell, Producer at TV3
Denise Charlton, Consultant and Social Justice Activist
Eddie Doyle, Head of Comedy, Talent Development & Music at RTÉ
Jacqui Hurley, Sports Presenter at RTÉ
Joan Freeman, President/CEO at Pieta House Inc. 
Kathryn Thomas, Television and Radio Broadcaster
Larry Bass, Treasurer at International Quorum of Motion Picture Producers
Margot Slattery, Country President Sodexo Ireland and Northern Ireland
Mary Harney, Director, former Tánaiste
Michelle Spillane, Director RTE Global & Marketing
Paula Fitzsimons, National Director at Going for Growth
Roisin O, Singer
Sarita Johnson, Manager Female Entrepreneurship at Enterprise Ireland  
Sonya Lennon, Stylist, Designer, Author
Tara Flynn, Writer, Comedian
Tina Roche, CEO at Business in the Community Ireland
 
#WOTYA