Nearly five years after being diagnosed with breast cancer, life is on the up and up for RTÉ reporter Teresa Mannion, from viral weather reports to Dancing with the Stars. Donal O'Donoghue meets her.
"I probably wouldn't have done Dancing with the Stars before I got breast cancer," says Teresa Mannion, RTÉ's western reporter, YouTube sensation and dancing queen.
"I was in my 50s, I had gone through a lot of chemo and that does take a lot out of you physically. But I recovered so well and then that video went viral, so I started to embrace things, thinking 'Sure why not do Dancing with the Stars, as life is so short?'
"Now I have a different attitude to life. I never thought when I was sick that I'd have the strength or energy
to do something like Dancing with the Stars. But here I am; I did it."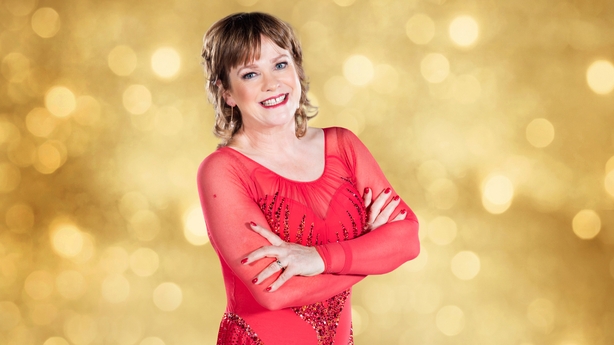 I meet Teresa Mannion at a hotel midway between Dublin and Galway, where she lives. It is the morning after the All-Ireland Football Final and on the road west, the green and red of Mayo flutters forlornly on homeward-bound cars.
Mannion, a Dub born and bred, has lived west of the Shannon for more than 15 years and has divided loyalties. Or at least her football-mad family back in Dublin believe that is the case.
"They're not sure who I'm shouting for anymore," she says with a smile, although when pressed on which colours she really flies, the cards are kept close to her chest. She's less coy about her own personal story, a cautionary tale with a happy outcome.
It was twelve months since I last spoke with Teresa Mannion about her breast cancer experience. "I will be five years cancer-free next February and five years is a recognised statistical landmark," she says.
"I was very conscious of a recurrence in the first two years after treatment, as I had been diagnosed with triple-negative breast cancer (TNBC) and because it's not hormonal, you cannot take the usual drugs.
"It was a tiny tumour, a little dot and I didn't lose a breast. I had a lumpectomy and while I went through the heavy-duty therapy afterwards with four cycles of chemotherapy, it wasn't that bad. But then, everybody's journey is different."
In recent years, Teresa Mannion's journey has taken her to some unexpected places.
It was that feverish weather report (you know the one: "DON'T make unnecessary journeys! "DON'T take risks on treacherous roads!" DON'T swim in the sea!") that set the ball rolling.
Following that broadcast in December 2015, the RTÉ journalist made international news, nailing a guest-spot on The Late Late Show and being hailed on the street.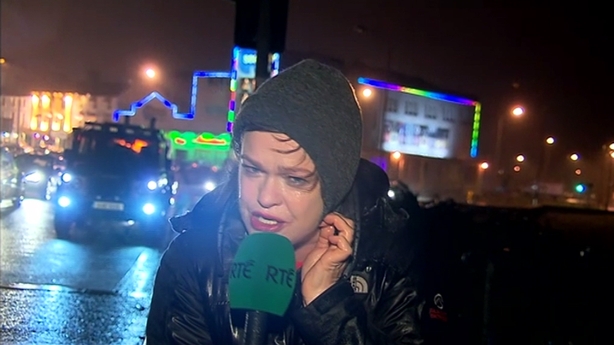 And it keeps giving, with rappers 50 Cent and Snoop Dogg discovering the video a couple of weeks back.
"Hopefully, that's it now," says Teresa. I doubt that.
Her opening routine for Dancing with the Stars was a re-enactment of her perfect media storm but the show opened other doors as well.
Born in the year of Hurricane Debbie in 1961, Teresa Mannion's story began in a pretty ordinary way.
She started in RTÉ making young people's programmes before moving to news, where she learned her craft on the shop floor.
For the past 15 years, she has been on the road, a reporter based in Athlone and now Galway.
She is married to journalist Dave O'Connell, they have two sons, Cian (19) and Tom (18), and life was good.
Her biggest slice of luck was a letter from BreastCheck, the government-funded programme that provides free mammograms to women over 50.
It was left lying on the kitchen counter for weeks. "I felt great," she says. "I didn't have any symptoms and there was no family history."
It was only when a friend had a mammogram that Mannion made an appointment at the nearby University Hospital in Galway. That was in February 2013 and after that, everything changed.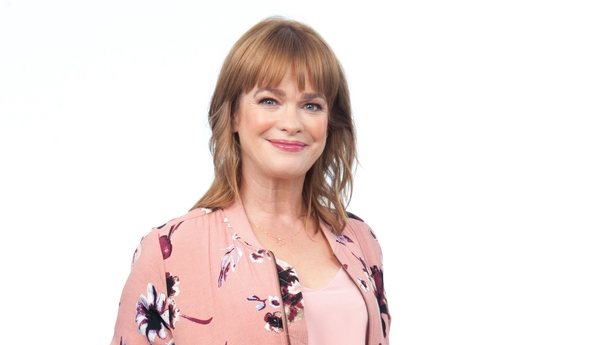 She was lucky. The tumour was tiny, a little dot, and her surgeon, Michael Kerin, told her that she had a guardian angel watching over her.
"Early detection is everything," she says. "I know that Breastcheck is sometimes criticised for over-treatment but I'm the perfect example of someone who is going 'Thank God for that!'" She says the hardest part was losing her hair.
"The rational side of your brain is going 'Would you stop being so ridiculous!' but when you see yourself in that moment in the mirror you feel then that you really are a cancer patient.
It hit me hard, but I got to love my wig and people were saying 'How do you keep your hair like that?' I sported a little bandana as well.
If she doesn't like being defined by her illness (in the restaurant where we've met, her voice drops every time she mentions cancer), Mannion is certain about how important it is to talk about it.
Since she told her story and especially since Dancing with the Stars, people have contacted her with their own stories of coping with cancer.
"A few weeks ago, a woman told me that she was going through treatment and in a really low place when she saw me on Dancing with the Stars.
"She said I was her inspiration and I was so humbled by that idea, that a light entertainment dance show could reach out to people and help them believe they could go on."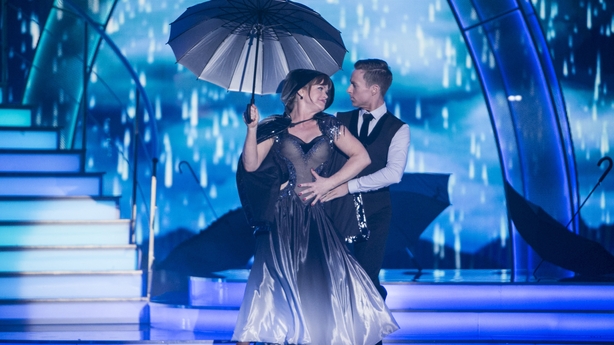 What helped her get through? "The support of family and friends," she says. "I also said the odd prayer and while I'd be more spiritually inclined than the traditional Catholic that I was reared to be, there's nothing wrong with prayer or lighting a candle." She also went to a number of mindfulness sessions with Cancer Care West.
"Some of what I learned there was very good at stopping me getting into a tizzy of negative thinking. Always in the background, I'm saying to myself you had a brush with mortality, so in the overall scheme of things this
isn't that bad.
And while I had a few little cries now and again I didn't shut myself away from the world.
"Dave would always say that I am good in crisis situations. It's the small stuff that I sweat."
Dancing with the Stars certainly had her sweating. "It was so out of my comfort zone," she says of Dancing with the Stars, although her parents first met at a ballroom dance.
"When I got the email asking me my first reaction was 'No way'. I can't dance. But I did love watching Strictly and having read that email once I couldn't 'unread' it. I also thought I'll never get asked to do it again.
Then I got worried about being physically unable to do it because I have dodgy knees.
"I never thought I could win. I knew my limitations. I was much older than most of the others and had never really danced before but that's what makes it such good TV."
Mannion got some stick from the judge Brian Redmond, but she'd been through worse. "I'm really proud of what I did on Dancing with the Stars," she says.
"I had my own personal goal to challenge myself, starting from zero. I didn't find it easy. I would think 'I have a right and a left leg so why is it so difficult to use them?'
"When I started to relax I started to improve and I had a great dance partner. I would also like to think that if people see me doing it they would think 'It's never too old to make changes'".
If the public reaction was a boost (no longer just ribbing her about "making unnecessary journeys" but now asking for a dance), she will also host a special edition of Nationwide on dancing ahead of the new season of Dancing with the Stars.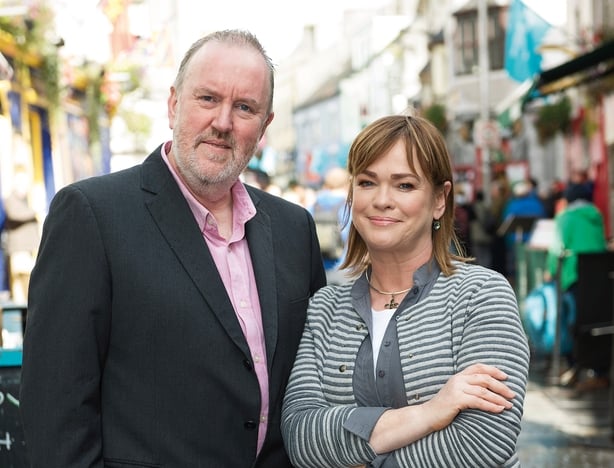 "I don't obsess about cancer," says Mannion now. "Of course, I did go through some low points during my treatment and sometimes I'd get this jolt thinking 'Am I more vulnerable to having cancer again?' In those moments, I wonder how did it happen to me, how did that disease come into my body?' But in those times you have to force yourself to switch those thoughts off.
My oncologist told me once, "There's nothing that Teresa Mannion did to get cancer!' because you do worry that you did something – your lifestyle, a bad diet or whatever – to bring this on. But I didn't do anything. It's just simply that one in three people get cancer and I was one of them."
Good luck, bad luck, the roll of the dice. Sometimes it's what you do afterwards that makes all the difference. Teresa Mannion still dances a bit (she attends classes in Galway) and there is also the occasional weather report, but nothing so dramatic as to light up YouTube or scare the horses.
Lightning rarely strikes twice but for the unlikely celebrity, life has thrown her a second act and she's grasped it. Next up, away from the daily grind of reporting from the highways and byways, is that Nationwide special.
She also has a few ideas on the backburner but won't say. But the biggest lifeline is the one she was thrown some five years ago: the one that changed everything.