Tonight on RTÉ One, Room to Improve architect Dermot Bannon follows the extraordinary transformation of the Royal College of Surgeons' building in Dublin's city centre.
The Royal College of Surgeons has embarked on an incredible architectural journey to become a beautiful, practical and modern ten-story venue for a world-class medical training centre, complete with lecture theatres, an auditorium, a gym, a library and state-of-the-art surgical training facilities.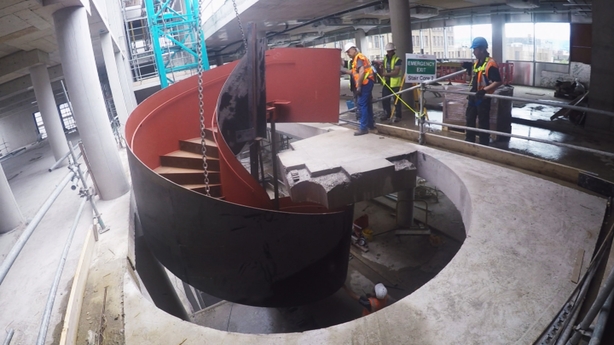 However, due to its city centre location by Dublin's St. Stephens' Green, planning regulations stipulate that the building must remain in scale with the surrounding streetscape - a mere six stories.
So, if you can't build up, you must go down! Watch as Dermot follows Construction Manager Carol Smillie and the Bennett Construction crew over two years as they build the deepest building in Dublin.
Peter McGovern Architect and Director of Henry J Lyons Architects who designed the building said:
"The new building underpins the College's historic presence on St. Stephen's Green providing state of the art clinical and surgical training facilities as well as a new library, auditorium and sports facility.
"The design seeks to create a clinical stage set for learning and forms a contemporary and distinctive representation of the character and spirit of the institution.
"At the heart of the project, themes of transparency, openness and collaboration contribute to a rich variety of spaces for individual and group learning."
Watch Dermot Bannon & the Big Build at 9:35pm on RTÉ One tonight, Monday October 2.