If you're looking for inspiration to transform your home, easily and quickly then Moda, created by Dulux, could be exactly the thing for you.
From Mineral Glow to Coastal Calm palettes, the range offers five unique and contemporary palettes with which to transform your home.
Your Interior Stylist: One Moda palette, 3 brilliant ways
Here, Team GAFF - presenters and stylists with The Good Room on RTE Player - take one Moda palette, offering three alternative ways to style your living room.
The beauty of these palettes lies in the fact that they are a lot more than a simple guide to paint colours.
They act as your very own interior stylist, making your home improvement project a stress free and creative experience.
Within the one palette, you've got five complementary colours - some of which are neutral, others more daring - that come together for the most stylish interior curation, be it a tranquil bedroom or a cosy living room.
Each Moda palette goes beyond paint, offering colours to consider throughout your room, from your feature wall right down to the accent colours in your scatter cushions.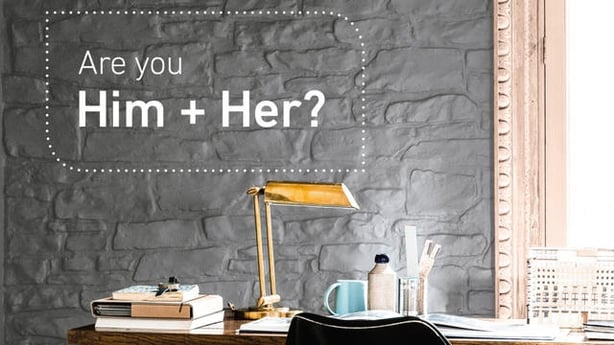 Perhaps it's our obsession with all things grey, but the Him + Her Moda palette is definitely one of our favourites.
While grey continues to dominate interior trends, this palette takes a refreshing approach. Him & Her introduces softer, more feminine - but not too feminine!

Colours, such as Foxglove, a sophisticated lilac, along with warmer tones with the likes of Sweet Cashew and a rich, luxurious aubergine - named Amaranth - to offset the neutrality of the grey (which is aptly named Backdrop).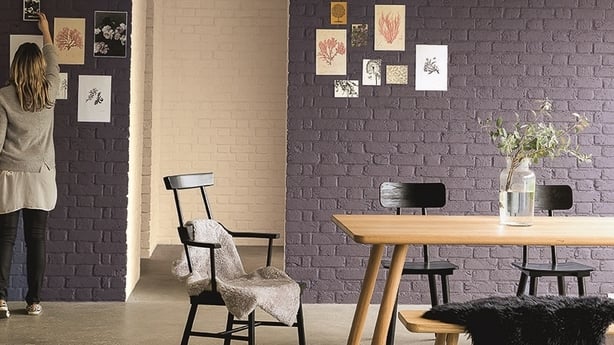 1.
Starting with our beloved Backdrop, and a room that allows for darker tones - such as one with plenty of natural light - let's take to the walls with the grey. You might keep one wall light for contrast, and choose to apply Winter Truffle here.
To balance the dark grey walls, choose a light, neutral sofa - the warmth of Winter Truffle or Sweet Cashew is a good guide here in terms of sofa colours.
While the Foxglove makes for a perfect addition to your soft furnishings.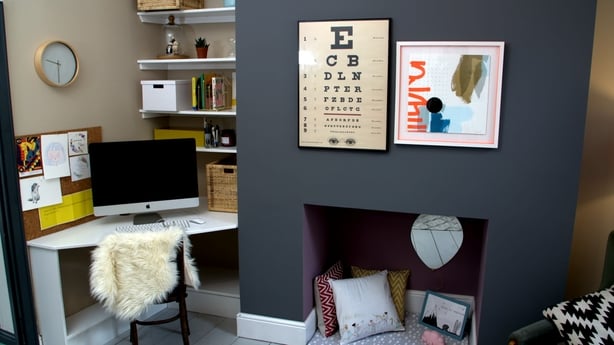 Should you like several cushions - we do! - allow one of them to be in the deeper Amaranth hue and carrying this same tone through to your statement rug.
No need to worry about the colours working together; we know they do. Add natural planting throughout the room and if like our homeowner in Clontarf, you crave a pop of colour, see how a flash of hot pink lends itself to this palette.
2.
For those with a more playful side, why not create a feature wall with Foxglove? To keep things sophisticated, curate a gallery wall with prints of your choice, but choose matching frames that are similar in tone to either Amaranth or Backdrop.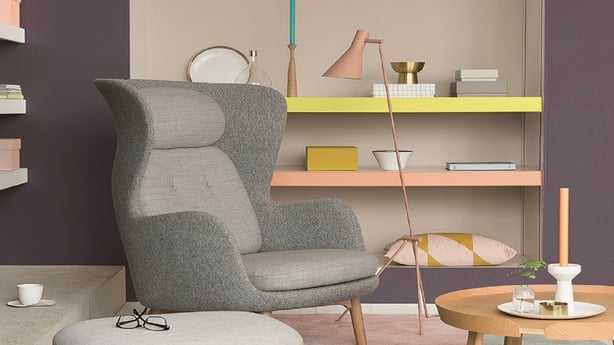 Furniture wise, pick up the warmth of Sweet Cashew or Winter Truffle with contemporary rattan or natural wood pieces, while a statement rug - or even a statement coffee table - the colour of Backdrop will serve to balance the sweetness of the Foxglove.
If you choose to paint all of your walls in Foxglove, allow this to be your accent colour, while the remaining colours serve to enhance this. Chic and effortlessly stylish.
3.
When you choose to keep things pared back on your walls, the world is your oyster when it comes to furniture and accessories. Winter Truffle is an ultra sophisticated tone that looks beautiful against freshly painted skirting boards.
Try this throughout the room and prepare to go luxurious and darker elsewhere.
What's really important to consider when you're after a more luxurious effect is not just the colour but the mixture of textures and fabrics that can bring your colour palette to life. This might be a selection of velvet cushions, a woven tapestry wall hanging or a chunky knit throw. Perfect as A/W17 sets in.
For more tips and tricks see our How To Video of the Clontarf makeover on The Good Room here:
We need your consent to load this rte-player contentWe use rte-player to manage extra content that can set cookies on your device and collect data about your activity. Please review their details and accept them to load the content.Manage Preferences

Moda, created by Dulux is available in Woodies, B&Q, Homebase and independent paint stores around the country.
For more tips and advice visit Dulux.ie/Moda
Watch all episodes of The Good Room on RTÉ Player