Weatherwoman Nuala Carey is attending The National Ploughing Championships for the thirteenth consecutive year. We caught up with RTÉ presenter to find out what she loves about it.
What do you like about the ploughing?
I love meeting people of all ages who drop into the RTÉ marquee to say hello.
As this point, I have become firm friends with some families and they even send me Christmas cards!
I also meet extended family of mine and enjoy catching up. This is my thirteenth consecutive year at the Championships - so as you can imagine, the toddlers I met years ago, are now teenagers who reintroduce themselves to me - I don't know where the years have gone!
What 3 things would you not leave home without as you head there?
Wellies
Wipes (so handy for cleaning any muck off my clothes before my live broadcasts)
A pen!
People often come up to me and tell me they were in school with my parents (both are from farming backgrounds - Dad is from Lombardstown, Mallow, Co. Cork and Mom is from Ballyglass, Claremorris, Co. Mayo). I use the pen to write down their names, as otherwise by the final day I've forgotten their details.
What is your ploughing plan - when do you leave home? What do you pack? What do you wear? How do you look so glamourous in wellies?
Unusually for me, this time I will travel down from Dublin very early on Wednesday morning (rather than stay the night before).
I pack lots of food - oatcakes, rice cakes, apples, fun size chocolate bars, and popcorn. I've never sure when I will get to eat, so I always have some nibbles in my bag. 
I have started to plan my two TV outfits already.
I like to wear bright colours - the event is very 'happy' so I like to reflect that in my clothes. I never wear white or pale colours (impossible to keep clean!)
Thank you for saying I look glamorous in wellies - I'm not sure I always do, but I do have a confession to share.....on-air I sometimes switch from wellies to heels as I always feel more confident in them.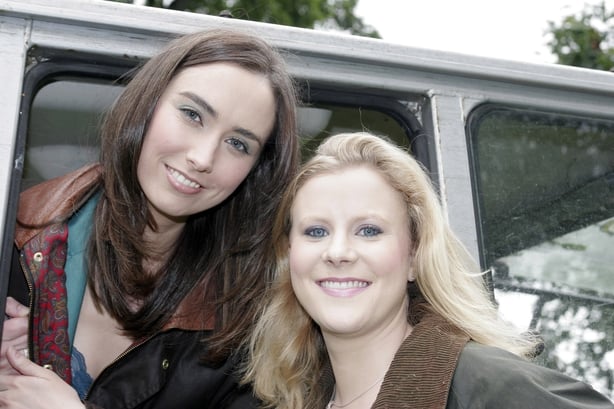 Is there a ploughing best dressed?
In previous years there have been 'Best Dressed' competitions at the Ploughing. A good tip is to wear a hat. A lady wearing a beautiful fedora scooped the top prize one year.
Will you have a special visit again from your admirer - another bouquet of flowers maybe?
This gentleman is a Farmer from the southeast. He very kindly sends me a stunning bunch of flowers each year and calls into the RTE marquee to say hello and wish me an enjoyable few days at the Ploughing.
Shopping - do you buy things there? It's all cash, isn't it?
I don't get to see many other stands at the Ploughing Championships. It's my decision but I like to stay inside/ close to the RTÉ marquee as much as I can. 
I feel quite strongly that the people who watch RTÉ invite us into their homes every day, so I want to be there to welcome them into ours.
People can visit you at the RTÉ Tent to practice weather - tell us more and what reaction do you and the stand get?
We have what's called ' Weather Wannabes' where the public can drop in and present their own prepared bulletin.
We help them to get ready for it.
Everyone is welcome and we invite people to record it on their phones and take lots of photos so they can relive the experience at home.
We always get a wonderful reaction and welcome down at the National Ploughing Championships. The marquee is always full - with a queue outside the door.
The goodwill towards RTÉ and the Weather team is overwhelming. I wouldn't miss it for the world!