Today on Morning Ireland, Golden Globe nominee and #Coffee4Hospice ambassador Brendan Gleeson spoke to RTÉ's Cian McCormack about his parents' care at St Francis Hospice at Raheny in Dublin.
Brendan explained why he finds the hospice to be a life-affirming and inspiring place to be:
"The people who work there are extraordinarily life-affirming; the generosity that goes into looking after people who had a difficult time at the very end of life when you can feel very alone and everybody dies alone - that's a famous enough quotation - and it's a frightening enough prospect.
"In some way, within the hospice set-up, you have an extraordinary generosity whereby people feel really not so alone anymore, and I don't know how they manage it, except there's a tremendous degree of pure goodness involved in it and charity in it's purest form, which is a selfless kind of an act... So for me, it's very life-affirming.
"You can see people who are giving of themselves in order to alleviate the most difficult days of the end"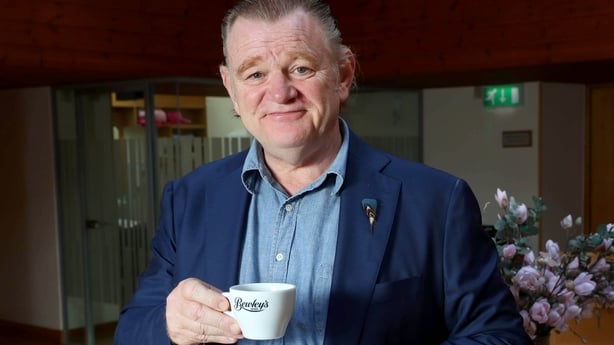 Speaking on his own experience, Brendan described how his parents' time at the hospice helped him to process the idea of death.
In the video above, he recalled one afternoon he spent there with his mother watching LaTraviata, despite not being a huge opera fan: "It was very special couple of hours, very peaceful and full of fun and not the way you think... it wasn't all that reverential.
"In a way, it took a lot of the terror of death away, when it can be treated as a natural part of the cycle and when it's alleviated in that kind of a way"
The actor is supporting Ireland's Biggest Coffee Morning for Hospice which is set to take place this Thursday, September 14th. The initiative, which is run in conjunction with Bewley's, is celebrating 25 years and has raised €34 million to date.
You can support #Coffee4Hospice by:
Hosting a Coffee Morning in your homes or offices
Attend a Coffee Morning in your local hospice – there are 29 locations around the country hosting their own coffee morning
Text COFFEE to 50300 to donate €4*
You can listen to the full report below:
Tune in to RTÉ Radio 1's Morning Ireland between 7:00am and 8:00am.