Two and a half decades and many news making stories later, Miriam O'Callaghan talks to Michael Doherty
about 25 years of Prime Time.
Here, Miriam explains why Prime Time is so important, now more than ever, in the era of fake news and social media news alerts.
"It is dramatically different today," she agrees, "but I would argue that our programme remains more important than ever. 
"With social media and all those websites distilling news around the world, there's a greater need for
programmes, papers and magazines that people can turn to and trust. 
"There's a multiplicity of choice now but who knows what's true and who knows who's peddling what line? If you watch a programme like Prime Time, it's a public service broadcasting programme.
"I can't be there peddling my ideas and I certainly can't be telling any falsehoods.
"When you turn to us, what you see is real and true."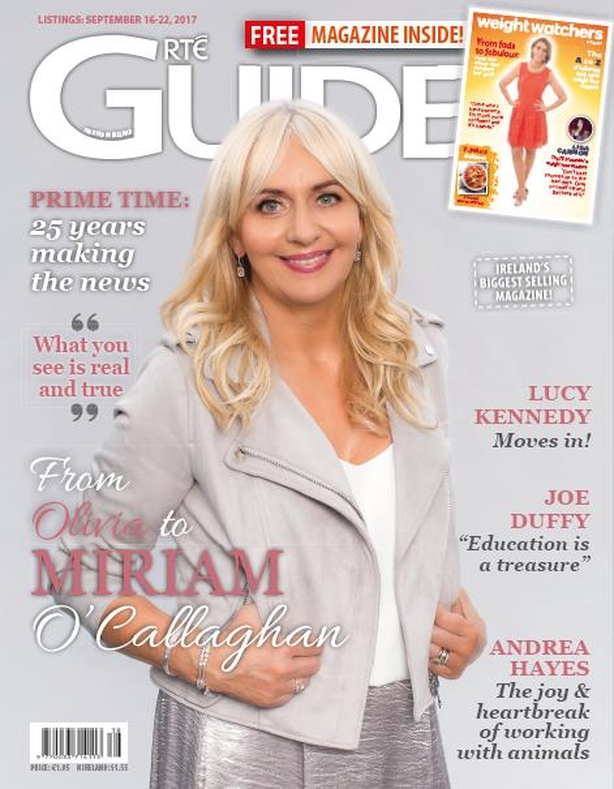 Elsewhere in the RTÉ Guide:
The 2017 Emmys Westworld's cyborg cowboys are top of the nominations this year.
Lucy Kennedy She's back with Living with Lucy and will be hosting Ireland's Got Talent soon, so how does Lucy Kennedy find the time?
Joe Duffy The radio presenter explores the education system in a difficult time.
Gaelic noir Meet Kate Nic Chonaonaigh, star of TG4's new dark drama, Grace Harte .
Andrea Hayes The broadcaster and bestselling author talks to Darragh McManus about her new series of Dog Tales.
Watch Prime Time: Unforgettable moments from the last 25 years on Tuesday, September 12, and Thursday, September 14 on RTÉ One at 9:35pm.