Aoibhín Garrihy & John Burke have big plans for 2017. Windswept and sunkissed, the couple remain on top of the world as they talk to Darragh McManus of the RTÉ Guide about their plans for the future.
Among other things, the Co Clare couple have plans to launch a new charity called Elevate.
John explains: "It's coming together very well now, a lot of support and interest. Elevate will launch in September, through secondary schools and youth organisations; Clare to start off, then we'll see how it goes from there.
"We're looking at all the elements of mindfulness. The statistics are crazy: they say one in three young people have mental health difficulties by 13. It's hard for schools to keep up."
Aoibhín adds, "We feel in a privileged position that we can instigate and spearhead something like this. We're not experts, so it's a case of bringing the right people on board. It's also about getting the word out, which I suppose is where I come in. You won't change the world but you can chip away and try to make some impact."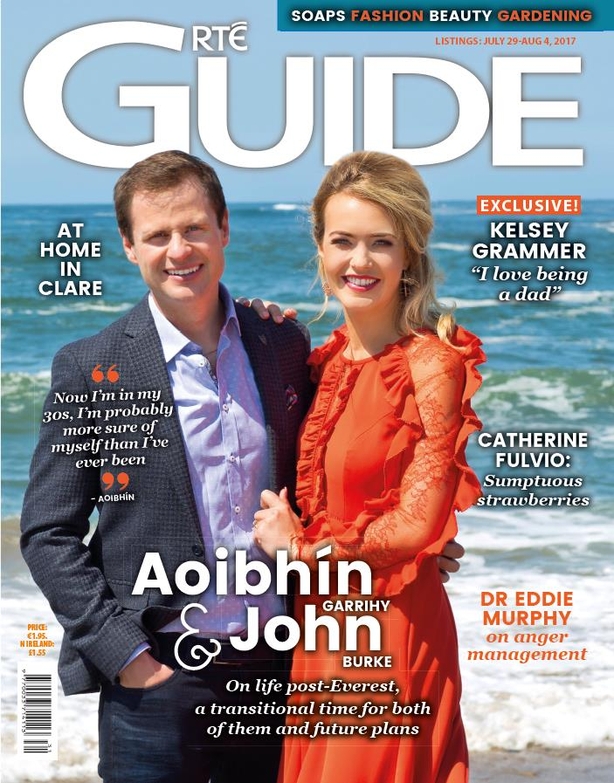 Elsewhere in this week's RTÉ Guide:
Jodie Whittaker Some dark corners of social media may object to the first female Doctor Who, but she is rearing to get time-travelling!
Kelsey Grammer In a life of much happiness and heartache, the star of Frasier and The Last Tycoon tells Donal O'Donoghue what keeps him going.
Ben Dolan They used to say there was no show like a Joe show, now find out as Ben Dolan brings his brother Joe Dolan's music back to life
Against the tide The remarkable story of Ruth Fitzmaurice and her family