Cancer survivor Dee Featherstone started a blog during her time in hospital, to discuss her experience with the disease. In 2014, the blogger took things a step further...
What is the 'Strip and Dip', when did it start and who started it off?
The 'Strip and Dip' was started four years ago by Dee Featherstone who at that point in time was going through treatment for breast cancer.
Dee, while in hospital, came up with this idea as she thought it would be fun, raise money for childhood cancer, raise awareness for breast cancer and a great chance for the amazing women she met while sick.
She used her blog , which became very popular, to celebrate and bring these women together and show people there is life after cancer and a time to remember those who were sadly taken by cancer.

How many people attend the event?
The first year, in 2013, Dee blackmailed 80 women to do it - most of the people would have been friends, family and cancer friends of Dee.

When friends said they didn't want to do it Dee just said "I am bald with one boob".... That got them signing up. This year we had 250 people attend.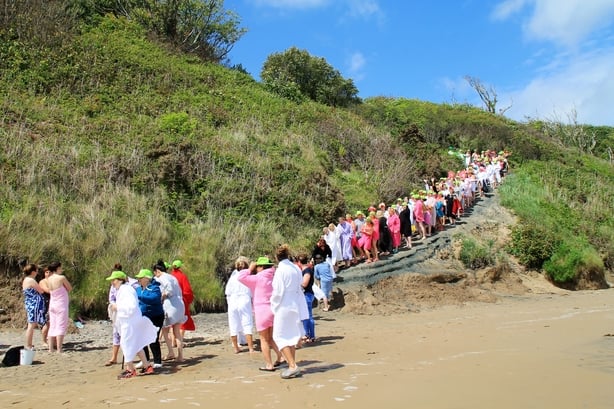 What's the fundraising goal and how/where can people donate?
In the four years that Dee has been doing this €145,000 has been raised for children's cancer www.aoibheannspinktie.ie. This charity is a voluntary charity which helps families who are going through the devastation of childhood cancer and ensure the kids get the best chance of being happy while sick.
This year has raised €45,000 so far and we are still taking donations and are hoping to glide over €50,000. To donate people can log on to www.idonate.ie/kickingtheshiteoutofcancer
Does it happen anywhere else in the country/world?
There are other Dips that happen around Ireland however the 'Strip and Dip' only happens in Wicklow but is getting quite international with people this year from all around Ireland of course, UK, Scotland, Sweden, Austria and even Australia.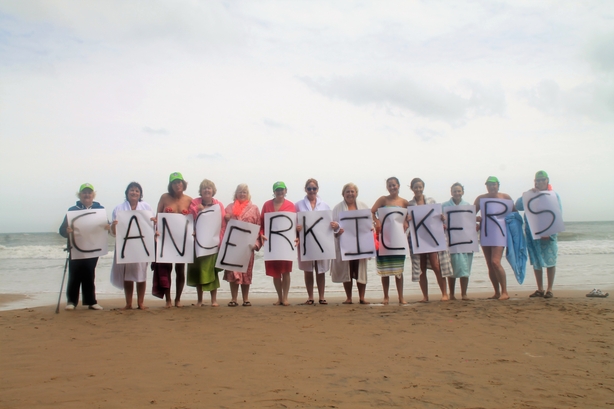 What are the plans for the Strip and Dip in the future?
Dee is going to continue this annually until the day her kids have to take her down in a wheelchair and throw her in the water. The eldest dipper this year was 82.... so if Dee is around then she may beat that record.
Seriously though, Dee intends to run the Dip for the foreseeable future, it may get bigger annually but that is not the main goal.
The main goal is to have a great day, women empowerment, fundraising and showing people that there is life outside cancer and of course which is very important on the day we remember those who were taken by cancer.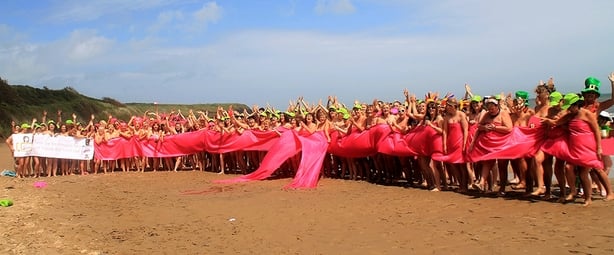 Who are the key people we should credit for keeping it going?
Dee is the organiser of the whole event, also her right-hand man in Wicklow is Wayne Jordie Jones who does security every year on the beach and donates so much of his time to this event, also Paul Meagher who kindly gives us access to the beach annually and donates security.
We even have a book out by the author Sinead Hamill which was inspired by all the dips she went to and the amazing women she met. It's called Dippers.
Gerry McGuinness