Over 30 of the world's top chefs are attending this weekend's Taste of Dublin 2017 and they told us why its an event that they insist on booking into their diaries year after year.
Organiser of Taste of Dublin Avril Bannerton gave us the big picture over-view of this year's festival, the 12th Taste of Dublin: "We have over 30 visiting world class chefs, 20 of Ireland's greatest restaurants, 170 demonstrations and over 100 exhibitors, so much going on for everybody.
"This year our big, big theme is Flavours of the World, so we've a whole new culinary experience. All of the restaurants have really been challenged to come up with something new and interesting and it's really reflecting the growing dynamic of the culinary scene in Ireland and a lot of multi-cultural people and nations coming in."
She added: "We've a great female line-up of chefs and that's really really important this year."
Most notably, Ireland's only female Michelin-starred chef, Danni Barry, is in attendance with her restaurant Deanes EIPIC.
What's new in Taste of Dublin 2017? Watch the video with the festival organiser, Avril Bannerton, above.
Mid-interview a friend of the event caught Avril's eye and Micheál Martin TD came over to say hello to her and us!
"The food is fantastic and it's a great credit to you," he told Avril.
Little wonder that the TD for Cork South-Central was spotted at the stand of Cork-based company, as Avril pointed out: "I see you were up at the Barry's Tea experience, checking that out."
To which he replied: "That was very important, a good Cork company!"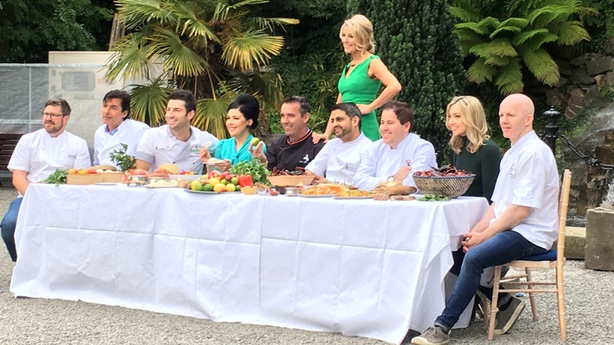 RTÉ Radio 1's Shay Byrne at Taste of Dublin:
The Rising Time presenter has been a fan of the food festival for many years...ever since he was asked by a pal to carry a box into the food festival over 12 years ago! Watch his interview below...where he gets photo and video bombed by another aul pal!
"It's an extraordinary showcase for Irish food, for Irish producers, for food from around the world as well...", Shay said and added: "It's also a social occasion, where you meet loads of friends, bring the kids, bring the family, I just love it."

Aside from video bombing Shay, Simon Delaney is a man on a mission at Taste as he's launching a new cookbook, Simple Simon's The Diner Cookbook, which he promises: "...has the ultimate burger in it", which he then cooked up for visitors of the food fest.
Kevin Dundon
The Dunbrody House chef is a long time Taste of Dublin supporter. This year he is also backing fathers everywhere by giving tips and advice for kiddies to surprise their Dads this Sunday with Taste tickets.
Jean-Christophe Novelli
French chef Jean-Christophe Novelli is Michelin-starred and world renowned, but still, he says Taste of Dublin is one of his favourite events to attend.

Edward Hayden
The TV and radio regular says that Taste of Dublin is an important event on the Irish food scene because it brings the world off Irish food to one place from chefs and food producers to exporters and suppliers.
Stuart O'Keefe
The Limerick-born, LA-based, chef says that Taste of Dublin is one of his favourite events on his calendar because he gets to come home to Ireland with some brand new dishes including his Baja shrimp tacos.
Check out everything you need to know about Taste of Dublin 2017 here.