The biggest gardening event of the year in Ireland is back this Bank Holiday weekend. Bloom is to gardening what the Ploughing Championships are to farming - it's a rockstar event and its-a-coming!
Every year there are talking points from the floral festival that have everyone buzzing and here are the ones that we're pretty sure will be the hot topics this year.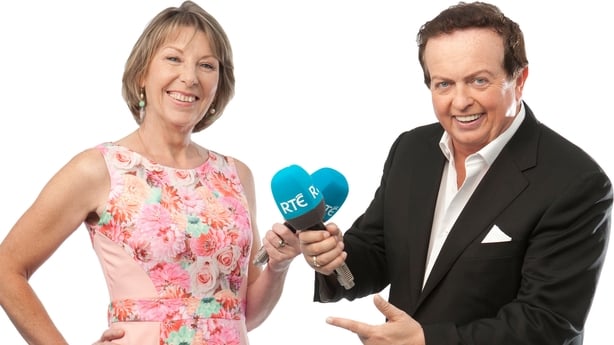 1. Super Garden Finale Live on RTÉ One & RTÉ at Bloom Events
You might think we would say that but a quick look at the schedule and I think you'll agree that there is a lot to look forward to from a chance to watch and meet Aine Lawlor and Marty Morrissey as they present the final of Super Garden live on RTÉ One.
While Joe Duffy, Miriam O'Callaghan, Marty Whelan and Ronan Collins will also be broadcasting live from the Phoenix Park. For this year's RTÉ at Bloom once again there's live coverage across radio, TV and online. Check out the full schedule here.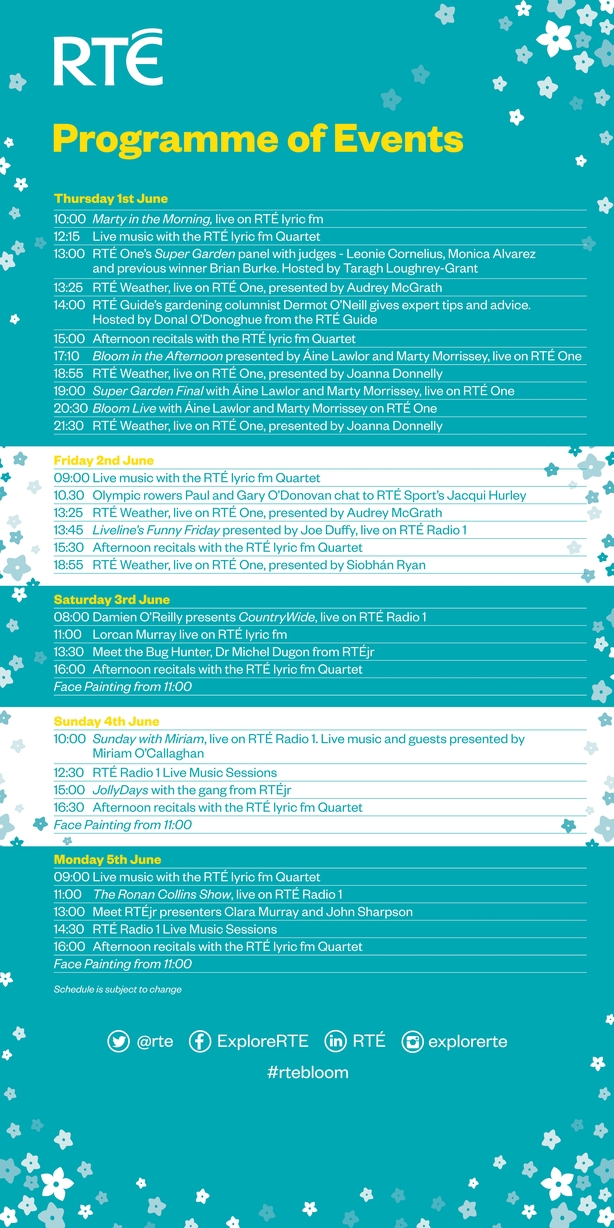 2. The Gardens - from postcards to show gardens
Bord Bia really pulls out all the stops for the big event but their work is made easier by passionate amateur gardeners who rally around to create amazing gardens each year.
This time around there will be 13 postcard gardens, each only 2m x 3m in size plus 22 no doubt jaw-dropping show gardens by award winning gardeners - each with a seperate message reflecting some of the key issues that we're faced with day to day.
Plus more than 30 Irish nurseries will be on hand in the Floral & Nursery Pavilion, to share their learnings and wares.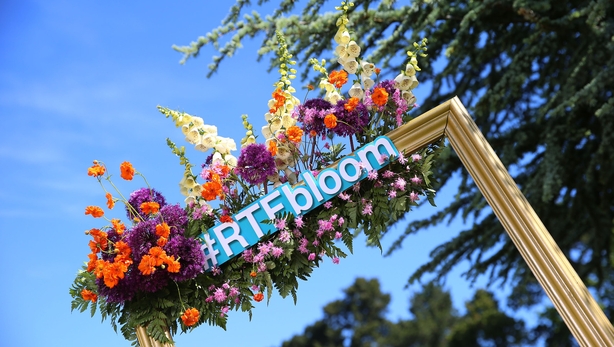 Off Green activities
3. Food Glorious Food
For the less green-fingered amongst us, or indeed just those who like a little off-piste or green action, there are set to be over 100 stalls by Irish food producers in the food village where you'll find the Bord Bia food market and the Love Irish Food marquee.

Something I love about Bloom is just how helpful everyone is and how keen they are to share their knowledge, whether that's gardening or on food to enjoy while outdoors. Cue the Bord Bia Quality Kitchen Stage - they're featuring 25 live cookery demonstrations from a number of Ireland's top chefs including Neven Maguire, Catherine Fulvio and Rory O'Connell.

4. Family Friendly Fun
Naturally there are lots of family friendly activities for kiddies in Budding Bloomers but there are also lots of fun learnings thanks to Scientific Sue and Billy Bubbles!

5. There are heaps of fringe events with workshops on how to grow what you grow better. Chef and Grow Your Own supporter Lilly Higgins and horticulturalist Peter Dowdall, for example, will take to the main stage on Saturday at 12.45pm and 2.45pm for a workshop on GIYing as Love Your Garden ambassadors.
There are even fashion, music and craft events plus lots of places to just sit down, chill, have an ice cream and soak up the atmosphere. Check out the full event schedule.
Plus the event is, surprisingly, dog-friendly or at least the people who created a special dog-friendly garden are hoping it is!