Battle For The Bay is set to return to Dollymount beach on Saturday 20th & Sunday 21st of May 2017. We spoke to organiser Francois Colussi to find out what we can expect from the weekend.
What is Battle For The Bay? When did it start and how did you guys kick it off? And what is the ethos of the festival and who is it for?
It started as a gathering of a handful of kite surfers ten years ago. The BFTB is now a celebration of the beach lifestyle, sports, and Dublin's unique and incredible Dollymount beach.
This is now a unique festival bringing many different crowds together, with a simple message: life is good on the beach. We now have water sports, beach sports, three music stages, educational activity with the Biodiversity village, a giant funfair area, hot air balloons, a tasty food village - the list goes on!
You have managed to create a unique festival with an amazing atmosphere in a beautiful location on Dollymount Strand - how did you do it?
We did it slowly but surely. We never wanted to have something big, we just wanted to continue what we love doing: bringing people together. We always tried to grow organically and never in a commercial way, which is our strength today. In business, this would be the opposite of a "quick sale".
We also provide a lot of activities, and people seem to enjoy that year after year and wanted to join the movement. We have always focused on positive energy, we are very family oriented and very kid friendly. Even if the event has grown much bigger, the message is still the same.
The overall vibes of the event remain the same as well. It's maybe not as "intimate" as it was ten years ago but the philosophy has not changed at all.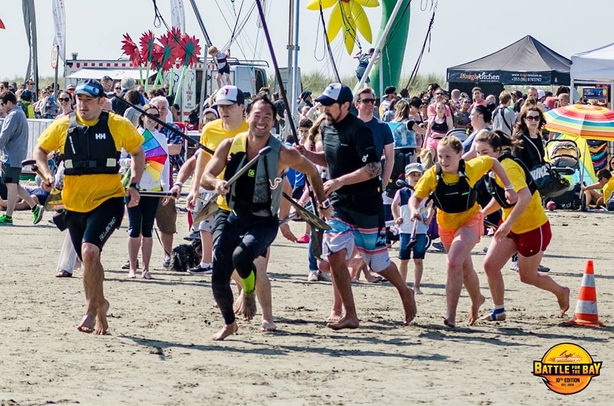 Family-wise - Battle For The Bay has a lot to offer - for those who have never been, can you explain?
Well, at Pure Magic we are big kids - we love colours, we love great music, we love entertainment and we have always been thinking: 'What would we like to do if we were coming to the beach? What would be cool to do if I had no interest in kite surfing or stand up paddle boarding?'
Then the list grew, with activities and the workshop, the kids' disco, and biodiversity. Another very strong message of ours is that although we love technology -we all love iPads and Facebook - at the weekend, it's important to stop all that and share some special moments with your family and your friends.
To see grannies and grandkids jumping on our trampoline on the sand, or to see the little ones with a 99 ice-cream and their parents wandering around... that's the real family connection, and it reminds everyone how lucky we are to have a jewel such as Dublin Bay right at our fingertips.

What are your top prep tips for families who have never been to a festival before?
1. Get ready for the weather, you are not going to the movies! Suncream in case it's hot, and warm clothes in case it's raining - its all about being comfortable.
2. Check the direct access and transport to ensure you can get to Dollymount with no stress. Be patient, it might be a bit busy on the road.
3. Look after each other and always stay together on the beach, the beach is really quite big and there are so many attractions that it could be easy to lose each other.
4. Wander around and try everything. There is a mix of free activities and paid activities. The entrance is free!
5. Listen to the music... it's an amazing line-up!

What times are the acts/events on and what time does it wrap each evening?
The day kicks off at 10am and wraps at 6pm each day. There is a great music line up; we have added another stage this year from Downdaroad Productions, they will join the King Kong stage and the main stage.
The main stage is the main attraction of the event with some surprise guests and interviews, it's actually the people stage! It's all very improvised, you never know what will happen there, last year some we had some mad Zumba. This year, we heard there will be a secret flash mob involving an accordion...

For the adults, the craic will continue at night time. The Shed in Clontarf will host the opening and closing ceremonies (Friday and Sunday) and the official party this year will welcome more than 2,000 people at The Church Bar on the Saturday night. The theme this year is Holy And Hawaiian. There will be live music, surprises and DJs.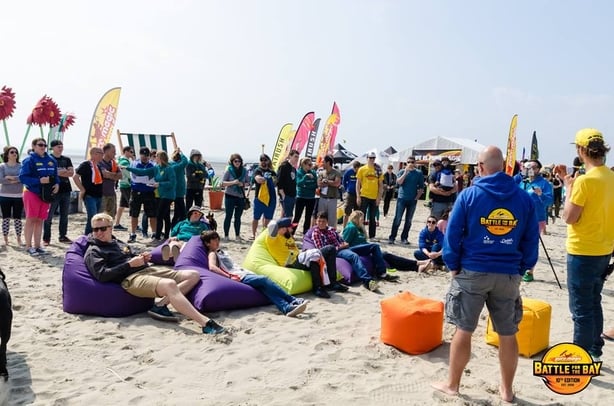 What are good/safe times to have kids around until and what areas are better/more safe?
Anytime from 10am til 6pm.

How do you decide who to book each year?
We listen. We listen and we talk to people and we have some great guys in the team who help us choose the right bands. Many of the artists that come to us play at the event because of its great vibes. It has to be said that all those artists come and play for free. It's a free event, and they enjoy it so much, it's a great way to get these bands more attention.

How many people were there last year? How many are you expecting this year? What number would be the max you would ever want there?
We had a record total attendance of 65,000 people over the two days on Dollymount beach last year, it was sunny, it was warm and it was magical and so peaceful with positive vibes.
Thanks to all the management of the event, the local Gardai and beach management and volunteers everything ran very smoothly. We do our little thing, everyone is happy, our focus and only focus of the event is actually to make people happy.

Do you organise other events throughout the year?
Yes, we do organise quite a few but the biggest after this is one is on Achill Island in Mayo where we run another surf school. It's called Battle for the Burning Lake and it's the small sister of the BFTB event. I highly recommend it!

The event is free - where do you make you money to pay everyone?
It's thanks to our lovely sponsors and partners, especially the huge support from Dublin City Council who share our vision to use the parks. All the other partners share our philosophy. It's challenging sometimes but we are getting there! We feel very grateful we can do this event and without the hundreds of people around us, that would not be possible. Thank you - and see you on the beach!
Check out more details of Battle For The Bay here.