In the week of the Eurovision Song Contest, Donal O'Donoghue catches up with host Marty Whelan, his wife, Maria, and their bowler, Alfie.
Marty tells Donal that although he treats Eurovision very seriously, he also has a lot of fun with it: "There was the idea that we are going to unite Europe with one little song? Crikey!
"No one believes in that dream anymore but take the contest back to its very beginnings in the 1950s, a decade after the end of the Second World War, and the intention was honourable and right and made a lot of sense, but for me it's entertainment, pure and simple.

"Of course some of the people participating are clearly bonkers but that just adds to the fun.
"Like those grannies who were washing and singing at the same time, which took multi-tasking to an alarming level."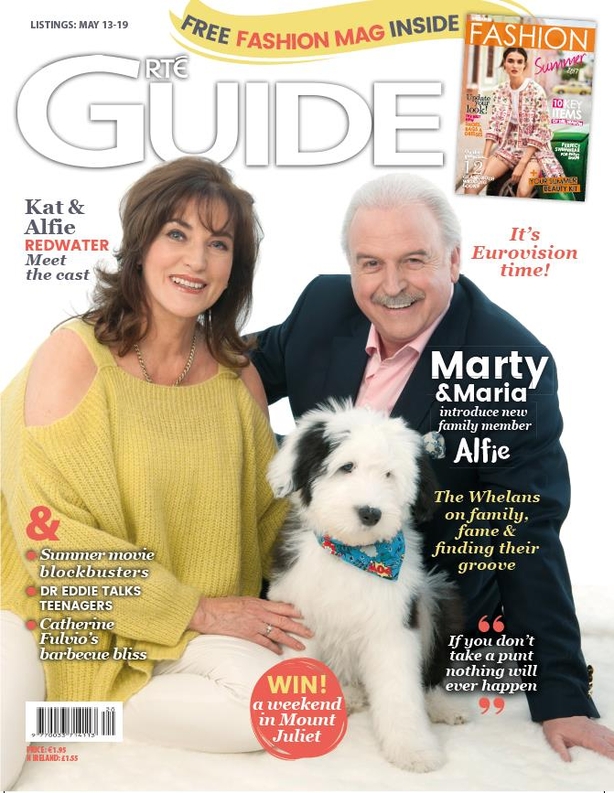 Elsewhere in the RTÉ Guide:
Kat & Alfie come to Ireland Julie Lordan travels to Wexford to meet the cast of Redwater, the EastEnders spin-off.
Summer at the Movies It's blockbuster movie time. Michael Doherty checks out what's coming to a big screen near you in the coming weeks.
David Arnold Michael Doherty meets the award-winning, Dublin-bound, composer of such blockbuster soundtracks as Independence Day and five Bond movies.
The Cranberries As the globally popular band prepare for their new album and tour, Darragh McManus chats to Dolores and Noel.