Don't know what to do with your kids this Easter break? Want to spend some fun quality time but running out of ideas?
Here's our selective guide to amazing events and places to go to all around Ireland.
Belfast
Newtownards Easter Spring Street Carnival and Family Day on Friday April 14th from 12pm to 5pm.
Have a fun and happy afternoon with the whole family at Conway Square. Celebrate spring with amazing street theatre artists, spectacular performances, and funky beats. Let them entertain you and your little ones!
Dusty Duck's Giant Easter Duck Hunt at Castle Espie
Calling all mini-Sherlocks! Dusty is looking for the missing yellow Ducks daily until Wednesday, April 26th and he needs your help to find them.
Brush up on those secret detective skills to tackle this dilemma and win a tasty chocolate treat.
Easter Monday at Exploris Aquarium
Hop along to Exploris Aquarium to make pretty Easter crafts and enjoy ragtag activities.
The kids can create their own Easter baskets, get their face painted, take a selfie with the stilt-walking Easter bunny and make their individual delicious and edible Easter nests in The Cracken café.
Gruffalo Trail at Colin Glen Forest
Bring all the kids, their cousins and besties to meet the Gruffalo & friends. This eggciting adventure is all about eggsploring nature, making arts and crafts and enjoying some story telling.
And your party host will be taking care of everything, so you can lay back and relax. The offer requires a minimum of 10 persons and costs £4pp to £8pp per person.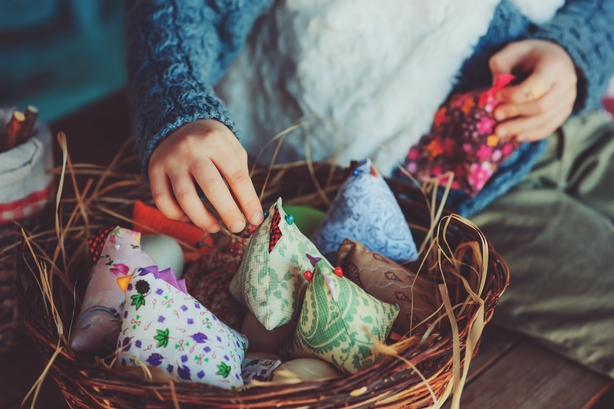 Dublin
Easter Eggstavaganza at Wooly Ward's Farm
How about spending Easter on a farm? Enjoy the fresh country air, see where all the animals live and travel on 'Thomas the Tank Engine'.
Wooly Ward's Farm is offering various Easter activities on Friday 14th, Saturday 15th and Sunday 16th of April. 
"We're all mad here." Dive into wonderland, meet the unique characters, who call it their home and be a part of the most unusual tea party in Dublin.
A guarantee for plenty of fun activities for the whole family. This eggciting event takes place at Deerpark, Mount Merrion on Sunday, April 16th from 1:00pm to 5:00pm.
Easter Bunny At The Chocolate Warehouse
Want to give the Easter Bunny a big hug? The kids can visit the Easter Bunny in the Chocolate Warehouse and create their own personalised special chocolate Easter egg.
Great fun for young and old! On Friday, April 14th and Easter Saturday you can plan your visit between 11am and 5pm for €11.00 per child (adults free).
Easter Egg Hunt at Ardgillan Castle
Wanna eggsperience an Easter egg hunt that is a little bigger and more eggciting than the one in your front yard? How about taking the kids to Ardgillan Castle on Monday 17th April at 3pm.
The Easter Bunny will be hiding his eggs all around the park and promised to meet all the little explorers afterward. Tickets are €5 per person.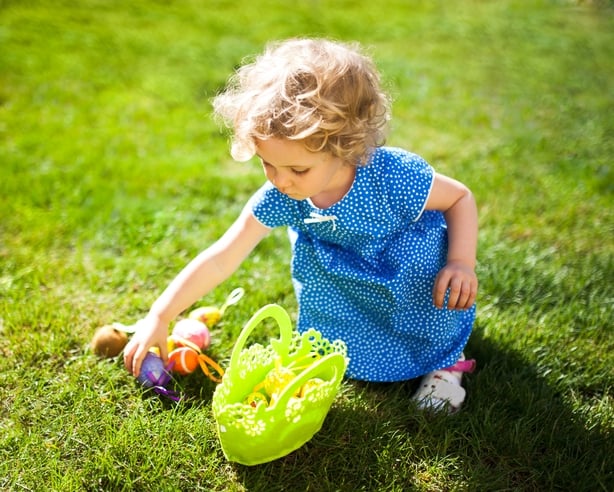 Wicklow
If you want to get out of the city on Easter, the kids can join the Easter egg hunt at Greenan Maze. They're open for the entire school holidays until Sunday, April 23rd from 12pm to 5pm.
The kids can get face paintings, feed the animals, hunt eggs, treasures and the Easter Bunny, while you can enjoy a lovely cup of tea! This marvelous experience is €9.00 per person.
Another Easter egg hunt will take place at the Killruddery House and Gardens on Sunday, April 16th at 10am. It starts off with a workshop, in which you will create special Easter accessories, followed by exploring the different stations in the gardens, visiting fluffy animals and a Mad Hatter tea party.
The grand finale is the hunt for yummy chocolaty treats. The entrance tickets are €7.50 for adults and €15.00 for kids.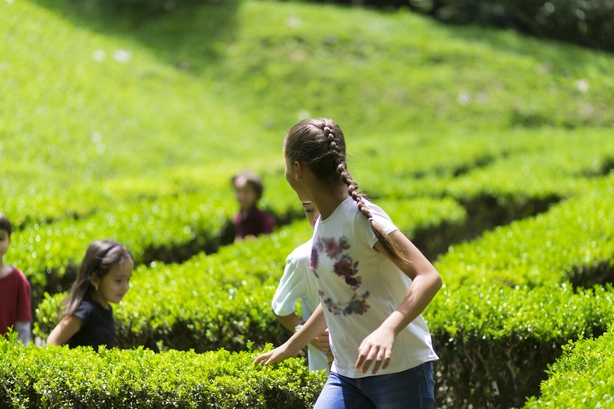 Limerick
Easter At Stonehall Visitor Farm & Wildlife Park
Have a day out with the whole family at Stonehall Visitor Farm & Wildlife Park in Kilcornan on Easter Sunday. The kids can trade little chicks for Easter Eggs and meet the Easter Bunny from 1pm to 3pm.
Eggsperience a wide variety of animals first hand and enjoy the beautiful setting for €8 per person or €35 for a family ticket (2 adults and 3 children).
Easter Bunny in the Jetland Shopping Centre
A magical Easter Bunny's House will be located in the Jetland Shopping Centre on the Ennis Road. Isn't it every kid's dream to enter a place, that is packed with fascinating decorations and candy?
They'll receive an Easter egg of their choice and get the chance to take a photo with the Easter bunny until Saturday, 15th of April, starting at 12pm. No booking required.
Mad Hatters Easter Fun and Games at King Johns Castle
Wanna spend Easter Sunday at a stunning castle, surrounded by breath taking magic? 
Enjoy the beaming faces of your children when they marvel at the award-winning illusionist and celebrity magician Steve Spade's tricks. There will be loads of different games and activities as well as a competition for the Best Easter bonnet and best costume.
We need your consent to load this YouTube contentWe use YouTube to manage extra content that can set cookies on your device and collect data about your activity. Please review their details and accept them to load the content.Manage Preferences
Galway
Turoe Pet Farm And Leisure Park
If your kids enjoy pet farms and dancing bunnies and chickens, this is the place to go to. Celebrate Easter and welcome spring in a beautiful blooming setting surrounded by a huge range of different farm animals.
The kids will have a lot of fun during various games and are in with a chance to win one of 100's of free Easter eggs. The Easter special will take place until Sunday 23rd April from 12pm to 6pm (children: €12, adults: €6).
The Slieve Aughty Centre truly is a paradise for the whole family and the perfect spot to spend some quality time. You and the kids can take a horse or pony ride, do spring crafts, have a marvelous time at the playgrounds and follow the Easter bunny trail to the Enchanted Forest.
The festival ends on Friday 21st April.
Don't want to see your kids' mouths stuffed with tons of chocolate and sugar? Bring the whole family to the Galway food festival where people are all about local, fresh, nutritious food. Treat children and adults with some delicious nibbles and meals over the Easter weekend.
We need your consent to load this Vimeo contentWe use Vimeo to manage extra content that can set cookies on your device and collect data about your activity. Please review their details and accept them to load the content.Manage Preferences
Waterford
Meet The Easter Bunny At Kilmeadan Station
Greet the Easter Bunny at Waterford & Suir Valley Railway.
You can even take a photo with the Easter Bunny at Kilmeadan Station on Easter Saturday 15th April from 11am to 4pm, Easter Sunday 16th April from 12pm to 4pm or on Monday 17th April from 11am to 4pm.
Ardmore Open Pet Farm and Mini Zoo 
Enjoy rare breeds of animals from all over Europe, a beautiful view over Whiting Bay and a large indoor play centre. Ardmore Open Farm offers miscellaneous activities and treats for all ages. 
They are open Saturday 11am – 5pm and Sunday 12pm – 5.30pm during the Spring and the pricing is €9.00 for adults and €9.75 for kids. Children under 2 years are free of charge and there're different family rates.
Arrrrrr your kids totally into pirates and adventures? Then Pirates Adventures will be a haven on earth for them. The little ones can riot in the Pirate Ship Climbing Frame or try their hand on Mini-Golf and Mini-Bowling, where the lanes are a little shorter and the balls a little lighter than usual.
This is the place where young and old can play together. They are open 7 days a week from 10am to 6pm.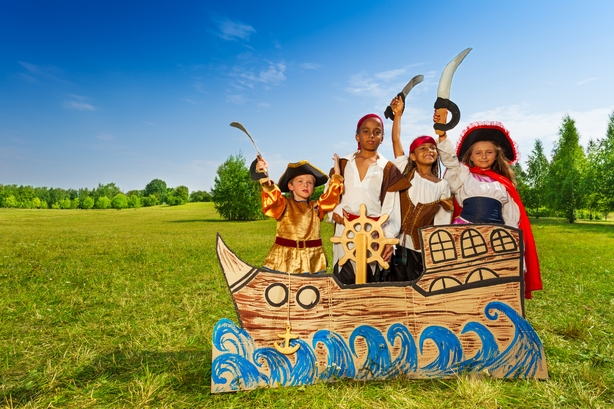 Cork
Easter Egg Challenge at Lifetime Lab
Bring the whole family to the Lifetime Lab on Friday, April 14th from 10am to 4pm for €5 per person. The eggciting activities they have on offer include face painting, make and do, balloon making, falconry, and magic shows as well as the grand Easter Egg Challenge.
Can your family complete the Easter egg quiz cards? Challenge accepted? Yes!
Easter Camps at Fota Wildlife Park 2017
Looking for a great adventure for your kids on Easter Break?  How about Fota Wildlife Park's Annual Easter Camp? It is suitable for kids aged between 5 to 12 years of age and runs from Wednesday 19th of April to Friday 21st of April from 11am to 4pm.
For €75 per child for the 3 days or €28 per child for a single day, they'll make Easter arts and crafts and eggsplore some of the world's most amazing animals and plants.
Are your kids real wild ones? From Saturday, 15th April to Monday, 17th April the Leahy's Open Farm opens up their gates to a beautiful farm, a large playground and an egg dropping Easter Bunny.
There are endless activities that guarantee lots of fun for the whole family - like a kart track, a mystery maze, mini-golfing and a bubble trail. This adventure is €9 per person. Under-2 are free. Diggers & Crazy Golf are extra €2 per go.
We need your consent to load this YouTube contentWe use YouTube to manage extra content that can set cookies on your device and collect data about your activity. Please review their details and accept them to load the content.Manage Preferences
The RTÉ LifeStyle team wish all our readers a great Easter break. Enjoy the holidays!