From selling clothes in her family home to meeting Alexandar McQueen in an elevator as a budding fashion intern, Emma Manley is a success story all can admire. She joined The LifeStyle Show to tease out what's next for budding fashion label Manley.
Early beginnings
So exactly how does one go from selling clothes at home to designing one of Ireland's most exciting labels?
Manley says that from an early age, growing up where both parents were entrepreneurs, instilled in her a 'self-starter' kind of attitude.
But when it came to following in their footsteps, her Mother had reservations.
"Mum said 'No'! She said 'Fashion? Don't do it. It's a really tough life and I don't want to see you do the same thing that I had to do,'" Manley said.
"I thought she was being a bit of a hard-ass at the time, I fought and fought and fought, but if I had a little girl looking to go into my role now, I know I would give the exact same advice!"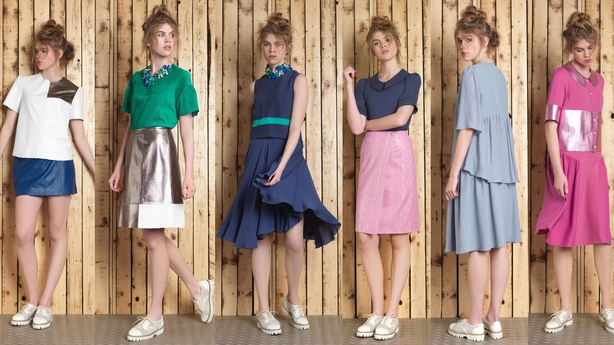 Working With Alexander McQueen
Manley's hard work though has obviously paid off; not just anyone gets to work with Alexander McQueen
Ever humble, Manley originally felt her portfolio wasn't strong enough to land the intern position, and anticipated a rejection.  However, she got the reply, asking her to show up for work the next day.
So what is working with the famed Alexander McQueen like? A question Manley no doubt gets asked a lot.
"We were told, you know, 'Don't look him in the eye. You absolutely stay clear. And that's the way it was," she explains.
"If he's in an elevator, you don't get into it. Let him ride the elevator alone to the ground floor or top floor..."
"One day the elevator stopped and he was in it. And I kind of went 'I'm...I'm just going to get in it? He's just a person. I don't know why I did it.'"
Manly said he was lovely, perfectly polite and nice, but with a reputation like his, he was under such enormous pressure.
Manley Bride and Aoibhín Garrihy
"We have a lot of exciting projects coming up. We launched Manley Bride in late 2016...Aoibhín Garrihy was our first bride, and what a beautiful bride to launch with."
We need your consent to load this Instagram contentWe use Instagram to manage extra content that can set cookies on your device and collect data about your activity. Please review their details and accept them to load the content.Manage Preferences
"My idea for Manley from the get-go was never to have a women's wear brand, It was to have a brand that had a suite of projects. We've Manley Jewellery, Manley Bags and now Manley Bride. 
"There is more to come! We hope to dress you from head to toe very soon. And I think the ultimate goal is to be and to have that beautiful, online store that people can browse so easily and see everything that we have and shop at their leisure.
"For us to be delivering it the next day, and not just Ireland but the whole world."
Listen to the full interview with Emma Manley above.
If you are keen for up-to-the-minute news on food, fashion, parenting, fitness, travel, recipes and more – the Lifestyle Weekly Email will put a smile on your face when it comes into your inbox every Thursday.