We need your consent to load this YouTube contentWe use YouTube to manage extra content that can set cookies on your device and collect data about your activity. Please review their details and accept them to load the content.Manage Preferences
This week on Operation Transformation, host Kathryn Thomas surprised leader Marie Grace at home to give her wardrobe the once over. Not only did the two ditch old clothes that are now too big for the Tipperary woman but they dug out Marie's 'skinny' dress.
We all have that one item of clothing in our wardrobes that we plan on wearing once we've shed those few extra pounds and for Marie Grace, that dress was bought for her daughter's christening. RTÉ LifeStyle caught up with the mother of two to find out how she found the experience.
"I had Daisy and I spotted the dress, just on the internet or whatever, she was about a month old I would say so I went to the shop that it was in and I tried it on and it fit and everything, it was lovely, so I bought it."
"Brought it home but we didn't actually have the christening for maybe another two months I'd say.

"The week before the christening I was here and I thought 'I'd better try it on and make sure it's all right' and when I went to put it on, it wouldn't even zip up on me."
Marie Grace says that the dress was put to the back of the wardrobe and forgotten about...until last week.
"I came home and Kathryn arrived just out of the blue to surprise me and she ended up saying 'right, we're going to try on some of the clothes that you did have and the last thing she got me to try on was the dress and it actually fit."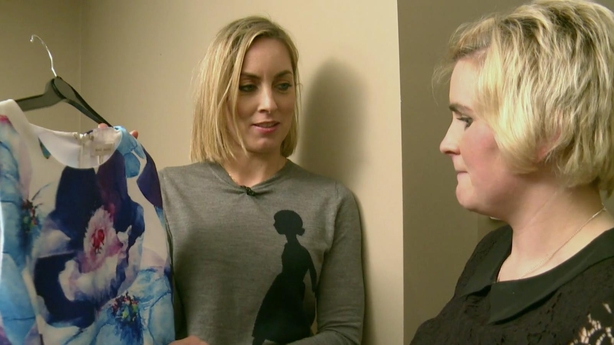 Marie said she felt a little nervous trying on the dress because she wasn't sure if it would fit her yet but she thought it would be a good benchmark for her progress either way. "I thought I'd see how far more I'd have to go for it to fit" she said.
"It ended up that when we put it on, it actually zipped up and it was lovely."
Although Kathryn was quick to point out that Marie looked fabulous now that she is all "boobs and bum", the Tipperary mum says it's the waist she's noticed the most.
"It is definitely my waist and even I think my chest has gotten a little smaller since I joined Operation Transformation. I think it was an added bonus that my chest got smaller but definitely my tummy has."
Operation Transformation airs Wednesdays and Thursdays at 8.30pm on RTÉ One. Follow the OT plan here.
To find out how the other Operation Transformation leaders, Chris and Yvonne, got on catch up on episodes of Operation Transformation here.
Want to read more of our Operation Transformation inspirational weight-loss stories, get behind-the-scenes info or healthy, recipe tips? Click here.