Operation Transformation is in full swing and host Kathryn Thomas chats to Janice Butler about having a positive body image, being confident in the public eye and how incredibly loved-up she's feeling as she gets set to tie the knot.
There's a pep in Kathryn Thomas's step as we make our way to the RTÉ canteen after her glamorous photo-shoot and she has a nod and a smile for everyone she passes. It wouldn't surprise me if she
broke into song. Yes indeed, Kathryn Thomas is completely loved-up and with a gorgeous sparkler on her left hand, it's easy to figure out why.
When I've interviewed her in the past, she always maintained that getting married or settling down wasn't a priority. She meant it at the time, but following a romantic proposal from her now fiancé Padraig McLoughlin in October, she's caught wedding fever and seems blissfully happy to have done so. "This is probably the happiest I've ever been – it sounds so clichéd but it's true. Being engaged, I didn't think I'd be such a sap about the whole thing but it's been really lovely", she says.
"I feel like it's the next stage and I never thought it was going to be a stage for me. I was never one of those girls that dreamt of the white dress.But then the real cliché – 'you find the one'. When people used to say that to me it drove me mad, this whole thing of 'You'll know when you know', but you do know."
He didn't find a perfect person that's for sure 🙈 but he loves an imperfect person perfectly....so I said yes 😍 pic.twitter.com/4pJSkLMqYU

— Kathryn Thomas (@gokathrynthomas) November 3, 2016
We take our seats and Kathryn tucks into a healthy salad for her lunch. It's been a long morning for the presenter, from turning out some serious poses at our shoot, to Operation Transformation voice-overs, daily demands from her fitness company, Pure Results, and now she has wedding venue conundrums in the mix. She has a full face of make-up but is dressed-down in work-out gear and runners – "I must be the most glamorous person in a tracksuit", she laughs.
Restaurateur Padraig (he runs seafood restaurant Catch-22 near Grafton Street) popped the question while the couple were staying at the luxurious Ballyfin House in Co Laois. While they haven't yet set a date for the big day, Kathryn insists she doesn't want a long engagement and hopes they can tie the knot by next year.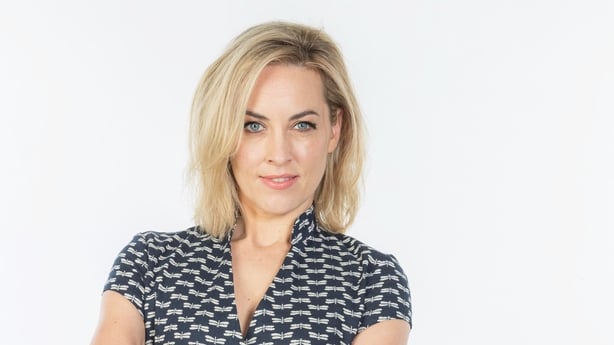 Will she be a bridezilla? "I think I'll definitely be chilled on the day", she replies. "I know my attention to detail is second to none, so I'll leave no stone unturned! But I'd also like the day to be different and memorable for us and the guests. The main thing for me and for every bride is for my guests to have the craic. I would definitely have a big party atmosphere as opposed to something too romantic. The best weddings I've been at are the ones of people you're really close to. You know there's love in the room and the couple are enjoying themselves – that's what it should come down to."
The couple, who have been together since the summer of 2013, met while standing at the bar ordering a pint in O'Donoghue's pub on Baggot Street in Dublin. She admits that while they're quite different personalitywise, they bring out the best in each other.
"He's definitely the calmer of the two of us, whereas I'm more like 'Wind me up and watch me go'. We're both quite fiery as well and he doesn't let me away with a whole lot, which is probably what I need.
"He's the first to put me in my place. We have such a laugh and I would definitely say he brings out the best in me, and I think that's all you can ask of someone."
Kathryn admits that she wasn't the only one who thought she'd never make it down the aisle. "We can all meet great people and kind people but unless you bring out the best in each other it doesn't work. I also think, for whatever reason, the timing was right for both of us now in our lives. My poor father thought I'd never be taken down off the shelf," she laughs.
Apart from being the picture of happiness, Kathryn is also the picture of health. This makes her the perfect host and poster girl for Operation Transformation, which is now in its tenth year (she came on board in 2011). "The show has evolved since its conception of being a weight-loss show to being much more than that. It's a real fish-eye lens look at the health of the nation. I think we're riding the wave of wellness and Irish people are more interested in their health, even if our statistics aren't the most positive."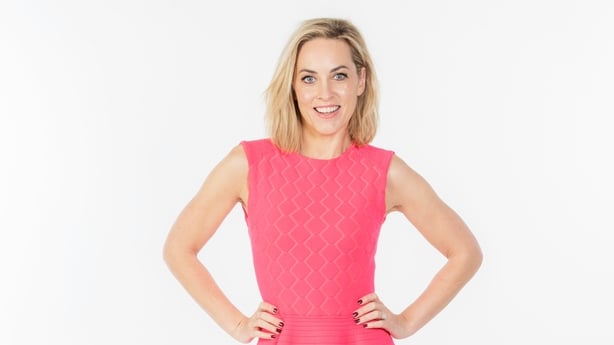 Not happy to merely host the show, Kathryn really gets stuck in, travelling the length and breadth of the country to visit the leaders and to take part in Op Trans events. From her early days on RTÉ's travel show No Frontiers, Kathryn has spent her life on the go, but she says she wouldn't have it any other way. "I'm 37 years of age and I had a desk for the first time in my life last year – I didn't know what to do with myself."
"At this stage in my life, if I was to try and have a nine to five office job I don't think I'd adjust that quickly
to it. My life has always been on the road since I was 19 – it's been early mornings, late nights, six days a
week or not working for three weeks: there's no pattern."
This year, her schedule is a little less hectic since The Voice was replaced with Dancing with the Stars in the Sunday evening schedule. There is always the feeling, voiced by Kathryn herself, that the start of the TV year was a bit 'Kathryn-heavy', so she was content with taking her name out of the running as potential host
of the dance show from early on.
"The feeling was that the front part of the year, January and February, was too top-heavy, with The Voice being on twice a week and Operation Transformation being on four times a week and then with my radio
work as well, it was just too much. We all thought it was better to spread the love throughout the schedule, so that's what we're trying to do."
"The Voice had ran its course and sometimes a change is as good as a rest – Dancing with the Stars has definitely brought a new kind of excitement to the schedule."
Kathryn has other fish to fry anyway, most notably with her own business, the boot camp Pure Results, which is based in Parknasilla, Co Kerry. Now in its second year and growing, Kathryn says it's been a hard learning curve and she admits it's probably been one of her greatest challenges.
"It's a hard slog, harder than I thought. Probably, quite naively and smugly, I said 'I'll set up this business and make people feel wonderful and if I can't sell this, then who can?' I got a real wake-up call. I remember launching on day one and I had two magazine covers plugging it and I sat back, waiting for the phone to ring. I soon realised, 'OK this is going to take more work than just being Kathryn Thomas'.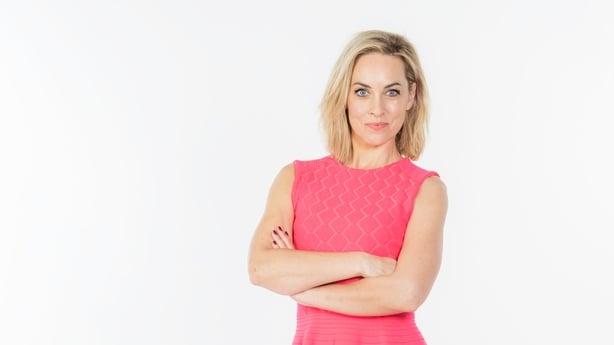 "We're two years in now and I feel like the tearing the hair out and panics have sort of settled. We now know the product and there's an understanding of what we do. My sister Linda is on board now as director of brand development and she's been instrumental in taking a lot off my shoulders. I'm the hands-on person in
terms of the clients and what has to be executed."
Pure Results is a weight-loss and fitness retreat, but Kathryn is passionate about instilling confidence and self-belief in people, something she credits to her own family. "I think innately I'm a positive person and I get that from my parents, namely my father, who is the most positive person I've ever met," she says.
"It also comes down to a lot of luck. I've a great family, friends and thank God, my health hasn't been an issue up until this point. I don't like being negative and I can't cope with a negative atmosphere – my instinct would be to help or change that."
This topic leads her down memory lane, back to when the public fi rst met her, as a 19-year-old, bikini-wearing travel presenter. The world was her oyster and she grabbed the opportunity with both hands.
"I really didn't give a sh*t about what I looked like then, possibly because I was more confident than I should
have been at that age, but I was just so flabbergasted that this was my job that the last thing I was thinking
about was my arse in a bikini," she laughs.
Her attitude hasn't changed hugely since then; she appreciates that she looks well in front of a camera, but
her priorities go deeper than that.
"Now that I'm 37, I care less about what I look like and more about how I feel," she says. "So do I want to
look hot in a dress? Yes, absolutely, but would I rather be healthy for the next 40 years? Yes, of course. That's more important."
You can keep up to date with all things Operation Transformaiton here! Missed an episode? Catch up on RTÉ Player now.