The RTÉ Guide's Donal O'Donoghue chats to the good doctor about her year of great change, her powerful new documentary and her dancing feet.
"I don't want to be pigeonholed as Dr Evil because I'm not like that," says Dr Eva Orsmond, the one-time star of Operation Transformation who now trips the light fantastic on Dancing with the Stars."
Yes, there is an element in my personality like that, which is why I didn't find the DWTS judges' comments harsh. How can you improve somebody if you don't give them constructive criticism? Maybe the judges saw beyond me, saw my personality and recognised that's the kind of person I am and that a bit of tough love would make me flourish."
Dr Eva presented the hit documentary Sugar Crash last year on RTÉ and her new documentary, Medication Nation is about prescription pill addiction in Ireland which will air on RTÉ One at 9:30 pm Monday, 30th of January.
Read the full interview with Dr Eva in this week's RTÉ Guide: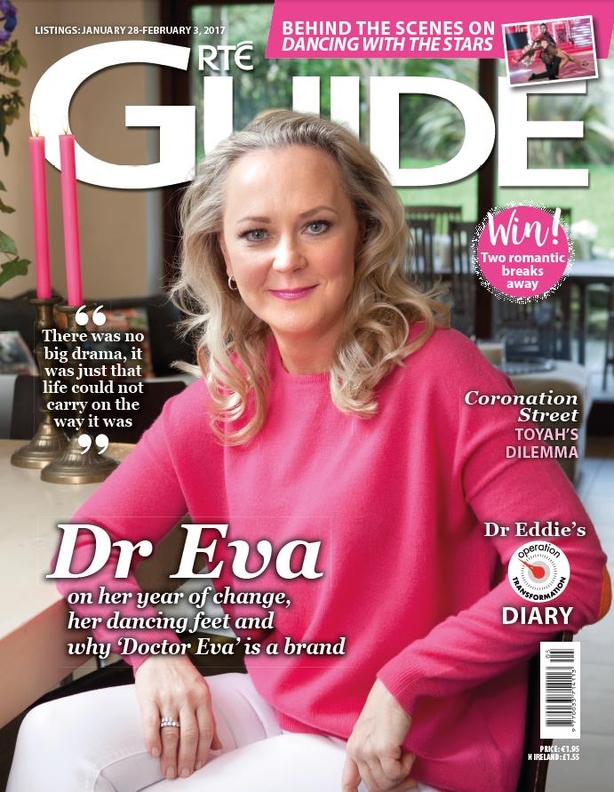 Also in this week's RTÉ Guide:
Awards Season - With the Oscars only weeks away, it's time for the Screen Actors Guild Awards to provide us with clues about the favourites to lift the gongs.
Dancing with the Stars - Michael Doherty goes behind the scenes of TV's spangliest show and finds blood, sweat, tears...and fake tan.
Marcia Gay Harden - Donal O'Donoghue meets the Hollywood actress and star of Code Black Robert Carlyle. The Trainspotting star talks about returning to the role of Begbie.