The Christmas RTÉ Guide is a festive staple in many households and this year's cover is another winner, based on Charles Dickens A Christmas Carol.
The cover features Ryan Tubridy, Graham Norton, Ray D'arcy, Mrs Brown (Brendan O'Carroll), Miriam O'Callaghan, Gay Byrne, Sinead Kennedy, Marty Morrissey, Jean Byrne, Bridget & Eamon (Jennifer Zamparelli and Bernard O'Shea), Sharon Ní Bheoláin, Bryan Dobson, Red Rock's Farrah (Denise McCormack) and Paul (Tony Tormey). And of course, the ever-present Christmas Guide cover star, Pat Shortt.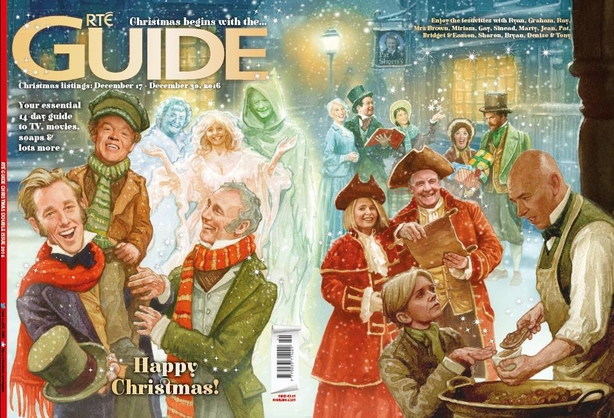 Wonder will this cover follow last year's award-winner which won the Cover of the Year at the 2016 Irish Magazine Awards on Friday? The Editor, Catherine Lee was delighted to accept the honour at Dublin city Hall.