Ryan Tubridy has said the opening number for tonight's Late Late and his costume could be the best yet and that the Toy Show "is going to be huge" and he's thrilled because the country needs "a shot of happy".

With over 320 children taking part from all over the country, 72 performing in the opening number alongside the self-professed Toy Man - he ain't exaggerating!

"All I'll say to you is the opening of the show is big. The costume I'm wearing and the outfit I'm wearing is big - to the extent that I think that its possibly the best one I've ever had. It's really transformative for me and I am looking forward to sharing that with everyone," he said.

"I'm smiling thinking of just how ridiculous they're going to make me look this year, it's a skill, not a huge skill but a skill!", he told RTÉ LifeStyle's Taragh Loughery-Grant on RTÉ Radio 1 Extra's The LifeStyle Show. Listen to the podcast here before the show airs on Saturday December 3.
We need your consent to load this rte-player contentWe use rte-player to manage extra content that can set cookies on your device and collect data about your activity. Please review their details and accept them to load the content.Manage Preferences

Theme 
The theme of this year's show is The Jungle Book, based on the original 1967 Disney version adapted by Rudyard Kipling's stories of Mowgli and co.

New Date
This is the first time in Ryan's eight years presenting the Toy Show, that its not on in November and he loves it: "The December date is perfect because November is too soon."

Are you Santa?
Ryan has had many Toy Show queries and requests from children over the years but this is one of his favourites: "I met some children recently – we were filming a little ad for the Toy Show. These four children were dressed up; one was the Grinch, one was Snow White, one was Elsa and one was Jack Frost.
"They were gathering together in a corner and I could see that they in cahoots, it was like a committee meeting of the bizarre children of Ireland.
"One of them had been nominated and voted in as chairman of the committee and she came up to me and said: 'Are you..., eh, are you...Santa?!'
"I said: 'What a question!' I explained to them that I would never answer that question but I did ask them what they wanted for Christmas because what I tried to explain to children mostly is [that]...I know people and that's all you need to know. When they tell me what they want for Christmas, generally I can put a good word in but I can't make promises.
"But it was lovely to be asked...I was taken aback because my girls are older now, they're 17 and 11. I find sometimes, when it comes to Christmas especially the magic tends to be quiet strong in the younger ones.
"We all have it – some people are real Christmas people but particularly in children they tend to be universally Christmassy so it brings me closer to that magic when I meet the children getting ready for the Toy Show."
"This is my eighth year doing the Toy Show, I've always wanted to do it and every year I look forward to it and this year it's going to be huge.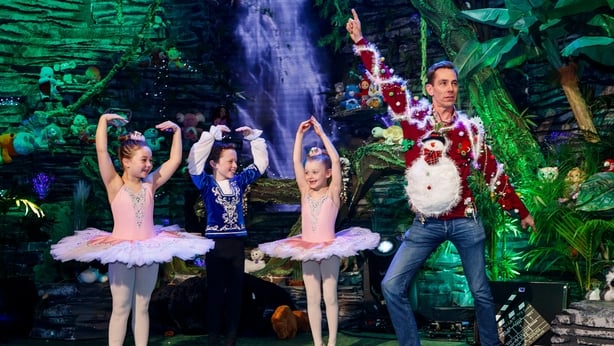 He's some eejit!
"We travelled around the country to meet children Dundalk, Cork and Galway. I remember one particular moment, that filled my heart. We were leaving the hotel where we had been doing the auditioning in Dundalk. I was goofing with kids when there was a photocall...all the stuff where the kids go: 'He is some eejit, I want to hang out with him more!' and the feeling is mutual.
I was walking along and I could hear my name being called by the same kids and I looked over my shoulder...and they were just all cheering and saying 'Bye Ryan, Bye!' And I just thought it's a real honour being the Toy Guy...that was a lovely moment.

A Shot of Happy
"That took us from around the country, all believers – there is so much goodness. I think this year is one of those funny years, I remember six years ago when the world was a bit troubled and this island was a bit troubled and needed a shot of happy.
"I've a feeling after events of recent times that people need a shot of happy and we're good to go with it. I feel responsible for that – I want to make sure that the mums and dads aren't feeling too blue and that we fill those houses with rainbows and unicorns, and delightfully rare, odd and peculiar things."
When I point out that he is the best man for the job, he joked: "I think it's because I look like a cartoon. The older I get the more peculiar looking I get in the sense that – I'm not saying that's bad, I think that I'm very handsome. I think I have a peculiar handsomeness about me...I'm joking obviously.
"The point I'm making [is]...I like Dick Van Dyke and Gene Wilder. I like guys in movies and TV shows who have a touch of devilment about them. Their eyes are full of the unexpected, not mean or cynical. Just a sense of curiosity and definitely boldness, there's nothing wrong with a benign twinkle, not a malicious one.
"It's just the twinkle that says: 'I think you know and I know that this could go anywhere and I love that. I love when I meet like minded souls, whether they're adults or kids who go 'Oh, you're a messer too, that's nice.'"

A Tale of Two Christmasses
I tend to have two go's at Christmas – one is the Toy Show. It's like Christmas Eve on the Toy Show – I'm like a child and I have the more adult few weeks of messing. So I get two cracks at it.
The Late Late Toy Show is on RTÉ One tonight at 9.35pm and if you miss it (really?!) or want to see it again visit the RTÉ Player here.