Gone are the days when visiting Santa involved a trip to a department store to meet the big bearded man in the ill-fitting suit. Nowadays a visit to Santa is a far greater experience, an extravagancy one might say and in case you haven't booked your visit yet here are just a handful of options, from the myriad on offer, that you may be interested in. Be warned, Santa books up fast. Ho Ho Ho.
1. Christmas Experience at Airfield, Dundrum, Dublin
Santa returns to Airfield Estate this weekend and as ever the experience allows the whole family to take a magical trip a round the Estate. Prior to meeting Santa, kids can join in the activities with Santa's Elves in the magical tepees, including posting a letter to Santa. Afterwards there's a 30-minute group visit with Santa in Airfield House which includes story-telling and a gift. Kids can then make and enjoy a delicious Christmas treat in the Elves' kitchen and roam the farm to see Airfield's newest animal arrivals. There's also a complimentary hot chocolate or mulled wine as you browse and shop at Airfield's Christmas Market.
2. Santa at Hamleys, Dundrum Town Centre
Join Santa and his elves at Hamleys Toy Store where your little ones will take part in seasonal games and activities, enjoy delicious snacks, spend time with Santa and receive a special gift to take home. During this group session each little guest will hear Christmas stories, write their own Christmas wish list and have a special chat with Santa. Every child will receive an appropriate gift from Santa and we will take a photograph for you to remember the occasion.
At the summit of Lugg Mountain, Santa Claus is hard at work getting ready for Christmas. Take the Santa Express through his enchanted forest and let your inner child journey through this magical land of forgotten wonder, up, up and away towards Santa's hidden grotto. Be sure to keep an eye out for the Grinch along the way.
4. Santa Experience at Croke Park
Promising to be one of the best Christmas family days out in ireland, Digital Dad will be visiting Santa in Croke Park this weekend (review in next week's column). We're GAA mad and this one is only up the road from us plus we haven't been to see Santy there before. To tell you that Thing 1 and Thing 2 are excited is an understatement. The Santa Experience includes a trip to Santa's workshop, a visit to Santa's Grotto and you'll also get to visit the Elves living quarters and the GAA museum.
Come back next week to see how we got on.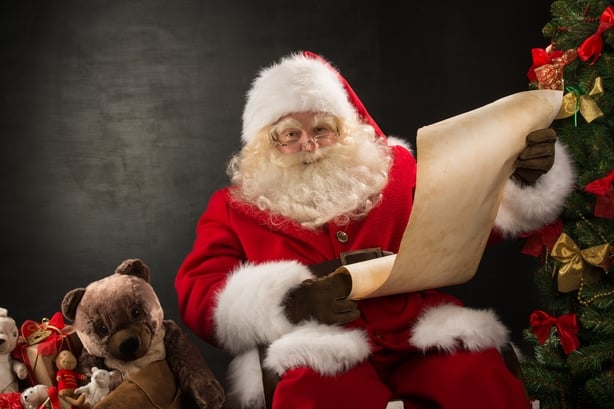 5. Santa's Grotto at Dublin Zoo
Wander through the traditional and enchanting grotto and be greeted by Santa's elves in the animated winter wonderland. Kids will receive a gift and photo to keep as a special memento of their time with Santa. The whole family can also enjoy a variety of festive fun including Christmas arts and crafts, face-painting and warm treats. After sharing their list with Santa, children can then explore the wonder of Dublin Zoo
Apart from getting access to Tayto Park where your kids will ride on the Grand Carousel, they'll also experience a 5D Polar Express Movie and they'll hop on board a train to meet Santa in his magical grotto. There are also Christmas themed arts/crafts and face painting to enjoy.
7. Christmas Island, Rathdrum, Co. Wicklow
Christmas Island is in Hidden Valley Holiday Park in Rathdrum and your experience will include an exciting journey on The North Pole Express, a trip to Christmas Island where you'll meet Mrs. Claus, make a Christmas decoration, and you'll have fun with the Elves.
You will then depart Christmas Island on Santa's giant sleigh boat headed to see the big man himself in Santa's Grotto.
8. The Santa Express, Waterford
If rail travel is your thing then the Santa Express will be of interest to you. You and your family will board the Santa Express at Kilmeadan Station and set off on an exciting 20min train journey along the banks of the River Suir while listening to festive music. When you return your little ones get to meet Santa in his railway cottage to have a chat, make their Christmas wish and get their much-anticipated present.
9. Rathwood Santa Train Adventure, Tullow, Co. Carlow
This is one I've tried myself and we loved it. Join in the Christmas story with Mrs Clause and Trixie the Elf. Take a magical journey on board the Rathwood Santa Train. Walk through the enchanted Forest that leads to Santa's Woodland home. Each family gets to meet Santa individually and each child gets a special gift from Santa.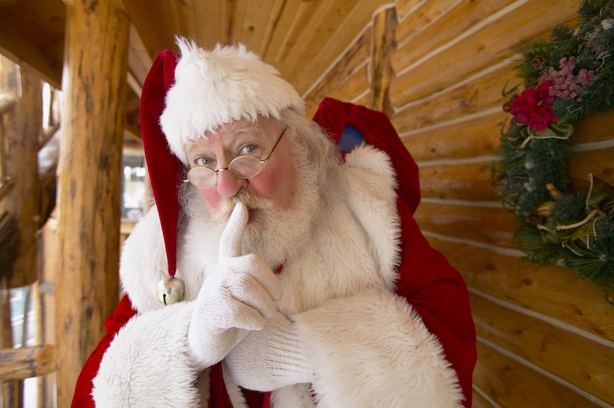 If you are looking for something very different then by all accounts this Santa experience is well worth the visit. Families are led by elves through the Ailwee cave passageways where they get to meet Santa Claus and his helper for a chat and of course a present. Mrs Claus is also there to greet the grownups with a glass of hot punch and a mince pie...always a nice touch.
Santa's train is available for rides all day, taking families to visit the Birds of Prey Centre, to meet a Snowy Owl or Happy Harris Hawk.

Set in a unique and traditional village setting, the Bunratty Castle Christmas experience includes a Christmas storyteller, a puppet show, a visit to Mrs. Claus in her kitchen not to mention a visit to Santa Claus & his Elves in his Grotto. There's also complimentary mulled wine and mince pie for the grown-ups (always good).
Come on a magical visit through Santa's Village. Begin your journey through the mystical forest where you will find Mrs Claus baking cookies and scones in her little cottage. From there you will step into a magical land of fairies and elves, where you will be granted a special wish from the Christmas Angel and you will learn some elf tricks in Elf school.
And finally meet Santa Claus himself where you can have a little chat and receive a little present from him, before his big arrival on Christmas Eve.
Whatever you decide to do and wherever you go...Enjoy!
DD
Catch me on Facebook
---
If you have any comments, tips, stories or advice feel free to get in touch. Likewise, if there are any topics that you'd like me to cover
Facebook | t: @DigitalDadDiary | e: digitaldad@rte.ie
---