UN climate change conference
On the front page of Irish Times, Harry McGee reports on events at the UN climate change conference in Marrakesh involving representatives from 200 countries. But, he writes, a source from the transition team working on President-elect Donald Trump's accession to the White House has said that Mr Trump's advisers are considering ways to bypass a theoretical four-year procedure for leaving the Paris accord which commits to contain global temperature rises.
We need your consent to load this rte-player contentWe use rte-player to manage extra content that can set cookies on your device and collect data about your activity. Please review their details and accept them to load the content.Manage Preferences

The Irish Times lead, however, is written by Pat Leahy and Martin Wall and tells us that the Cabinet is expected to ignore a pay talks deadline set by Siptu but that privately, ministers and officials say, privately that the process to revise the Lansdowne Road Agreement will start early next year.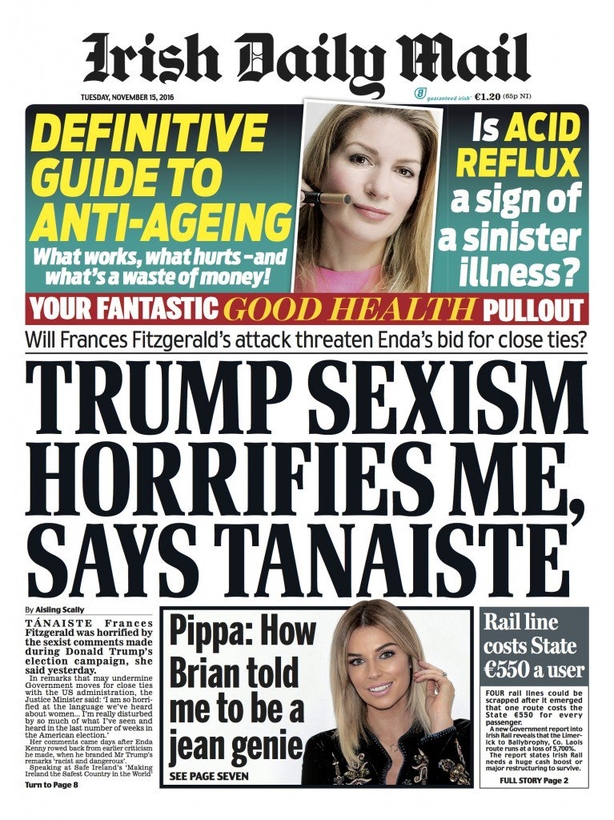 Vaccine trials
The Irish Examiner's lead is that files on vaccine trials in Bessborough Mother and Baby Home were altered in 2002, just weeks after the Commission to Inquire into Child Abuse sought discovery of records from the religious order running the home. A solicitor for the order told the paper that it is in contact with the Mother and Baby Commission inquiring into homes and is giving full cooperation.
Rural broadband
The lead for the Irish Independent is that surveys from Switcher.ie and Vodafone show that internet connectivity in rural areas of the country still suffers dramatically in comparison to that in the cities - so poor in some areas, particularly parts of Longford (with Leegan, for instance, being 36 times worse than much of Dublin) that one in three workers say they will be forced to move to towns or cities.
The Irish Daily Mail leads with a quote from the Tanaiste - and here's an apology: This reviewer is very sorry that after the seven o'clock bulletin, she named Ms Fitzgerald as Eithne and not Frances - sorry to both for that.... In any event the headline quote from the Tanaiste, who was speaking at Safe Ireland's Making Ireland the Safest Country in the World conference yesterday, is: Trump Sexism horrifies me - with the paper quoting, in addition, "I'm really disturbed by so much of what I've seen and heard in the last number of weeks in the American election."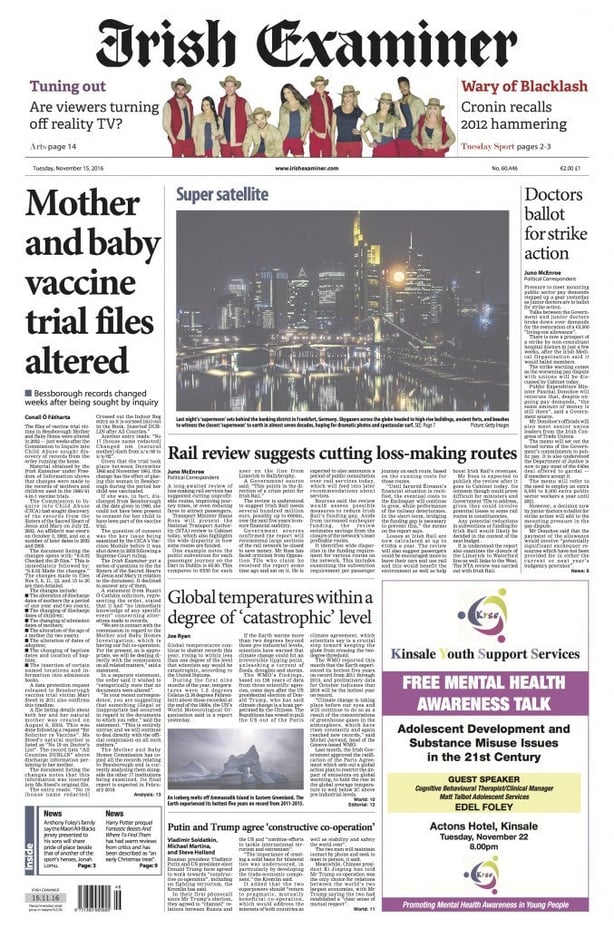 So what else?
Almost all papers agree that with the IMO having launched a ballot amongst non-consultant hospital doctors for strike action, that there is now a serious threat of such a strike.
Everywhere, we read that the US ambassador to the UN (and adviser to Barack Obama), Samantha Power, from Castleknock in Dublin, is named as "An outstanding American by Choice by the US citizenship and Immigration service...
Back home, most papers tell us that a railway service between Limerick and Ballybrophy costs 550Euro per passenger in state subsidies - and is a situation which, according to many papers, will be one of the issues raised at Cabinet today by the Minister for Transport, Shane Ross.
The Farming Independent supplement leads with an EU-led probe into alleged VAT avoidance schemes in the poultry sector here.
And in the Times, Fintan O'Toole muses about whether we in Ireland would be better joining the Brexiteers out of Europe or staying within. In the end, he plumps for the latter: The EU deserves much of the scepticism it gets but it's what we've got: the only arena, for now, in which decency still has a fighting chance."
The For Sale sign has finally, and sadly, says the Irish Sun, gone up on Idrone House in Knocklyon, Dublin. After a long battle to save it, Adele King, otherwise Twink and her family have yielded to what she has described as the "inevitable"...