The Irish Examiner's lead this morning is that in Silicon Valley and Washington, Finance Minister, Michael Noonan, is to hold week-long "crisis talks , with leading Irish-based multinational companies facing increasing pressure to return jobs there. He is to emphasise Ireland's enduring investment appeal as a common law, English-speaking and business-friendly jurisdiction.
We need your consent to load this rte-player contentWe use rte-player to manage extra content that can set cookies on your device and collect data about your activity. Please review their details and accept them to load the content.Manage Preferences


The Irish Independent's lead is that some parents, who can afford it, are paying to have their children "labelled" diagnostically (for instance as having ADHD) in order to gain access to classroom resources such as extra teaching support - a practice, known in the U.S. as Diagnosis for Dollars. The Department of Education has said it is aware of the allegation and is working on new models to distribute resources...
We're told in the Irish Daily Star's lead that a 2012 HSE report given to government alleges that nuns at both Bessborough in Cork and in the Sacred Heart Mother and Baby facility in Tuam, Co Galway, Irish parents were told that their babies were dead, when in fact, they were being given for cash to couples in the U.S. The paper received responses from the authorities to these revelations; these say that the author of this draft report has acknowledged that its conclusions remain as a matter of conjecture until such time as a more forensic examination of the homes' records could be undertaken; they reference the Commission of Investigation into Mother and Baby Homes and certain related matters, established in 2015, to investigate every issue involved.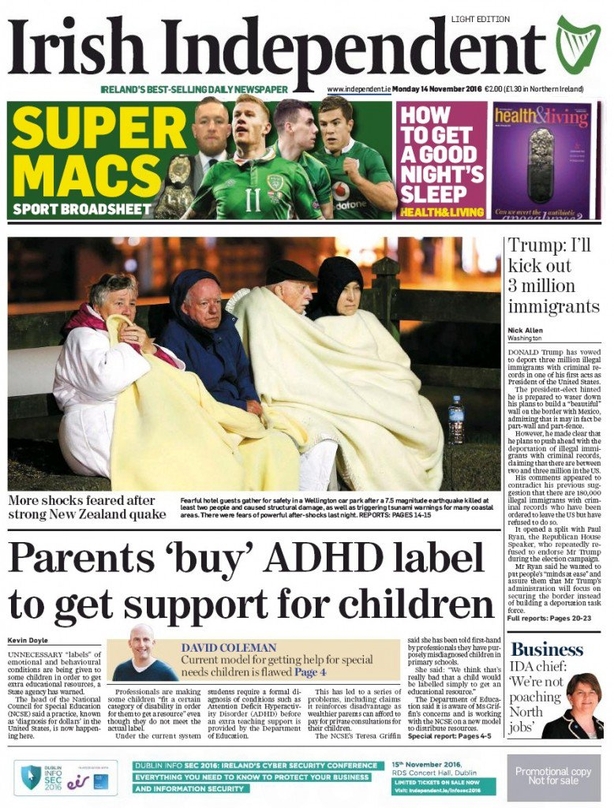 And the Irish Times leads with that story you may have heard in the bulletin, by which President-Elect Trump has said he will deport or imprison up to 3 million illegal immigrants who have criminal records - but - will "make a determination later" on those whose records are clean otherwise, including the Irish "undocumented"
The Irish Daily Mail leads with John Drennan's story that as many as two-thirds of the country's post offices may be under threat as An Post reveals that more than 700 branches are "financially unsustainable".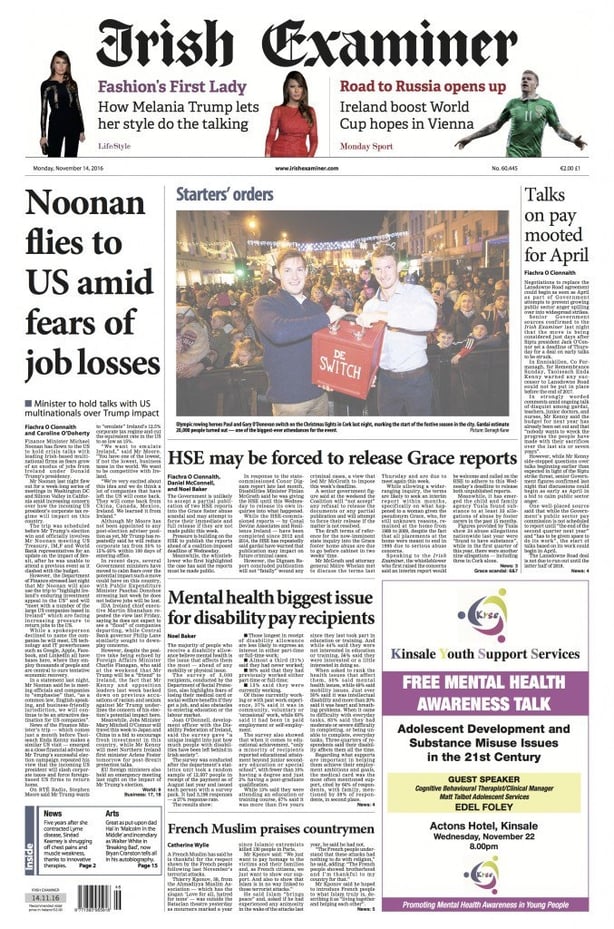 While both the Irish Daily Mirror and Irish Sun lead with the victory of Conor McGregor in his Mixed Martial Arts bout at Madison Square Garden in New York. He is, we're told demanding a slice of ownership in the organising body, the UFC, said now to be worth 3.64 billion dollars and if he doesn't get it, will walk out. He has also announced he's going to be a father. These announcements give rise to the papers' headlines: the Mirror's BILLION DOLLAR BABY and the Sun's I'LL BE GONER MCGREGOR.
On the front page of the Times, we're told that according to a proposed review of licencing of taxi drivers here, 17 questions posed by the National Transport Authority on its website include whether drivers should be subject to dress codes, medical examinations and tests as to proficiency in the English language.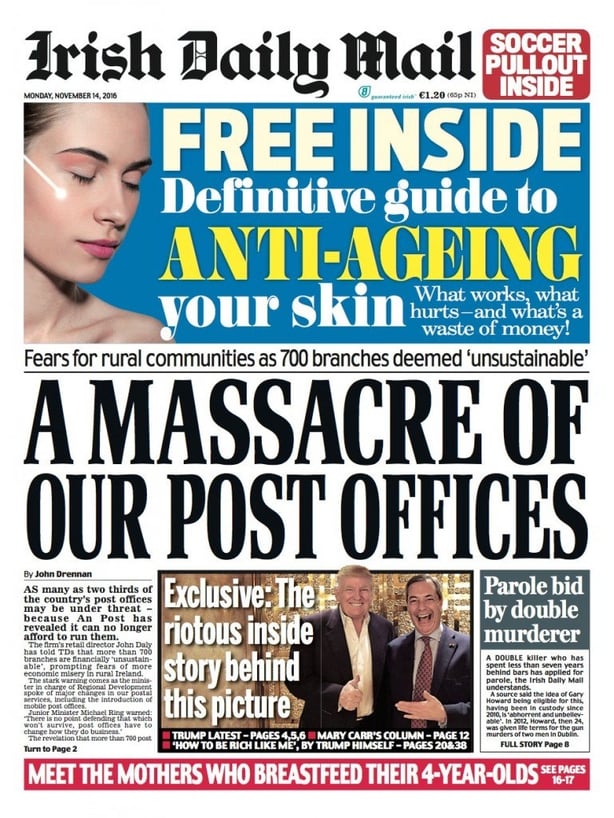 The health minister, Simon Harris has said he will accepting a draft law being put forward by Labour leader, Brendan Howlin, which provides for the first time that crisis pregnancy counsellors be registered and regulated -that's in the Independent
Professor Harry Kennedy of the Central Mental Hospital has told the annual national prosecutors' conference that such is the shortage of beds for people in need of secure care because of mental illnesses, the only way to access this care is via the courts. For instance, while England and Wales have 7.5 beds per 100,00 of the population - and Germany has ten, Ireland has two. That's in the Irish Times.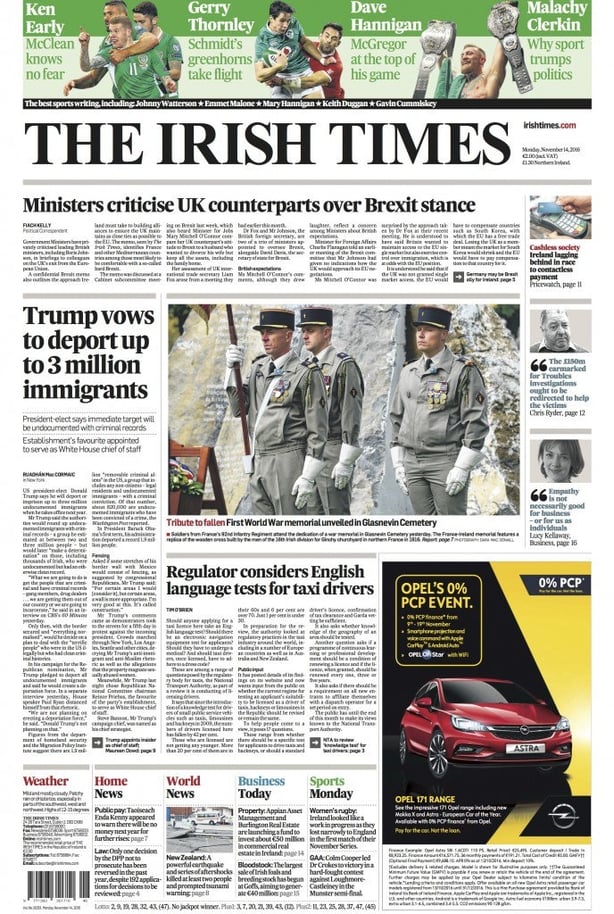 President Obama will fly to Greece today as part of a farewell tour of Europe designed to bolster his foreign policy prior to the inauguration of president Donald Trump. So says the Independent -
And did you know that the President-Elect has a star on the Hollywood Walk of Fame for his contribution to the entertainment industry? That's in the Sun - which also publishes a list, alphabetically, of the current worth of TD's pension pots...