In her new four-part series, Vogue Williams investigates and highlights a variety of issues that Millennials are facing today. Each of the four, one hour long, documentaries will tackle a different subject including on-line synthetic drugs, body dysmorphia, gender dysphoria, and social anxiety Issues.
The first episode, Transgender Warriors, will see the DJ meet people who are bravely pushing the boundaries of gender - including a man who gave birth to his own daughter. Vogue says that the reason she chose to pursue the topic is because the LGBT community is close to her heart, but she didn't know a lot about the transgender community and wanted to find out more.
I wanted to bring light to a topic that is so huge. The trans community is where the gay community was twenty years ago. It would be nice if everyone understood it, and no body found anything strange about it. And I don't think it's people being mean, I think it's people just not understanding."
The DJ said that making the documentary was an eye-opening experience that taught her a lot about the "spectrum of gender" and what questions are inappropriate to ask a trans person, such as their birth names or if they have had the full operation. As Vogue says:
"No one's asking me what's under my clothes and I wouldn't expect anyone to ask me that because it's not anyone's business and it's a very personal question to ask."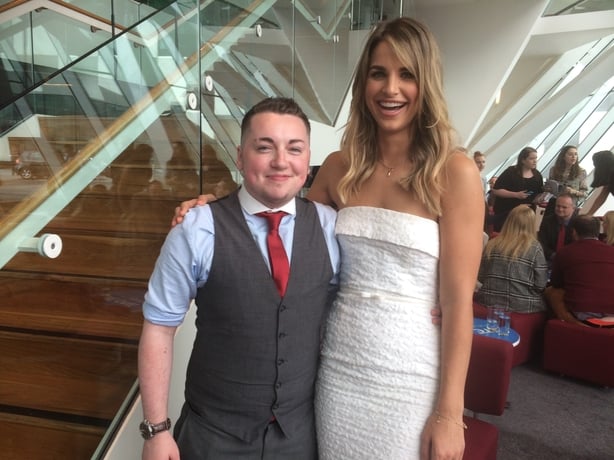 When it comes to the trans community being talked about in main-stream media, one name has certainly come to light.
"Caitlyn Jenner has done a lot, she has brought a huge light to the trans community but at the same time she is lucky. She has a lot, a lot, of money, she can go and have every single operation that she wants to transform into the person she want's to be but it's not the same for everybody else. "
Vogue says that the operations are such an expense and the road to transitioning is so long that she really loves the idea of hormone blockers being available to people at an early age.
"I love the idea of hormone blockers for a child who has decided that they feel that they're trans. When they get to the age of puberty, they have the option to take a hormone blocker so they don't hit puberty, and they don't get any male or female characteristics so they can stop that until they decide what they want to do."
Listen to the full interview with Vogue Williams here:
Catch up on Vogue Williams' four-part series, On the Edge on RTÉ Player.