We love to meet homegrown talent, whether it be bloggers, make-up artists, fitness gurus or food producers. Today we're chatting to Gillian of Lost Forest Jewellery.
How and why did you get into design?
I've always been very creative since I was a child, so making things came very naturally to me. I was originally working as an archaeologist, but when the recession hit, I decided to re-evaluate and venture into a new direction. It was a daunting move, but it was clear that I had to explore my creative side once more, so I decided to learn everything I possibly could on my chosen craft – eco resin.
What is the most exciting thing about your job?
I relish my woodland wanderings each morning as I never know what kind of beautiful things I'll find on the forest floor. My imagination is sparked by such tiny discoveries, gifted to me by Mother Nature. New designs and ideas quickly begin to flourish from the moment of discovery. It's a very exciting time, and often results in me rushing home in anticipation to begin work!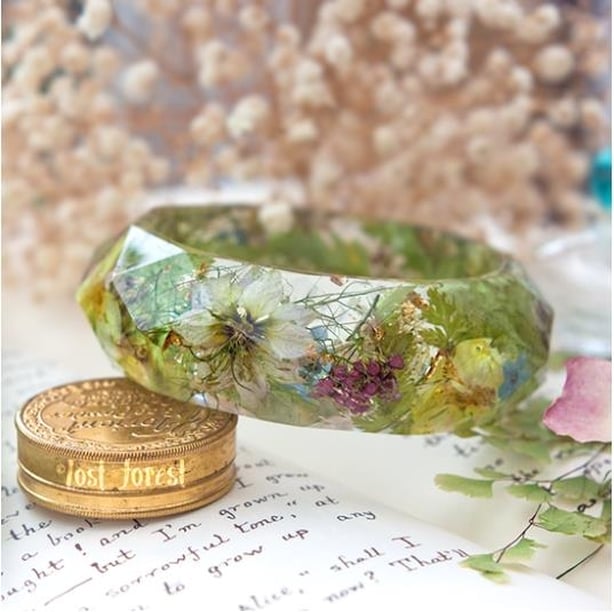 What is the most challenging thing about your job?
Plagiarism is, unfortunately, something I've had to deal with a lot over the years. I strive for originality in my designs and concepts, but to have them replicated by other small businesses is both disheartening and disappointing. A lot of people embarking on new creative outlets often confuse inspiration with replication. There needs to be more awareness within the industry to highlight the damaging effects it can have and to encourage people to always be original and unique and respect creative copyright.
What is the process of creating your designs?
I'm first inspired by a flower or seashell that I've gathered on my many adventures. I expertly preserve the specimens to retain their fragile beauty and colour. The next stage involves chemistry mixed with pure alchemy!
Using my skilled and advanced techniques, I mix up batches of a bio based resin, which is derived from natural pine oils. After lengthy procedures, I am able to achieve a beautiful crystal clear finish to the resin, which resembles glass in its clarity, but is strong in its composition.
The next stage requires a lot of patience; a thumb twiddling 1-2 weeks for the resin to cure. I then extract the piece from the mold and sand and polish it to achieve the finished look. High quality handmade18k gold filled or 925 sterling silver findings complete the piece. It's a long manual process but one I love and am very proud of, as I'm completely self-taught.
Who is your audience?
My creations are the true definition of unique. They're bright, colourful and individual, so they appeal to those who appreciate nature, style, and possess a sense of eternal wonder and whimsy.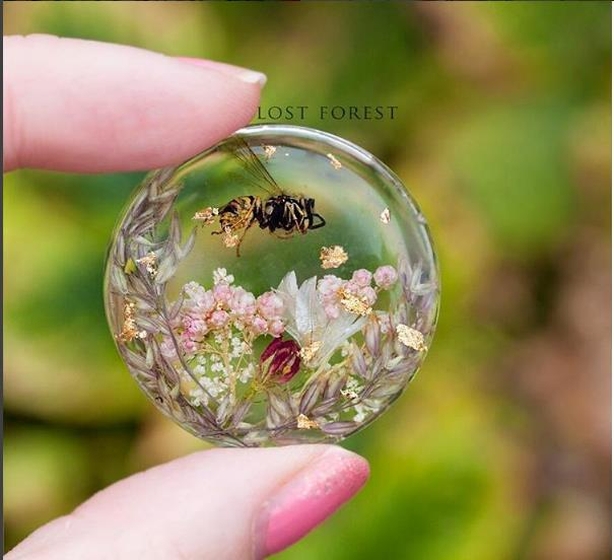 What inspires you?
My biggest inspiration is nature and my local surroundings. Every element of my work is directly sourced from the magical forest floor, sunny meadows, or the tumultuous Irish shoreline. Each specimen captures a little fleeting moment in time – a tiny Irish microcosm. I'm forever in awe of the hidden details around us and beneath our feet, which are often overlooked in today's fast-paced society. My work is a celebration of Mother Nature's enduring creativity in an increasingly grey and concrete world.
When you get the equivalent of writer's block, do you default to any template or design?
When it does strike, I usually default to my signature style – pressed flowers from my collection set against a hand gilded gold leaf background. It's a design aesthetic I created when I began in 2012, and one I love to use as I feel the sumptuous gold venerates the flower in such an iconic fashion.
What does your working day look like?
My mornings involve an invigorating hill walk in the Dublin mountains to gain inspiration and to collect ferns and wildflowers.
The rest of the day sees me in the studio. I try to create a relaxing atmosphere, so there's plenty of candles lighting, music playing, and fresh flowers dotted around my shelves.
My daily tasks include pressing wildflowers and other botanicals, and I also like to read up on them from my many botanical books. Next duties include replying to emails and chatting with clients about current custom projects and exciting endeavours. My favourite part of the day is designing and creating tiny eco resin jewels. The intrigue and magic each one is always so enchanting.
Who are three people you admire?
My parents who are my biggest supporters and fans.
My twin sister Rachel who is an amazingly talented illustrator and designer. She has a bountiful supply of talent and also doubles up as my in-house designer, which is very handy!
Alphonse Mucha has been a constant inspiration since I can remember. The Art nouveau movement with its organic intricacies and opulence is one that captivated me while studying the history of art at university, and I can certainly see its influence filtering into my work.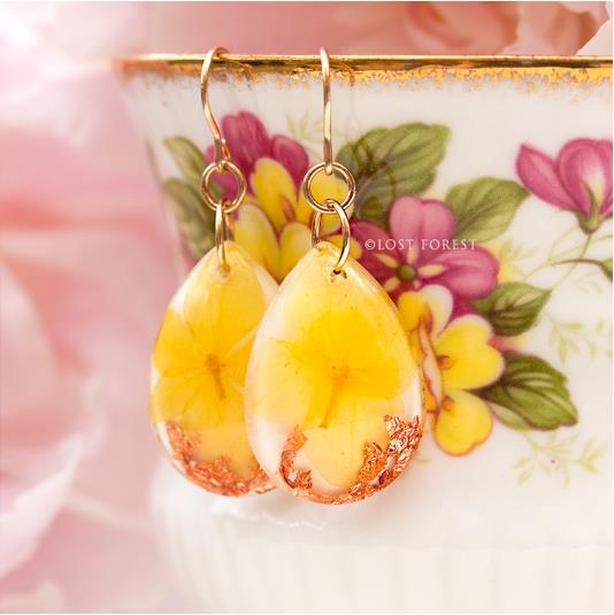 Any style rules for accessorizing?
I like to live by the rule of 'subtle elegance', pairing pieces that have delicate complementary elements and themes.
Your proudest achievement?
I was delighted to be featured in iconic magazines such as Vogue and Tatler, but I have to admit that my very first sale was a magic 'pinch me' moment! I still feel the same sense of happiness and pride with every sale I get.
It's a tough job being a one woman business, but those little moments make it completely worthwhile.
Where can we find you online?
You can visit me and my creations at my website or take a peek into my world over on Instagram.
Chosen platform to promote and sell your wares?
You can discover all the sparkly eco resin jewels over on Instagram, Twitter, and Facebook!
If you would like to feature here, we'd love to hear from you! E-mail: rtelifestyle@rte.ie or contact us on Twitter, Instagram or Facebook!