Teachers' strike
It provides the lead story in today's Irish Daily Mail, Irish Independent and Irish Examiner while the Irish Times runs with a picture of ASTI officials with some of the placards we'll be seeing outside the school gates today.
We need your consent to load this rte-player contentWe use rte-player to manage extra content that can set cookies on your device and collect data about your activity. Please review their details and accept them to load the content.Manage Preferences

The Irish Times and Independentboth devote their lead editorials to this story.
The Times takes the line that although the teachers are justifiably angry. The ASTI has "focused on conflict rather than compromise".
The Irish Independent, meanwhile, urges the union not to "sabotage progress secured by huge sacrifice and substitute it with industrial chaos" in this period of post-Brexit turbulence.
The editorial in The Irish Examiner, meanwhile, takes a slightly offbeat view suggesting that the Irish electorate should also be taking to the streets in protest.
Pat Hickey
The Irish Times leads today with a report about how lawyers acting for Pat Hickey have applied for his passport to be returned in a move which could see him return to Ireland shortly.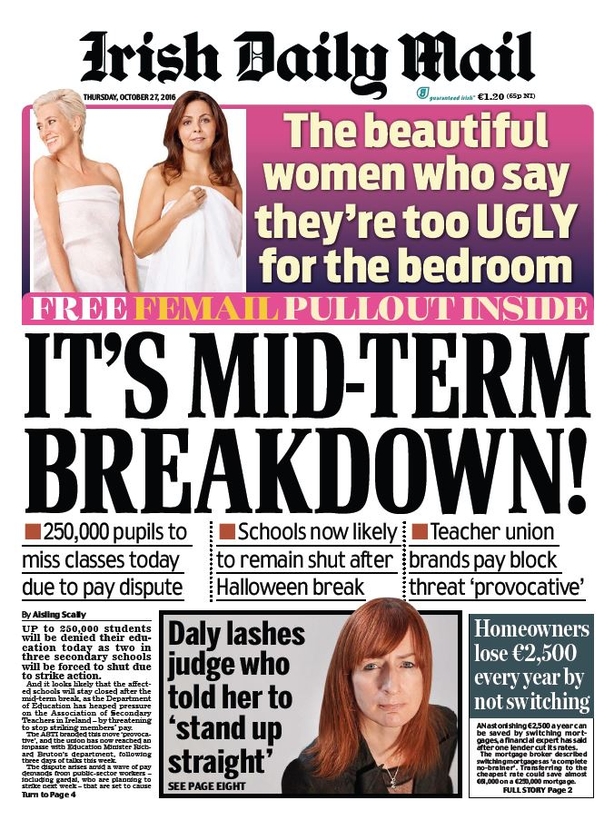 Detective Adrian Donohue arrest
For its lead story today the Irish Daily Star reports that American police have arrested an Irish woman in her 20's from a border county who is thought to be the fiancee of one of the men Gardai believe killed Detective Adrian Donohue.
Michael O'Toole reports that Gardai have sent an extradition request to have the woman brought back to Ireland to be charged with a serious criminal offence.
Nurse jail term
The Irish Daily Mirror leads with the 15-month jail sentence handed down to a qualified nurse who was convicted of stealing 45,000 euro from a patient at the Elmhurst Nursing Home in Glasnevin.
38-year-old Maeve Bell was clinical chief at the home which is run by the Highfield Nursing Home.
Rachel Crawshaw
The picture on the front of today's Irish Examiner is of Rachel Crawshaw coming out of Cork Circuit Court yesterday after she received a 10-year jail sentence for arson and for the manslaughter of John Palmer and Greg Lonergan in Mallow in 2014.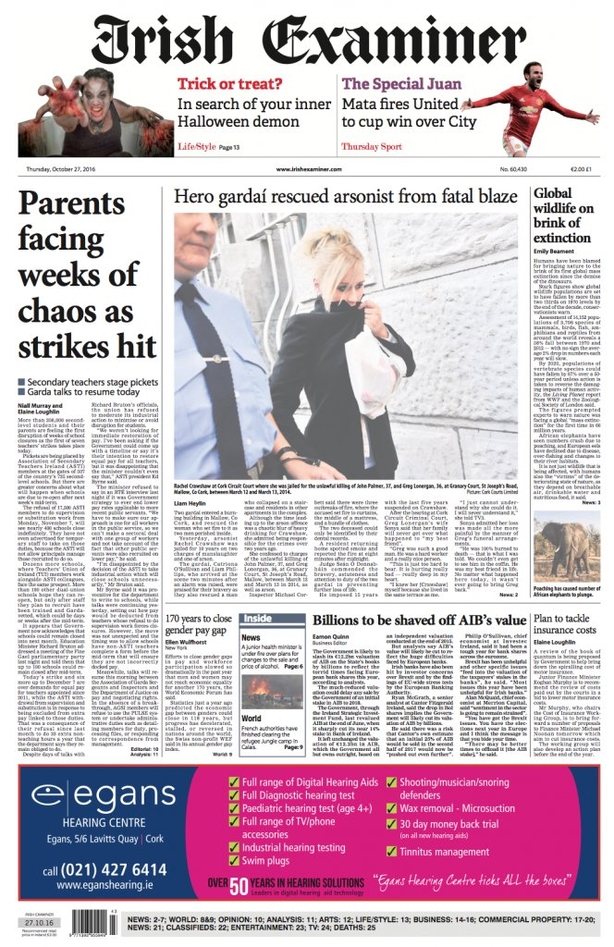 Lawnmower accident
A young boy who lost one of his legs after an accident involving a ride-on lawnmower at his grandparents' house received a settlement of 1.3 million euro in the High Court yesterday.
The Irish Independent reports that Conor Dufficy from Moate, Co Westmeath was 5 years old when the accident happened in Castletroy, Co Limerick in 2014.
Elsewhere in the newspapers
Rory McIlroy is quoted extensively in a number of papers talking about the 10% cut his caddie JP Fitzgerald got out his 10 million dollar Fed-Ex Cup win last month.
When the million euro hit his account Fitzgerald texted McIlroy to say: "A tsunami just hit my bank account...so thank you very much".
Another Irish sporting figure whose salary is in the news today is Niall Quinn.
The Irish Independent and other papers report that the Sky pundit and former Ireland soccer star earned just under 700,000 euro last year.
Everyone's favourite rowers the O'Donovan brothers from Cork are pictured on the front of today's IrisH Independent.
The pair were at a campaign to promote eggs at the UCD Rowing Club. And fair play to Bord Bia who managed to incorporate O'Donovan speak into the logos on the back of their sweat-shirts "G'wan...ye mad yoke".