How did you get involved with the show?
I was working on another project called Twin Strangers at the time with Vision Independent productions when they asked me to present the pilot for Search. We sent it into RTÉ and they were really happy with the whole thing, so here I am! 
Why should people tune in? What can they expect?
It's a quiz show like no other where if you don't know the answer you can search for it on your phone, but you only have 60 seconds of search time for your entire set of questions. Once you set the score we then find another 'randomner' to compete against you to try and steal your prize.
We travelled to different locations around Ireland, stopping people on the street and quizzing them right there and then.
For most quiz shows the people are vetted before taking part but here you're meeting the real people in towns across Ireland and finding out what they were up to when we stopped them, like shopping for their wedding suit or just 5 hours off a plane from the US.  We had an amazing response from people on the street. It's a really fun game, full of suspense and you can play it at home. 
This is a quiz show with a difference, why are participants allowed to use their phones?
It's a quiz show for the modern age. Everyone is glued to their smart-phones nowadays and when you don't know the answer to something, we automatically say 'google it', but how quick are you at searching is the question! Search is a quiz show everyone can play, on the street with me, or at home and once you're 60 seconds of search time is up, it's game over and we tally your final score.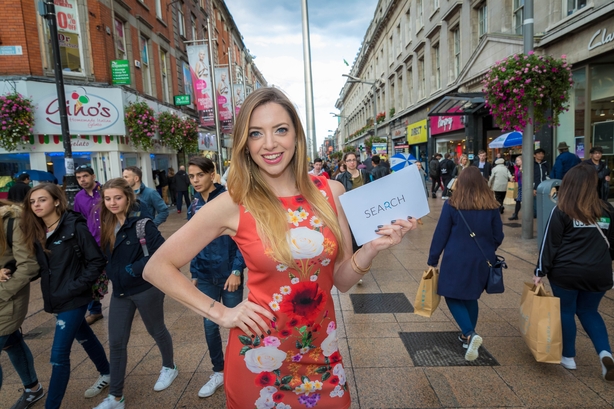 What has the best part of the job been? 
The suspense! Once one player has set the score, we then go off and find another 'randomner' to compete against them for the prize. There have been so many close calls, but with a game like Search it's not about what you know, but how quick you are. 
What has the toughest part of the job been?
I guess the long hours of shooting but that comes with the territory. When you love what you do, it doesn't matter. 
What was your most memorable moment?
There have been a few, a woman from Galway who mimed all her answers before she got to the word, she was hilarious, or another woman who was so confident she knew what cereal the tagline 'snap, crackle, pop' came from that she shouted out the Lidl alternative. There are gas moments in every episode. When people are under pressure you have no idea what they'll say or do.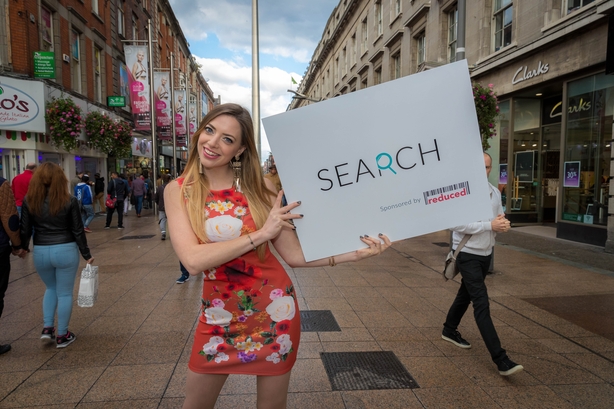 What questions can we be expecting? 
It's all general knowledge so you can expect questions from every genre. 
Where has your favourite place in Ireland been to work?
Tough question! The Irish people are great and we met vibrant characters everywhere we went, so I don't have a favourite. 
You've spent a lot of time on the high streets, where are your the best places to shop?
That would have to be Dublin's Henry Street. It has every high street shop you can think of but Kilkenny is also great for boutiques. 
You've got to spend a lot of time with the Irish public, what has your impression been? 
I've found that every town has its own personality. In Wexford before I even finished asking them 'did they want to play?' they had already said yes, whereas in Kilkenny, for example, was a harder sell. I was about to give up! I've also found that, apart from the incredible dry wit, we're very supportive of one another. A few times the winner was apologising for winning, very Irish!
Search will be on RTÉ 2 TV every Monday and Friday starting from Monday 31st Oct.