Maternity hospitals
The Irish Examiner leads with a quote from Professor Michael Turner of UCD who says that we need four new maternity hospitals to cope with the growing demand in Ireland. The Irish Times runs with a front page story generated by the same report - which is to be discussed at an ESRI conference today - about the fourfold increase in the number of Caesarean sections in the past 30 years.
We need your consent to load this rte-player contentWe use rte-player to manage extra content that can set cookies on your device and collect data about your activity. Please review their details and accept them to load the content.Manage Preferences

The Irish Independent, meanwhile, leads with yesterday's inquest into the death of Malak Thawley who died at the National Maternity Hospital in Dublin in May which heard that vascular clamps that control blood loss were not available to doctors treating Ms Thawley. She suffered a punctured blood vessel during an operation to remove an ectopic pregnancy.
The Irish Times leads with the teachers' strike.
The paper reports line that tensions in schools could rise today as some management bodies are expected to ask teachers who are not planning to strike on Thursday to sign declarations saying that they are available for work.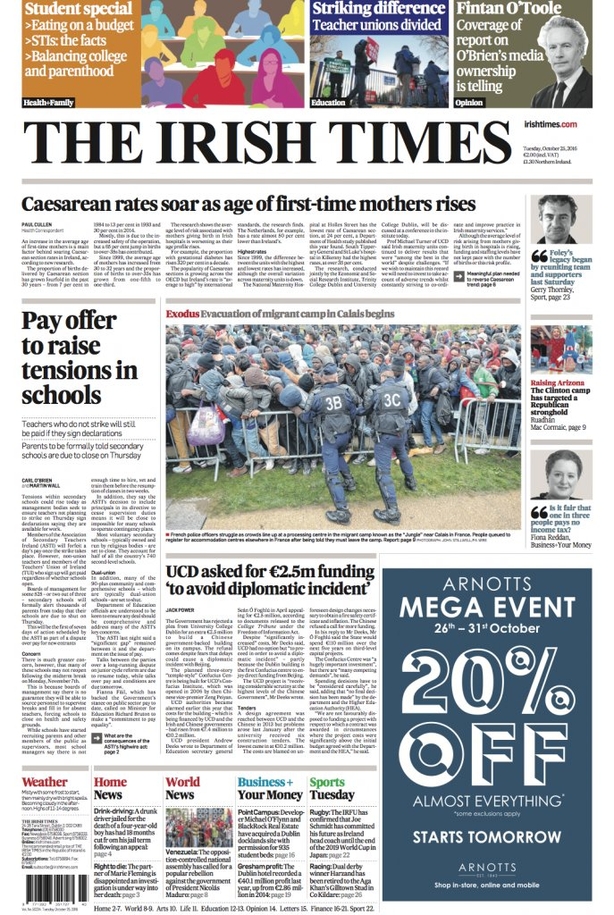 Members of the ASTI will forfeit a day's pay once the strike takes place while members of the TUI and teachers who aren't members of any union will get paid regardless of whether schools open.
Ross Hutch
Both the Irish Daily Star and Herald run with a lead story about a court hearing at Dublin District Court yesterday in which Ross Hutch, a nephew of Gerry Hutch, appeared before the court for stealing an iPhone on Sunday.
The Irish Sun leads with yesterday's Court of Appeal ruling, which reduced the sentence handed down to Finbarr O'Rourke, who pleaded guilty to dangerous driving which caused the death of 4-year-old Ciaran Treacy in April 2014.
For its lead..The Irish Daily Mail reports on the 3-year jail sentence handed down to former Vodafone Ireland executive Niall Barron for his role in the fraud of nearly 2 million euro from the company.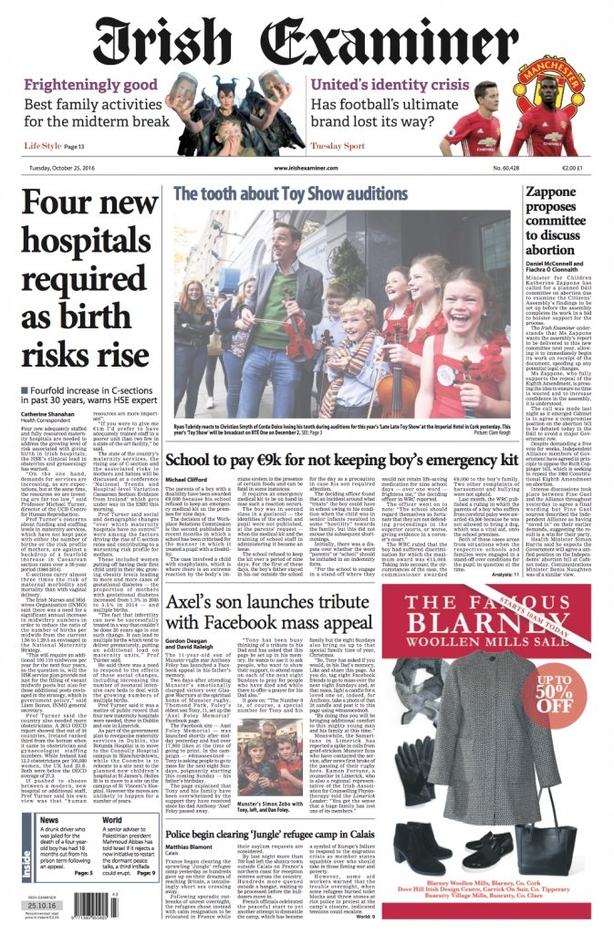 Elsewhere on the front pages:
The Irish Times has a front page report today about the Government's refusal to grant UCD an extra 2.5 million euro to build a Chinese-government backed building on campus which has gone over-budget.
The Chinese Government has refused to pay the over-run but when UCD wrote to the Department of Education requesting that they pay for it "in order to avoid a diplomatic incident" the Department refused their request.
The Irish Independent reports that Junior Ministers are angry at having to pay their own overnight expenses while backbenchers receive an overnight allowance.
The Irish Examiner has a story about the parents of a boy with a disability who have been awarded 9,000 euro by the Workplace Relations Commission because his un-named school refused to keep an emergency medical kit on the premises.
In the Irish Examiner, Anthony Foley's 11-year-old son Tony has set up a Facebook page asking people to go to mass every Sunday for 8 weeks to honour his dad's memory.