The main story in The Irish Examiner this morning, Cormac O'Keeffe writes that "crunch" talks to avert a crisis will continue today and over the weekend. While the talks continue, the Association of Garda Sergeants and Inspectors have conceded a "tweak" - in that station custody sergeants may use the Pulse system to process prisoners being brought in for questioning or being taken to court.

And, he writes, sources yesterday described yesterday's meeting between the AGSI and their Department as "constructive" but declined to indicate whether any real progress was being made.
In The Irish Sun, we read that at 12 noon today, all radio stations in Munster will simultaneously play The Fields of Athenry as the funeral of rugby star, Anthony Foley, gets underway.
And The Irish Examiner offers a 12 page pullout as its tribute.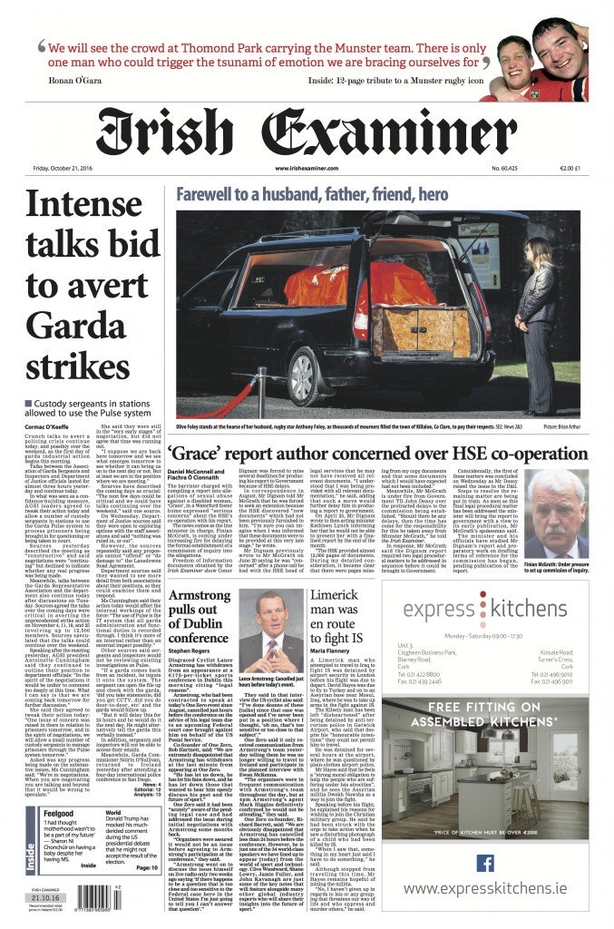 Tax evaders
The Irish Times lead is that that tax evaders with offshore income and assets have been warned to pay any outstanding liabilities before the Revenue Commissioners make greater use of internationally available information to launch a crackdown next year.
Brexit
While the Irish Independent leads with a warning from the head of the Irish Stock Exchange, Deirdre Somers, that since she hasn't discerned any "cohesive or coordinated" plan in the financial sector to capitalise on Brexit, Ireland is in danger of blowing a "once-in-a-lifetime" opportunity to attract further investment in the area.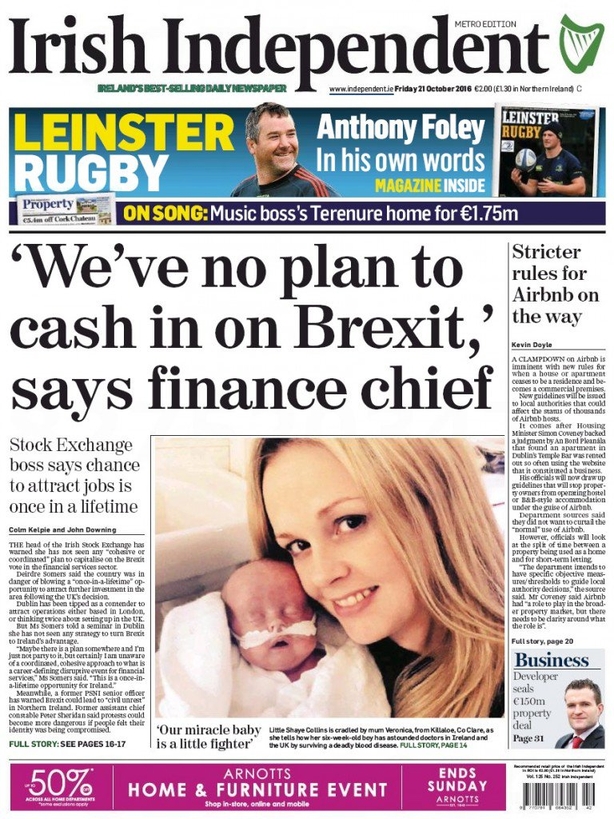 The Irish Daily Mail leads with an allied story, where the headline asks why Ireland doesn't have a dedicated Brexit Minister. We're told that bodies representing Irish Exporters, Small Firms and Irish Road Hauliers, told the paper that this country needs such a minister at cabinet to deal with Brexit's "severe impact" on us.
So what else?
The Irish Daily Mirror's lead is that the family of Gareth Hutch, killed in a "gangland" feud, gathered around his grave in Glasnevin cemetery to celebrate his 36th birthday, with cake, champagne and three large balloons bearing the letters G, A and R.
In the Irish Independent, boarding schools may be forced to send pupils home is the stark headline over a report in the Independent around teachers' industrial action.
In the Irish Examiner barrister Conor Dignam, commissioned to report on allegations of sexual abuse against "Grace", a disabled woman in a Waterford foster home, has expressed serious concerns about the HSE's cooperation, in that he was forced to seek an extension to his deadline because although he had received 12,000 documents concerning the case, there were pages missing and that some documents he would have expected had not been included.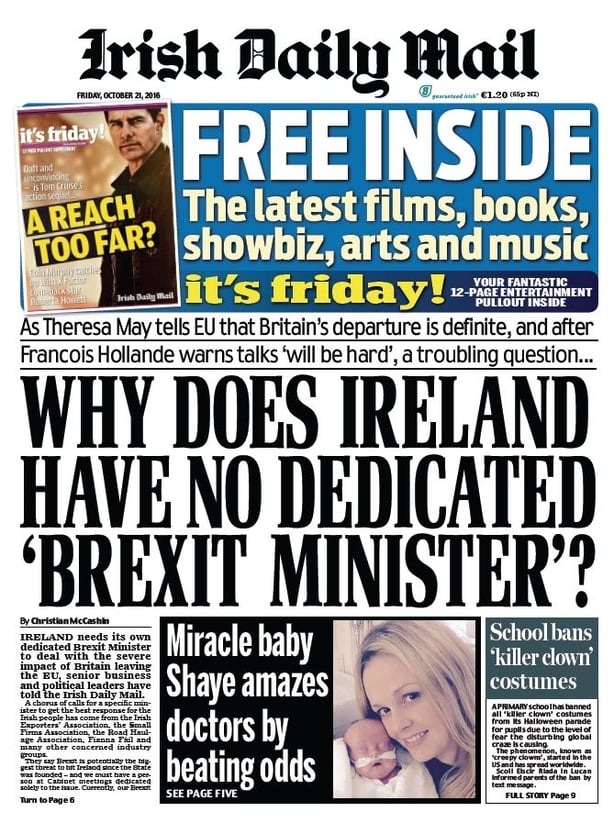 And The Irish Daily Star tells of a Limerick man, David Hayes, who had attempted to travel to Iraq in order to join a Christian militia in the fight against Isis but was detained at Gatwick by anti-terrorism police who said that they could not permit him to travel, "despite his honourable intentions".
Inside the Irish Independent, we read that 35million Euro promised for mental health services in the budget has been reduced to a spending allocation of just 15million. Questioned by the paper, the Minister of state, Helen McEntee who is responsible for this area, said that the funding would be "initiated" next year but not all would be spent because of: "the time lag in taking on staff and preparation for the development of new services."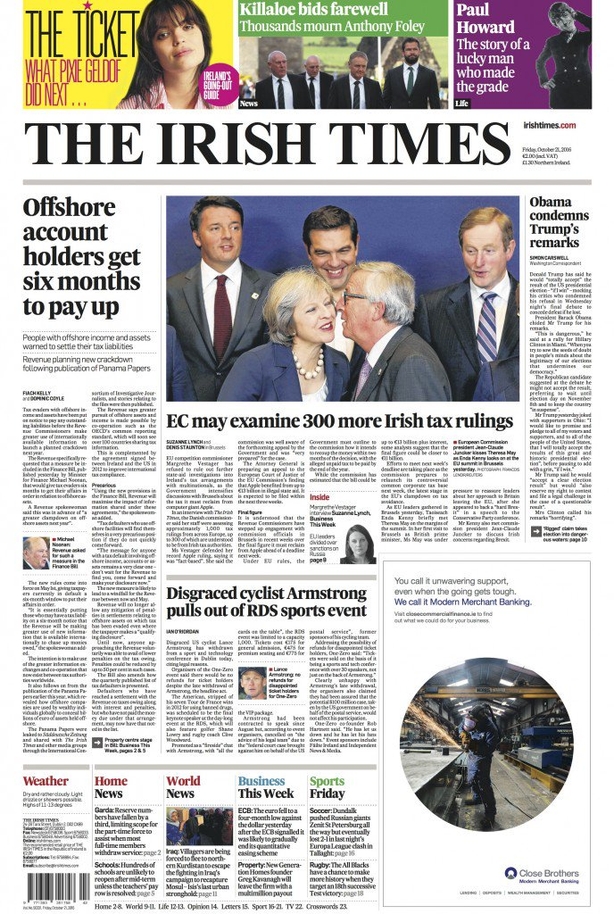 In the Irish Times business section, the ESRI economist, John Fitzgerald, is writing about cross-border shopping. In the eighties,the ESRI advised that targeted support for economic activity in border areas was seen to be more effective in dealing with it than VAT cuts, although it did advise cutting excise duty on whiskey because of of smuggling. And, he concludes, this course of action was taken, removing much of the jollity from cross-border jaunts.