U2 star Adam Clayton is keen to use his profile to help raise awareness for young men in particular, given high incidents of depression and suicide, that is 'It's Okay to Say You're Not Okay.'
In an interview with RTÉ's Shay Byrne for the Walk In My Shoes radio to promote World Mental Health Awareness Week, Clayton also spoke openly about his own struggles with addiction.
"It is very sad that in our community there is this high rate of suicides among young males and that's the audience I relate to because that is the Rock n'Roll audience," the U2 bassist said.
"Anything we can do to help those people realise that there is help available and that they can lift the phone and get help - is great.
"It is only recently that Mental Wellness has become a Worldwide issue, but Ireland has been to the fore in awareness for years.
"I love the atmosphere here (St. Patrick's Mental Health Services). Everyone is very generous with their time, very committed."
He also opened up about his struggle with drink and drugs and talked about how he loves his sober life now.
The bass player says he struggled with addiction at the height of the band's worldwide fame.
Irish Harry Potter star Devon Murray had 'suicidal thoughts'
"I have a history of alcohol and drug abuse but that was a covered up because I was a successful person, so I got away with it. But other people can't get away with it," he added.
"There is nothing I miss about drugs and alcohol that my sober life doesn't give me now. I love my life now.
"I haven't had a drink or a drug for 18 years."
Part of the way the musician now manages his mental well-being is through exercise.
He revealed, "I like to run 4-5 times a week, it clears my head, I think I like the endorphins.
"My knees were better when I was younger, they are getting a bit saggy now, I'll have to get a knee job done now! That's what they [people] do [nowadays!]."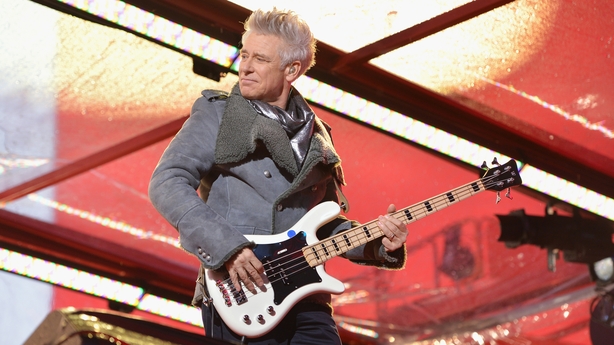 He added: "The great thing about running is that you can do it anywhere – you just have to have the gear with you. A lot of places when I am away I can use the treadmill.
"But I like to get out and about.
"A bit of time to myself but actually it is more that I get to see where I am. I actually get to wander around in London or New York and see where I am. I love it."
Remembering four decades of one of the World's greatest bands, Clayton thinks back to when it all started in a Dublin kitchen.
"Mad to think we met in Larry Mullen's kitchen in Artane and talked about putting out an album or a single and then 40 years later we ended up playing in Vegas," Clayton told Shay Byrne.
"We've been working on a record – we've decided it is not finished and we are going to continue working it until Christmas.
"It will be out next year maybe March or April..."