Séan asked Darren to tell about himself.
"I'm a gay traveller, and I came out two year ago. I had suffered from depression. And attempted to take my life at the time, went through mental and physical abuse."
Séan then asked Darren about growing up in Tullamore and in particular the travelling community.
"Growing up in the traveller community at a young age was okay at the time because I was only a child. I know no different from being gay or being straight." he said.
"It can be tough at times with people passing remarks and comments and looking at you in a different way..." 
"A lot of Travellers are not liked and there is a lot of discrimination out there against Travellers. But even in the Travelling community, in this day and age, our own community is actually discriminating gays..."
Darren explained how he had previously been involved with a girl and had planned to marry her, but ultimately came to realise he was gay. "I started to look at men in a different way" he said.

"It was hard to accept. I tried my best to fight it at the start, but couldn't. And that's when I attempted to take my life."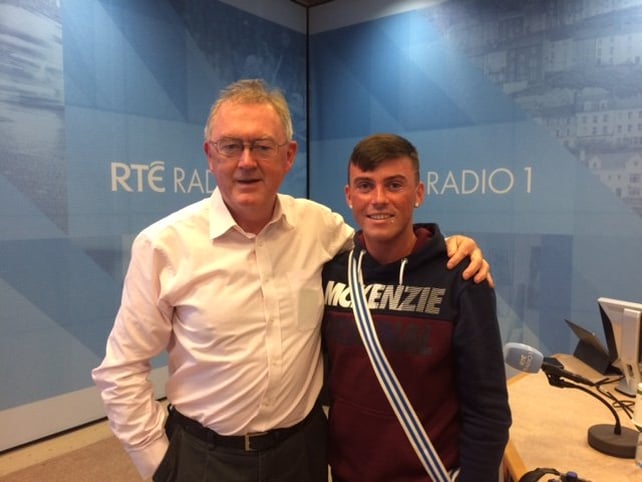 Séan asked if he had anyone to turn to at this time to talk about what he was going through? One night when out in Dublin with his then partner, Darren had decided to message his sister, who in turn told his parents.
"Mam and Dad had rang me and said 'Look we want you home in the morning. We won't speak till tomorrow.' So I said 'Okay'. I went home the next morning and my Dad had accepted me. He said 'Look you're my son and I love you. What else can we do? You're still our son and I accept you straight away.'"
Darren's mother was a slightly different story, who felt hurtfor over 6 weeks. "She was thinking 'Was I going to be bet up? Or called names? Could I live a happy, normal life? Would I have to leave my town?' and worried about her family's views." But 6 weeks on, she came to terms with it. And now?
"Two years on she's fully behind me 100 per cent...I couldn't ask for better parents." he added cheerfully.
 Listen to Darren Collin's interview with Séan O'Rourke here:
We need your consent to load this SoundCloud contentWe use SoundCloud to manage extra content that can set cookies on your device and collect data about your activity. Please review their details and accept them to load the content.Manage Preferences
How has the general travelling community reacted to Darren's sexuality? "In the travelling community, it is less acceptable" he admitted.
"Some travellers take it to religion. Some are very old-fashioned. Some travellers go out and get married to a girl, and they don't want to come out and say it. They have a family, have kids and they're living a lie."
"Some travellers can't come to terms with it, and can't accept it. They don't want to shame the family name. The only thing they can see is suicide, which unfortunately it shouldn't be."
Séan asked Darren how he is dealing with these issues today? 
"You're going to meet people who are totally against you", he replied. "You're going to have people who are going to love you. The traveller community is still strict to this day. But 40 % of the traveller community is coming to terms with gay sexuality."
"So hopefully in 2016, the 21st century, we can change it and let more young traveller men and women come out and be who they are. Everyone deserves to live a happy, normal life. Everyone deserves to be equal.
"I'm hoping I can see a bigger change, and that I can make a change for the younger generation of the travelling community. Fingers crossed we can get more support services there" he added.