President Michael D Higgins appeared on the Late Late Show last Friday, and talked to Ryan Tubridy about life as the State's first citizen, about his plans for the future and, as the 1916 centenary year winds down, his vision for a new Ireland.
Arguably one of the most important questions the public are eager to know is; will President Michael D Higgins run for the Áras again?
Before Ryan could even finish that question, the audience burst into rapturous applause, which Ryan chuckled "might answer the question."
"Let's take 2016" the President said, "the centenary events that I have been speaking at, meeting people from different circumstances. They were very important events. There are equally important events in 2017 and 2018."
"During 2018, I told Séan O'Rourke the other day, I said to him 'When he's at the Ploughing in 2018, he'll know what I'm doing.' I will have made a decision then. And my decision is my decision... I will at the appropriate time."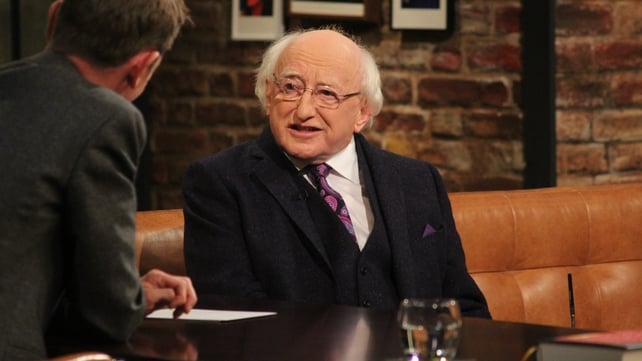 Making any comment on running again may interfere with his work at present, he said, including a visit to Vietnam in November and Cuba in February. But Ryan was not taking that for answer and rephrased it; would he like to run again?
"I think it's a great privilege to be President of Ireland" Michael D. Higgins admitted. "And I think the best way the President can fulfill that role, yes you must have regard for the constitution boundaries of the office... you must respect the ceremonial because it is important."
"And also you are representing the people of Ireland at home and abroad. What you do is, for example others who have had legal training," he said. "That showed in the way they handled it.... I've had a very particular experience.
"You asked me 'Am I enjoying it?' I've been giving everything I can to it, and I'm very happy to do so. And I've been getting enormous support from the people of Ireland. And yes I like it."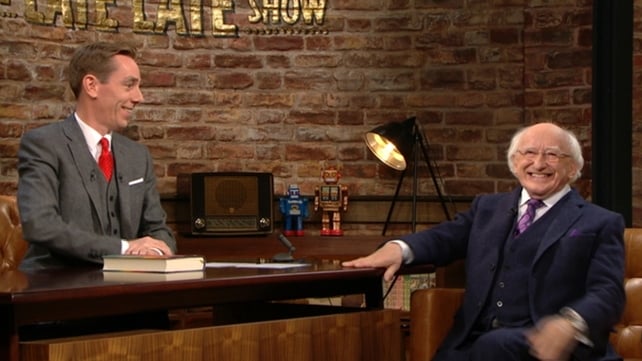 The enormous support was evident across all social media during the broadcast, with thousands of people praising the President.
Michael D. A physically-small man who has a huge heart and makes an entire nation stand taller. #LateLateShow

— Donal O'Keeffe (@Donal_OKeeffe) September 23, 2016
There are very few public figures who can talk, and talk, and talk - and you're still rapt. Michael D is one. Political gold. #latelateshow

— Larry Donnelly (@LarryPDonnelly) September 23, 2016
Answers question with an unstoppable concepts & vocabulary whirlwind ... "sorry for going on!" What a president! #LateLateShow

— Eoghan McDermott (@eoghanmcdermo) September 23, 2016
And it appears the president's infamy knows no bounds, as he even had a guest appearance on the Irish version of Gogglebox, in the form of Michael Tee Higgins (which we will undoubtedly see in shops!)
THEY HAVE A MICHAEL TEE HIGGINS TEA COSY!!! #GoggleboxIRL pic.twitter.com/EOCLrDaInD

— Galway Faces (@galwayfaces) September 22, 2016
So while it is up for debate what is in store for our President with regard to a second term in office, two things are clear. He is enjoying his time as President, and so are the people of Ireland.
Will President Michael D Higgins run for the Áras again? Watch the segment here:
We need your consent to load this YouTube contentWe use YouTube to manage extra content that can set cookies on your device and collect data about your activity. Please review their details and accept them to load the content.Manage Preferences
Want to watch the full interview? Visit the RTÉ Player here.