Ryan reintroduced Maureen by remembering how it was he came across her.
"A few months ago before the Late Late show ended, I got sent a video by email, from a lady called Maureen," he explained. 

"And the video she sent was so impactful on me and all of us on The Late Late Show programme that we asked her to come on the TV show."
Ryan played the clip and a strong, confident woman was speaking quite casually about her death.
"Until they put me 6 ft under, I'm going to be alive." Maureen said.
"Death is on the horizon and we've been very pragmatic on how we've dealt about death. Most of my funeral arrangements have been made. It means someone doesn't have the responsibility of trying to figure out what I would or wouldn't like."
"But life is awfully, awfully good. Just because cancer is in my life, I try not to let it affect my quality of life. I think it's much, much harder for friends and family because they look by and they're helpless."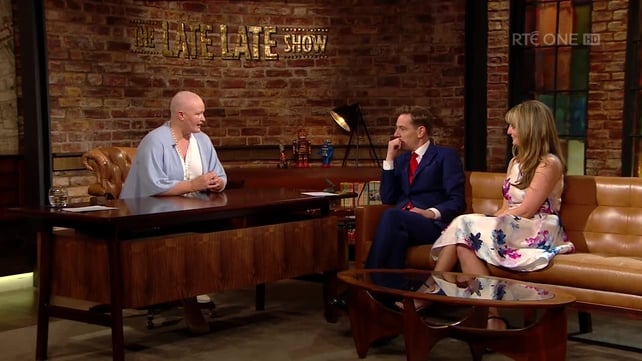 Speaking on the aftermath of her being on his show, Ryan said members of the public would regularly comment on how Maureen was an "extraordinarily positive and beautiful woman". He then asked how she has been since last being on the show.
"Honestly? Not too bad. The treatment continued. Since I saw you last in May, my treatment has finished. I have a full head of hair again so my 5 minutes of fame were briefly lived because nobody recognises me anymore", she joked.
"I've been in very good form. My oncologist is quite positive at the moment. We're hoping that, please God, by the end of the year that I might meet with a consultant in New York and just see if there's anything. It'll only be something to extend my life but extending my life is as important as anything else."
Ryan asked the question no one would feel overly comfortable asking. Is there a timeline on her life?
"When I was last with my oncologist Dr. Lenard, he's unreal, he looked at me said 'You keep coming into me, and you keep looking so well and so strong, I've no choice but to keep treating you.' So no we don't have a timeline", Maureen said.
"The type of cancer I have and the way my disease has progressed, realistically I shouldn't even be here now.  But I am! And I'm having a great old time!" Maureen said, maintaining that unbelievable optimism.
She had a set number of things planned when on the Late Late Show: To go on a cruise, and to buy a fancy, state of the art car. Both of which she's completed.
"We went on our cruise. We did the Western Mediterranean. And there were two families. My first cousin and his family from the UK. 

"We did very little, as little as I possible could. We enjoyed good food,  a few nice drinks, and chillaxed."
She didn't do everything because she was still receiving chemotherapy at the time and understandably a little tired.
"The ship was ginormously huge! There was no shortage of things to do on the ship. It was absolutely lovely for a family to catch up and spend time."
And then the car...a Jaguar SX to be correct, something Maureen said is "purring like a kitten."
"She's a lovely light blue. She's beautiful. You'll see her now when you come down for coffee Ryan!" Maureen joked, to which Ryan said he will take her up on her offer when the Late Late travels around for the Toy Show auditions.
Viewers will remember that Maureen's daughter, Sinéad, was a pillar of strength on the show. Ryan asked how she's doing.
"I'm going to be a granny again!" Maureen revealed. "And I'm not allowed go anywhere until that event has passed. I'll just keep lingering." She joked.
While Maureen has undoubtedly had an exciting few months, part of the catch up today was that it is Ireland's Biggest Coffee morning, something Maureen has been fundraising for. She told Ryan the website crashed because of so much traffic after her appearance on The Late Late Show.
"The Coffee morning is a national event. And all the funds that are raised by each coffee morning will be given to the local hospice. So all money raised locally will be kept locally."
Maureen then took time to thank Ryan personally and publicly.
"You've been in touch with me since I've been on the show. People don't get to see that background stuff that you do. I appreciate that you did keep in touch,  it meant an awful, awful lot to me. And thank you too."
Listen to Maureen Allman's full interview with Ryan Tubridy here: