"'Re-assembled, Slightly Askew' deals with Shannon's time in hospital with a brain infection which almost killed her. Ray's first question asked Shannon to explain the event, "Is it a play, an installation or…what is it?"
"That's a great question, it's a mix of all of them!" Shannon laughed.
"What you do is you experience it lying down on a hospital bed wearing headphones. But the sound technology that we used makes the user feel in their body particular sensations and things that are happening them."
It all sounds very interesting, but what exactly is the process? And how does it work?
"We worked with an inner-disciplinary arts team" Shannon said.
There's only 8 people in the audience, something Shannon said makes for a very intimate experience. Audience members get into a hospital bed, are given a medical wristband by a 'nurse' and taken into whole process of being "immersed" in the performance. 
"It's what happened me in the acute-neuro ward" Shannon said.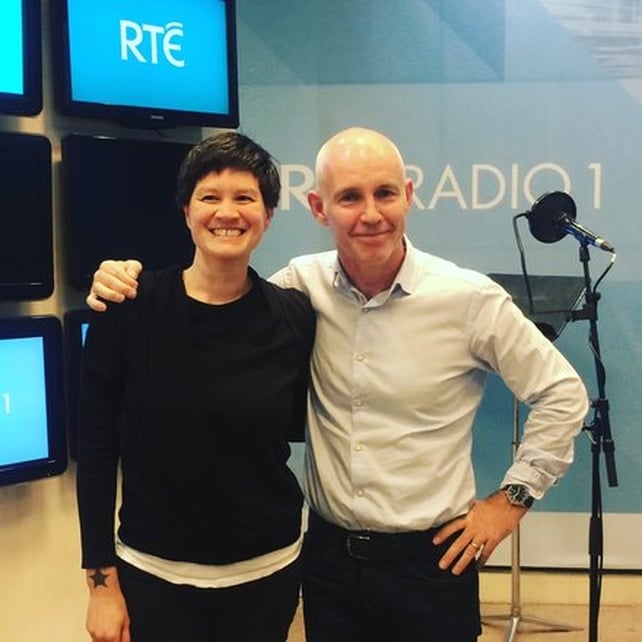 Her near death experience from a sinus infection
Back in 2008 Shannon got a sinus infection that spread into her brain.
"It was a sinus infection that I just didn't have time for." Shannon explained.
"It was before Christmas and I'm sure yourself, you've gone and you've had a To-Do list that's way too long, you go 'I know what this is…I'll just push on through'. But unfortunately I pushed, push, pushed and it got very strange."
"I became delirious. I started hallucinating. I was saying things that made sense to me like 'Darts is a very sexy game. How do you figure out the points?' My partner looked at me and went to me 'Do we need to go to the hospital?'" Shannon said.
It wasn't until Shannon collapsed in the hallway and lost power in the left side of her body that her partner carried her to the hospital, where they realised it was more than just a simple sinus infection.
"It turned out when my neurosurgeon met me…and I don't remember meeting him that I was an hour away from death" she revealed.
The science behind it all
"The sinus had traveled up to the blood-brain barrier and essentially covered my brain with abbesses. My brain was swelling and it was killing me."
Shannon revealed that a piece of her skull was removed, but then placed under the skin of her abdomen to keep it alive. Bone is alive and needs a blood source; the other alternative was to give her a metal plate which was more prone to infection.
"For me, it was about 5 months with a hole in my head before it could be put back in" Shannon said casually, before a giggle at Ray's shock.
 Listen to Shannon Yee's interview with Ray D'Arcy here:
We need your consent to load this SoundCloud contentWe use SoundCloud to manage extra content that can set cookies on your device and collect data about your activity. Please review their details and accept them to load the content.Manage Preferences
Reassembled: Slightly Askew...what to expect?
Part of the performance is that the audience will hear what Shannon heard during her recovery. Infection affected her in two ways; hyper sensitive hearing and her paralyse down the left side of her body.
"The power in the piece is it's not just a radio play. It's not just a theatre piece. The technology we've used has allowed us to really impact listeners through their bodies.
It's been a long journey for Shannon. Her and her partner Gráinne were the first civil partnership recognised in the U.K. in 2005, over ten years ago. And now? They have a 12 week old baby to contend with!
"I'm tired…tireder!" Shannon said on her experiences so far. She said that she now hopes that Northern Ireland will recognise same-sex marriage like the rest of the U.K., and the island of Ireland in the near future.
'Reassembled: Slightly Askew' runs in the Complex in Dublin 7. There are 4 shows a day, running till the 17th of September.
There's a free Artist Talk on Monday the 19th of September, where Shannon will be joined with Headway Ireland to discuss the process and acquired brain injuries.