Claire Byrne Live opened with broadcaster Chris Donoghue who shared his experienced with rising car insurance premiums."I've been driving for more than 10 years on a full licence" he explained. "No accidents, no claims. Not bad on penalty points, never more than 2 at any one time and fully clean at the moment."
"The cars parked off the road in a locked garage at night, and I don't drive to work. So why is the cost of my premium up 20% this year? The answer is simple. The Irish car insurance industry is a basket case. And across the board last year the average price increase for a premium was 35.5%"
Chris explained how the reasons behind this rise are complicated. Insurance companies were giving insurance at too cheap a rate, which accumulated in Quinn going bust, with the public picking up the €1 billion bill. But now prices are going to unprecedented levels.
Is Ireland a cash cow for claiming?
Legal fees must be paid, and those who make a fraudulent claim, which adds up to €50 to each premium every year.
Then factor in how Ireland performs in relation to payouts. The world's biggest insurer gives this comparison for the amounts given for suffering from whiplash:
France - €3,000
U.K. - €5,000
Ireland - €15,000
Chris went on to explain how in the last decade in Ireland, people are more likely to claim. The number of people applying to the Personal Injuries Assessment Board has doubled since 2006, despite cars and roads being safer.
Donohue finished by saying how one insurer, FBD, are already forecasting another increase in premiums of 18%. "We need more than awareness. We need the government to do something."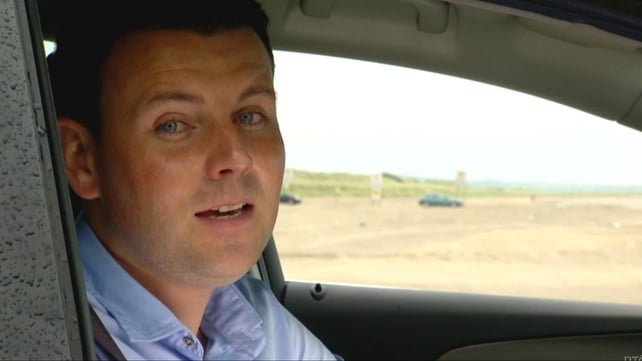 Back in studio, Claire heard stories from the audience who said how their premiums have been affected. Nicola said how she paid €338 last year and this year her insurance cost €460. "I've no idea why," she said, "I've a clean drivers licence, no penalty points, I've been driving 10 years, full no-claims bonus. It makes no sense."
Carmel was quoted €1,165 this year, an increase of €670 from last year. "I'm an elderly driver as they say" she explained.
"When it was investigated, it was discovered the company who had insured us last year had decided not to insure private motors this year. They put it out to tender. And because I had a few little incidents...5 out of the 6 companies they asked wouldn't even give a quote. 
Peter Burke, the only TD present, said the government has set up a task force within the Department of Finance that will make a report at the end of October. But as Claire challenged, a report is no good for those paying these prices now. 
Burke said there are more issues at play than the collapse of Setanta and the Quinn problem. "The fraudulent claims and claims from uninsured drivers have gone up 17%" he said. 
"Potentially we should be getting rid of tax discs and insurance discs. Having a system whereby there can scanners within the Gardaí cars to ensure they can detect registration, so we can get stronger on enforcement."
"In relation to the Injuries board, we need to give the teeth, more power, to compel witnesses for loss of income and ensure people turn up for medicals" Burke concluded.
Viewers tweeted in their experiences of car insurance renewals during the program. An enormous amount shared similar experiences where their quotes have taken a drastic increase with little to no explanation.
@ClaireByrneLive Mams insurance went from €598 to €1200 with the AA for no reason and they couldn't and wouldn't explain why...

— Mark O Reilly (@RoLo_117) September 12, 2016
@ClaireByrneLive it's a joke my policy is now 980 from 535 no claims 8 years clean licence how are we expected to pay for this ????

— MichaelLynch(mickey) (@Michael01696168) September 12, 2016
@ClaireByrneLive Car insurance quote for my 18 yr old as a named driver on my insurance €2650 for 7 months . Her own quote €6560.41!

— Declan O'Shea (@DeclanOShea1) September 12, 2016
Claire was then joined by former chair of the Personal Injuries Assessment Board Dorothy Dowling, solicitor Damien Tansey and Conor Faughnan of AA to further debate the issues. To watch the full episode of Claire Bryne Live, click here.