It's your wedding day. And there's a stranger in the corner taking photographs of the panic, the fear, the joy and the excitement. As a seasoned photographer, Jenny McCarthy fits effortlessly into the chaos and has accumulated a volume of advice for budding brides to be.
Nicky first started off asking how Jenny got involved in wedding photography.
"I use to do portrait photography first of all, because I love to bring out the best of the person. I love to document the emotion that's going on for that person in that moment."
But the transition to wedding photography was ultimately down to a rather special request from husband Martin King's sister.
"I'll always remember Martin's sister saying "Will you do my wedding?" Now they were having a really small family wedding and I was said " you must be joking! Wedding?"
But I did it and I'll never forget the feeling I got when she got her photos and I thought "Geez I could do this! I'm not an over staged style photographer. I love to zoom into moments that they naturally unfolding and capture the day that's happening."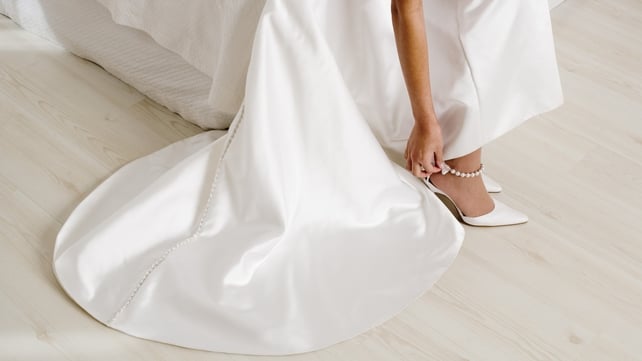 As Nicky points out, photographers need that special personality to gel with everyone on the day, something Jenny agreed with.
"I've been called all sorts. MacGyver, because I have all my bags of tricks to fix all the bits that go wrong. A counselor. Another bridesmaid. You have to have a personality, and you need to be comfortable with your photographer because they're with you all day from the morning right through to the evening."
The Wedding Masterclass
"The amount of times I come away from a wedding" Jenny said, "and say goodbye to the bride and groom and the bride says "Oh my God what would we have done without you?"
"I love to help and on the morning of a wedding day, so many things can go wrong. And hindsight's a great thing. So I wanted to put all that hindsight into a masterclass. So yes, I put a wedding event together."
"It's a masterclass, a day out for the brides, her pals, the bridesmaids, the mothers of the brides and the mothers of the groom, because she sometimes gets left out. It's very glam day out, the ladies who like to lunch. And I'm going to have all my suppliers, all the top names in the business, in the one room."
Listen to Jenny McCarthy's interview with Nicky in full here:
Where and how can you get tickets?
Tickets are on sale from the 19th of September. Visit http://weddingsbyjen.ie/events/ for more information. The events take place on the 26th and the 27th of November.