You know those ads on the telly advertising loans by portraying students as bean-gobbling, laundry-dodging stereotypes? You don't want to be one of them.
Nor do you particularly want to tie yourself to a high-interest loan that will take up most of your modest graduate salary to repay once you join the workforce.
So what are your options?
One of the biggest expenses facing students in the quagmire that is independent living is accommodation. With rent rates skyrocketing and high demand making landlords more reluctant to rent to students, many of whom will only need their tenancy to last the academic year, it's getting harder and harder for students to find good quality, affordable accommodation.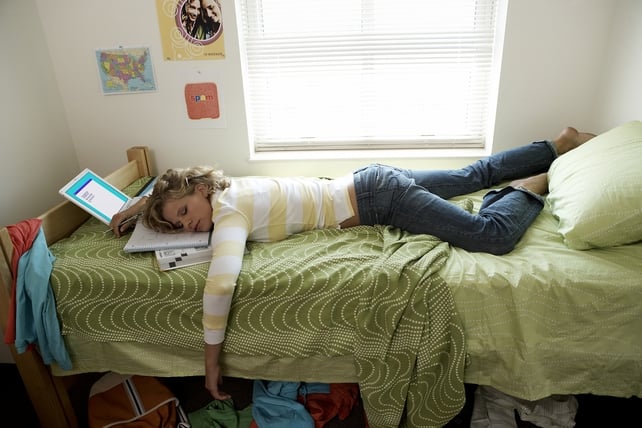 Student unions have even started dropping flyers into neighbouring households asking homeowners to consider renting out their spare room to incoming students.
"40,000 students are heading to college this month" Sinead said, "and 40 per cent of them will be living away from home."
Sinead has this advice when it comes to searching for somewhere to sleep, eat and study (no parties allowed – unless you want to incur the wrath of your landlord!):
"There are lots of supports…Most of the student unions operate campus accommodation, which I'd say for the most part is probably gone by now, but [they also offer] matching services between local landlords, or local digs, and students. And there are dedicated websites like College Cribs, Get Digs, and then the USI itself. So there is help out there."
With regards bank accounts, which many students already have, Sinead told Sean:
"Banks are offering goody bags all over the place, but of course nowadays kids are a lot more savvy, a lot of them have their bank accounts in their teens when they are allowed start getting debit cards."
However, Sinead warned, once you move into loan territory, your "loans follow you about the place… Any missed payments or mucking about with student loans will go against you…so start clean!"
With regards sustaining yourself through these frugal years, Sinead says, "I hate to sound like mammy about it, but learn to cook!"
We suggest starting with beans on toast and working your way up from there.
To hear the interview in full from Today with Sean O'Rourke, listen below:
We need your consent to load this rte-player contentWe use rte-player to manage extra content that can set cookies on your device and collect data about your activity. Please review their details and accept them to load the content.Manage Preferences