The 8th Amendment of the Constitution means that abortion is illegal in Ireland with the exception if the life of the mother is at risk.
Speaking to RTÉ LifeStyle on reflection of the show, host Claire Byrne said their aim was to host "an informative and calm debate where everyone felt comfortable to give their views and personal experience on a deeply emotive issue."
The debate featured deeply personal stories from women on both sides of the debate on the process and feelings around abortion.
"The show should always be a place where people can talk freely and explore the topics that impact their lives." Claire added, saying that "the feedback on the night from contributors was that it was an informative and respectful debate."
Claire opened the debate by talking to Lucy, who had an abortion last year. Lucy [no surname was given on the programme] described the circumstances behind making that decision.
"Last year I fell pregnant in I think it was about May. It was completely unplanned and I spent about two weeks thinking about whether or not I could raise a baby and be a mother."
"I came to the decision after much thought that I was not prepared or ready to be a mother. And decided the best option for me and the best choice I could make would be to have an abortion."
Unfortunately because of the 8th Amendment, I couldn't have one in Ireland. So I had to stay pregnant for five weeks and wake up every day knowing I was pregnant before I could travel over to England and have an abortion."
"I didn't talk about it for about six or seven months afterwards" Lucy added, "because I was so afraid of people finding out, what I had done, what I went through and I was afraid of being judged because of the stigma that surrounds it in Ireland..."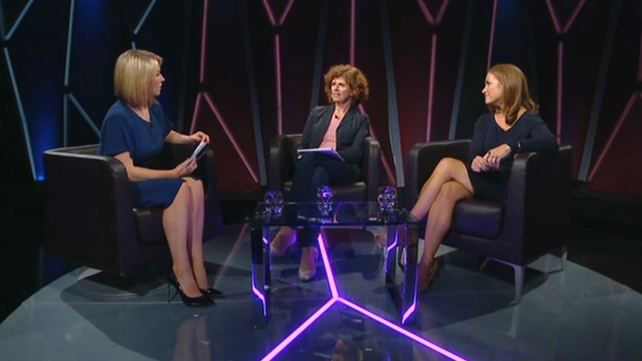 Lucy went on to describe how she dealt with it in her own head until the Repeal project jumpers came about, where she felt an "overwhelmingly sense of solidarity" from people she didn't know, who supported her right to choose.
Another contributor Mary [again no surname given] made a different decision after a crisis pregnancy, almost three years ago. In her second year at the University of Limerick, she fell pregnant and admitted at the time she wasn't prepared at all, with her first thought being abortion.
"If the 8th Amendmant hadn't been in place, if I just drove 15 minutes down the road to a hospital to end the life of my baby in the name of 'Choice', my life would be very different. But now I have a two and a half year old little girl. She wasn't the choice, she's a person."
"No one thinks rationally when the situation is unplanned." Mary added. "When you're in college, what am I going to do? How am I going to manage? What supports do I have?
Claire was joined by Dr Rhona Mahony, the Master of National Maternity Hospital Holles Street, and Liz McDermott, a solicitor and mother. Throughout the debate, both sides were given the opportunity to discuss their concerns.
In response to Claire Byrne Live, Twitter was alight with commentary using the hashtag #cblive:
A wonderful Irish woman telling her abortion story to help others. Thankyou @repealproject #cblive #repealthe8th pic.twitter.com/GcFyC5B3Ih

— Roisin Ingle (@roisiningle) September 5, 2016
Rhona Mahony also needs to be asked why she believes terminally ill unborn children lack same intrinsic right to life as her. #cblive

— David Quinn (@DavQuinn) September 6, 2016
The Claire Byrne Live poll found that 66% of people would like a referendum on abortion, with 22% saying no, and 12% remaining undecided.
The Claire Bryne Live show continues next Monday on RTÉ One. To watch the full episode of Claire Byrne Live discussing the 8th Amendment, watch on RTE Player here.