A man who fell 48 feet to the bottom of the Cliffs of Moher has told his story of survival. 
Peter Fitzpatrick, 32, fell off the cliffs in September 1997 aged 13. 
He survived but broke everything on the left-hand side of his body. 
"As the years go on you realise how lucky you are," Peter told The Nicky Byrne show on RTÉ 2FM. 
"I have been know as the lad who fell off the cliffs but there a certain number of friends I have never told this to. 
"I don't fear it now, it is a great place. 
"There is a path between Doolin and cliffs it is safe to walk.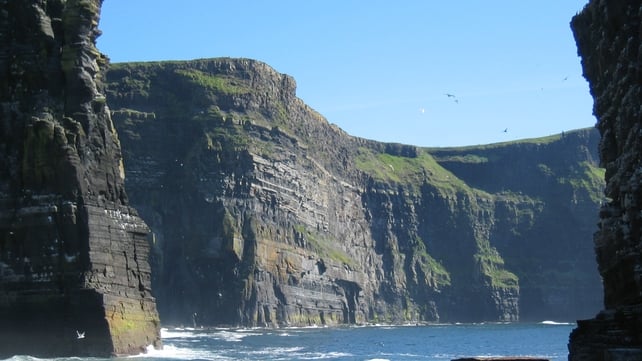 "The place where I fell is the same as it was, but not a lot of people go down there because not a lot of people know about it. 
"It is pretty safe."
The plasterer, who now lives and works in Dublin, doesn't remember the night himself but can tell the tale of what happened very well. 
"I don't remember anything, zero. It is just what people tell me," he began. 
"It happened in 1997 myself, my brother Stephen and my friend PJ cycled over to the cliffs. We climbed down to the bottom - which is safe enough to climb - to begin with. 
"But I fell towards the bottom of it, right down to the rocks at the bottom - 48 feet of a fall, it was quite a distance. 
"My brother managed to get down to me and my friend ran for help. He stopped a bus and there was a doctor on board. He tried to stablise me and then they realised they had to launch a big rescue with the Irish coast guard and the Doolin coast guard 
"It was a big operation to get me out of there."
The rescue was not straight-forward and they had to get the help some local drinkers to get him up from the bottom of the cliff. 
"The helicopter was called in but it couldn't get to me because of the wind. The Aran Islands lifeboat couldn't reach me either. 
"The helicopter had to go back to Shannon to refuel.
"The only option was to bring me back up the cliff. 
"They sent down a paramedic and three other guys to winch me up. It was man power to get me up the cliff so they got 30 or 40 locals out of the pubs in Doolin to come up and physically pull me up the cliff. 
We need your consent to load this SoundCloud contentWe use SoundCloud to manage extra content that can set cookies on your device and collect data about your activity. Please review their details and accept them to load the content.Manage Preferences
"There was total silence on the cliffs, all radio contact and whistles to get me up to the top of the cliff.
"They operated on me straightaway when I got to hospital, they knew I was coming."
Peter broke everything on the left hand side of his body and his jaws had to be reconstructed.
In total, he was hospital for almost a year.
Peter says it was also a very hard time on his family.
"We live a mile away, my mother and father got the call and they thought it was their two sons who had fallen. It was tough for them," he added.  
"She can talk about it now, but it is hard for me to talk about the situation they were put in at the top of the cliffs. 
"She was told I wouldn't make it that night, but I did."
His amazing story went viral on Humans of Dublin Facebook page.
Martin Crummy