Hosting the Rose of Tralee since 2010, is there anything Dáithí hasn't seen? We began by asking him is there anything in particular Daithi is looking forward to?
"One of the big things we look forward to is having 32 different roses. This year we have 65. This all happened earlier on in the summer. It's all quite exciting to have all 65 roses to coming to Tralee for the first time with all their friends and families."
But with 65 Roses comes 65 escorts! Something Daithi is ever vigilant over.
That means we have 65 escorts that we have to train and teach how to behave probably by the time they get to Tralee. So there's an added bonus of that!
All these Roses are going on stage tomorrow and Thursday night. That's going to be great fun as well. There's huge ball on Friday, a parade where there's' 20,000 people coming on the streets to see these Roses on Saturday. And then the TV show starts Monday and Tuesday.
Listen to our interview with Daithi O'Shea here:
We need your consent to load this Facebook contentWe use Facebook to manage extra content that can set cookies on your device and collect data about your activity. Please review their details and accept them to load the content.Manage Preferences
The festival is now in it's 57th Year. What makes for a Modern Rose?
"If you chat to all 65 roses they'll have 65 different answers" Daithi said. "That's one thing that makes a modern rose. I've said it on many occasions; the Rose of Tralee is about celebrating young Irish women. That should never be out of date, as some people like to call the Rose of Tralee.
"Everyone here is Irish. Some are born here, some born in America, Canada, and Australia. But they're all Irish. My parents went to America in the 60s. They lived there for 10 years. My eldest brother and sister were born in Chicago. My other brother was made there, and came out over here. But that's another story!"
We're sure there are plenty of people excited about the Rose of Tralee in the O'Shea household?
"Rita's always looking forward to the Rose of Tralee. She's trying to come down tomorrow night but can't, but she'll definitely come down for one of the TV nights. No matter how great a festival the Rose of Tralee is, the two and a half year old comes first."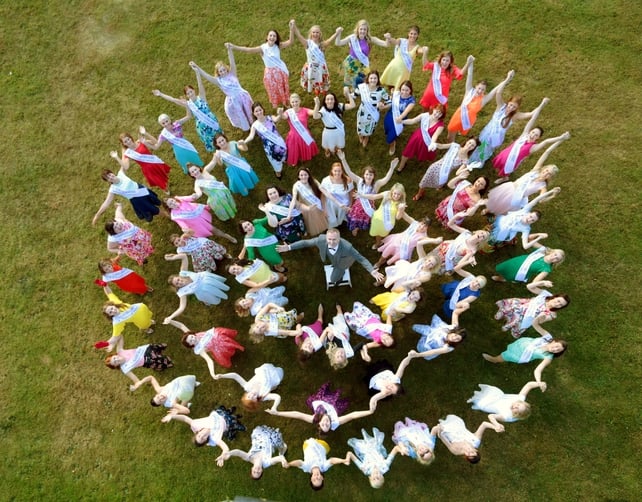 And finally, what can we expect from the return of Today?
We're back on the 26th of September, Maura and I again coming from Cork. Last year they gave us an extra hour a day on the show. So we're really happy with that!
I think we just hit the ground running last year and found out what people really liked. For example on RTÉ 1 Television, you're going into an hour and a quarter of news. That's their job, to tell the stories as it happens. They do their job, so there's no reason why we have to be serious. Plenty of fun, plenty of craic, plenty of food and plenty of walking it off after!