Damian James joined Ryan Tubridy on RTÉ Radio 1 to share his experience on the TV show First Dates. The care assist from Northern Ireland, who is studying to become a mental health nurse, suffers from Tourettes which makes dating somewhat problematic.  
Ryan began by asking Damian why he chose to go on Channel 4's blind dating show, First Dates.
"There were a few things really. I have a few friends who live in Brighton, who were on the show, who highly recommended it. They said the production team were good and it was a great experience overall. Apart from that, I also have Tourettes Syndrome. I'd really like to work hard at spreading awareness on that."
One of Damian's main aims is to make "Tourettes syndrome famous." But what exactly is the condition?
"Tourettes syndrome is a neurological disorder." Damian explained. "It's characterized by ticks. Ticks are sudden repetitive movements or sounds that someone makes that they can't control. The sounds can sometimes involve words that are involuntary, which I have as well, which can involve swearing."
In many cases Tourettes is genetic, something you are born with. But for Damian, he explained how Tourettes almost manifested itself overnight. After a breakup with his then partner, Damian took the experience very badly. Already suffering from mental health difficulties at the time, he admitted himself into a psychiatric unit for 2 weeks.
"Within the first week or so, I started to stammer and stutter which I never done had in my life. And  then over the next few days I started to repeat movements. I couldn't really walk at the time because I had this tick in my leg that would drop when I started walking. It was basically over night that this started happening. For the first few months it was really disabling. I couldn't go outside the house. I was so intensely anxious. 
Public perception of Tourettes has not helped. Damian shared with Ryan an unfortunate encounter with a member of the public.
"Anytime I was out I felt that everyone was staring at me, and a lot of people were. I could see people nudging their friends and pointing and in some instances people recording me on their phones. I noticed that someone had their phone at their knee but pointing at me. I went to the person and said 'Why would you record me? That's very inappropriate." I started involuntary ticking and they just laughed in my face. I felt really gutted about it and really upset. I told security about it and what happened was I was escorted out of the place."
First Dates with Kai
Appearing on First Dates, Ryan asked how Damian introduces Tourettes to a potential partner. He said it's something he tends to get out of the way.
"If I go on a date, before the date I let someone know I have Tourettes. I've had incidents where people have turned up for dates, not actually told me they're there, seen my ticking and left. So I've been left standing there. I prefer to give people that knowledge beforehand"
So is romance blooming between Damian and First Dates partner Kai?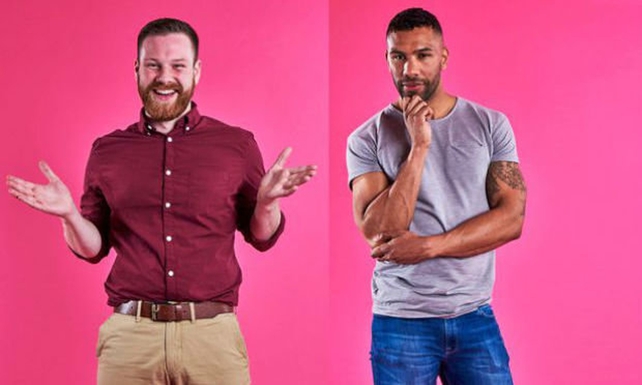 Reflecting on the date, Damian has nothing but nice things to say about Kai. "He was such a gentleman and a really nice person, inside and out. He took my ticks in his stride and had no problem with them. And he obviously opened up about his own mental health which was really great of him to do." 
But Ryan asked the question we all want to know...has it lasted?
"He came down to Brighton for the weekend. He met all my friends and all of them loved him. We went to a gin bar because we both loved gin! We had a really good time. Unfortunately when he came back to Manchester he had his own commitments with work, I had commitments with work and uni. It became too problematic trying to manage a relationship with so many commitments."
But while the First Dates romance was not meant to be, it's safe to say the Internet has truly fallen in love with Damian.
@FirstDates Damien - love him and adore that Kai just accepted him. How it should be! They make a lovely couple :)

— Karen Wilkinson (@KarenLWilkinson) August 9, 2016
@FirstDates he's such a dote ☺️

— Della O Connor (@ConnorDella) August 9, 2016
Kai and Damien are still together!!!! Cuuuuuuuuuuute #FirstDates

— Nicola Bardon (@NicolaBardon) August 9, 2016